A July 2019 article claiming a law exists penalizing fathers who deny their children financial support is being shared anew. This is false.
The article posted July 26 by six-month old website dilawnabuwan.com has the title "Batas Laban Sa Mga Ama Na Hindi Nagbibigay Ng Sustento Sa Mga Anak Ipinasa Na (Law against fathers who do not provide child support to their children, passed)!"
Accompanying it are photos of mothers and their children, one of which has the phrase "Ama na 'di nagbibigay ng sustento sa mga anak, convicted sa kasong Child Abuse (A father who does not provide child support convicted of child abuse)!"
Here is a part of the text posing the false claim:
"Kaugnay nito, kamakailan lang ay naging batas na ang bill na ipinasa ni Manila Representative Rosenda Ann Ocampo na nagsasabing mapaparusahan ang mga ama na hindi magbibigay ng tamang sustento at suporta sa kaniyang mga anak (In relation to this, the bill Manila Representative Rosenda Ann Ocampo filed, which penalizes a father who does not provide proper legal child support, has been passed and made into a law)"
The Child Support Enforcement Act by former 6th District of Manila Representative Rosenda Ann Ocampo never became a law.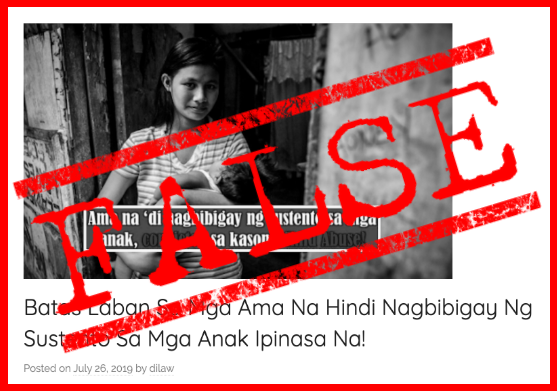 House Bill (HB) No. 6079 filed during the 16th Congress (2013-2016) and refiled as HB No. 387 in the 17th Congress (2016-2019) remained at the committee level until Congress adjourned.
None of the bills specify that only fathers will be liable under the Child Support Enforcement Act.
Neither do they impose a conviction of child abuse on an individual guilty of committing the prohibited acts stated in the bills.
A similar bill, HB 1414, was filed by Quezon City 5th District Representative Alfred Vargas under the 18th Congress. This version imposes prision correccional, or imprisonment of six months and one day to six years, on anyone who "willfully fails to pay child support" for at least one year, or dues amounting to P50,000 or more.
A bill is first referred to the corresponding committee for first reading before it is discussed and voted upon in plenary for the second and third reading. A counterpart bill also needs to be filed in the Senate and go through a similar process. Once it passes both chambers of Congress, only then is it transmitted to the Office of the President for signing. The president decides to sign the bill into law or veto it. The Congress can still overturn a presidential veto by a two-thirds vote. A bill also lapses into law if no action is made by the president 30 days after it reaches his office.
The false article, which gets resurrected every month since it was published, got around 49,000 interactions and could have reached a total of 2.7 million social media users. Its top traffic generators are Facebook pages BUHAY MAY ASAWA and Pinoy Health Tips, which both shared the article thrice: one each in July, August, and September.
(Editor's Note: VERA Files has partnered with Facebook to fight the spread of disinformation. Find out more about this partnership and our methodology.)