Netizens, including Filipinos, are sharing a Facebook (FB) post falsely claiming that a 101-year-old woman gave birth to a child, supposedly her 17th.
On June 5, FB page The Love for Babies posted a web article with a photo claiming that the elderly woman, said to be Italian Anatolia Vertadella, gave birth after undergoing an ovary transplant.
Not true. Reverse image search and cursory search results show the woman in the photo is actually an American named Rosa Camfield, caught on camera as she held her great-granddaughter Kaylee Rowland.
Fact-checking organizations Agence France-Presse, Snopes, and Lead Stories have debunked this as well.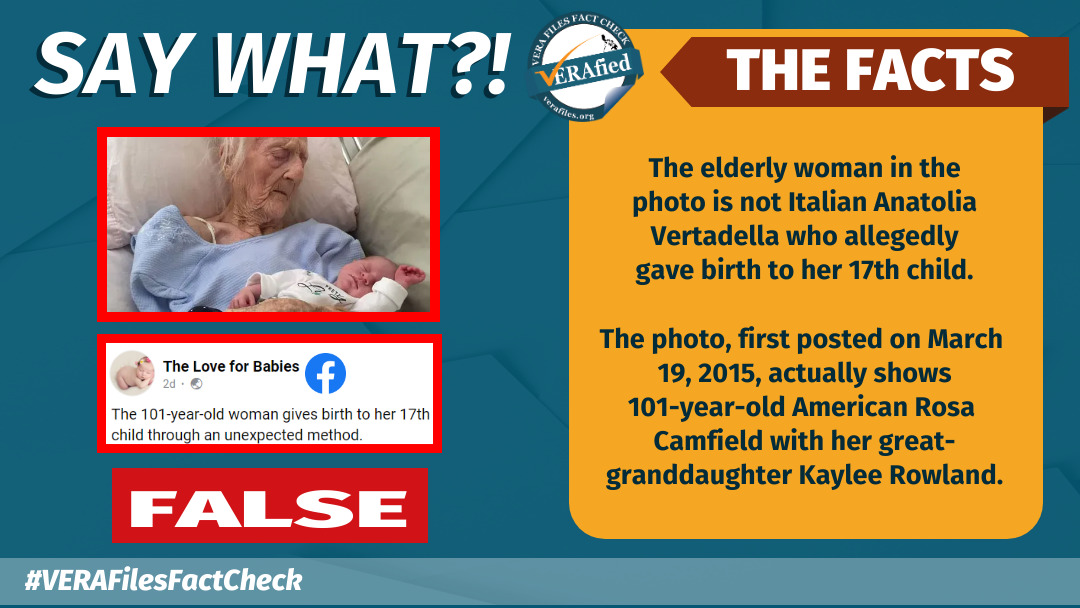 The photo of Camfield and Rowland became viral internationally after the FB page Life of Dad posted it on March 19, 2015. Sarah Hamm, Rowland's mother and Camfield's granddaughter, took the picture, according to the Huffington Post.
Camfield died on April 1, 2015 in her sleep, news organizations reported.
The now-defunct satirical website World News Daily Report published an earlier version of the hoax on Jan. 7, 2016, according to Snopes.
FB page The Love for Babies' erroneous post got 51,000 reactions, 1,900 comments, and 1,000 shares. Several people in the comments section called it out as fake, but some Filipinos still shared it and said "congratulations."
Have you seen any dubious claims, photos, memes, or online posts that you want us to verify? Fill out this reader request form or send it to VERA, the truth bot on Viber.
(Editor's Note: VERA Files has partnered with Facebook to fight the spread of disinformation. Find out more about this partnership and our methodology.)