A video using old news reports is insinuating an escalating conflict between Japan and China.
Posted on June 2 by Facebook (FB) page Kyletv Mysteries and YouTube channel Kyle TV, the video's caption read:
"ALITAN NG JAPAN AT CHINA MAS TUMITINDI! MGA SUNDALO NG JAPAN ALERTO (Conflict between Japan and China getting worse! Japanese soldiers on alert)."
But contrary to the video's claim, Japan's encounter with Chinese ships near its territorial waters happened in 2022, not 2023.
Just last June 3, Japan's Defense Minister Yasukazu Hamada said that Japan is "not seeking confrontation or conflict." He encouraged the use of local and regional deterrence as well as dialogues to prevent disputes in the Indo-Pacific region.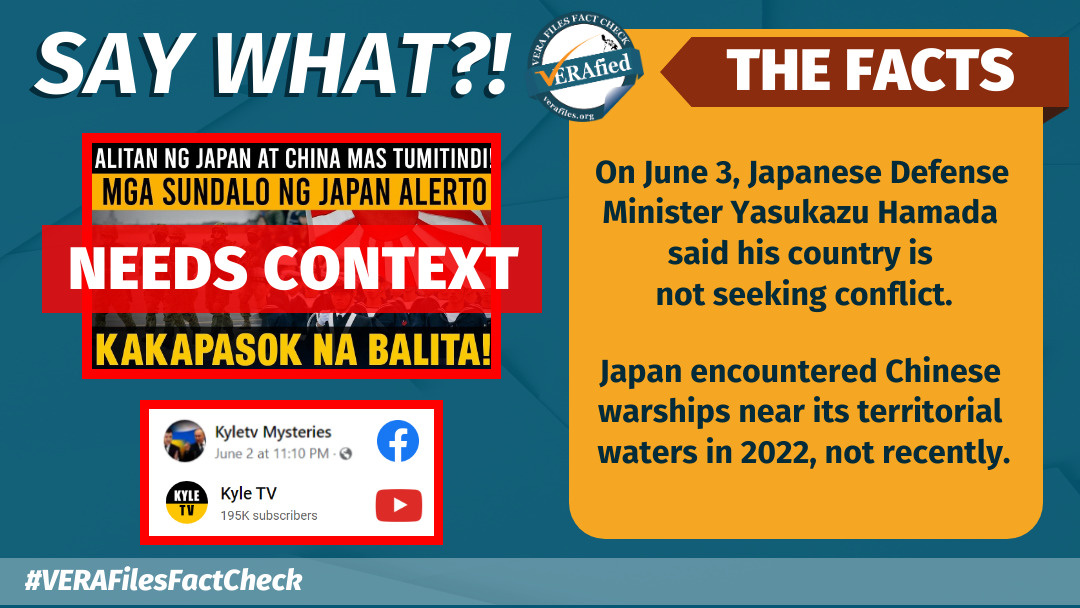 It was on May 3, 2022 when the People's Liberation Army Navy sent a carrier strike group led by the aircraft carrier Liaoning near Japan's Miyako Strait. The group consisted of Type 055 destroyer CNS Nanchang, Type 05A frigate CNS Xiangtan, Type 901 fast combat support ship CNS Hulunhu, and four other Chinese destroyers, among others.
In response, Japan's Maritime Self Defense Force sent its helicopter carrier JS Izumo and patrol aircraft to monitor the Chinese warships.
The video mentioned that China conducted confrontational drills in the South China Sea. But this happened in January 2023 as a response to the United States (U.S.) Navy's deployment of the USS Nimitz aircraft carrier strike group in the South China Sea,
The misleading video also used an April 11, 2023 report by DZMM Teleradyo about Japan's concern over the Chinese Navy's military drills near Taiwan.
FB page Kyletv Mysteries' (created on July 17, 2022) video got 247,022 interactions, while YouTube channel Kyle TV's (created on June 1, 2019) video garnered 9,155 interactions. The videos appeared four days after Japan and China agreed to resume military exchanges by July.
Have you seen any dubious claims, photos, memes, or online posts that you want us to verify? Fill out this reader request form or send it to VERA, the truth bot on Viber.
(Editor's Note: VERA Files has partnered with Facebook to fight the spread of disinformation. Find out more about this partnership and our methodology.)