A YouTube channel passed off an old clip of a drill as one that supposedly shows the Japanese Coast Guard (JCG) sending ships lately to Pag-asa Island to drive away Chinese vessels.
This is false. The video is five years old and was taken in Japan.
Posted on April 17, the 3-minute and 20-second video bore the headline: 
"CHINA VS PILIPINAS JAPAN AMERICA BUMANAT NA (HIT BACK)! PHILIPPINE VINES BREAKING NEWS VIRAL".
It showed a mirrored clip of a JCG ship sailing at sea while text stated that the vessel and an American warship are in Batangas on their way to Pag-asa Island in Palawan to "rescue" the Philippines. It also claimed that the JCG will "fight" the Chinese Coast Guard (CCG) if the latter does not sail off.
The video actually shows Japanese ships during a drill in Tokyo Bay on May 20, 2018.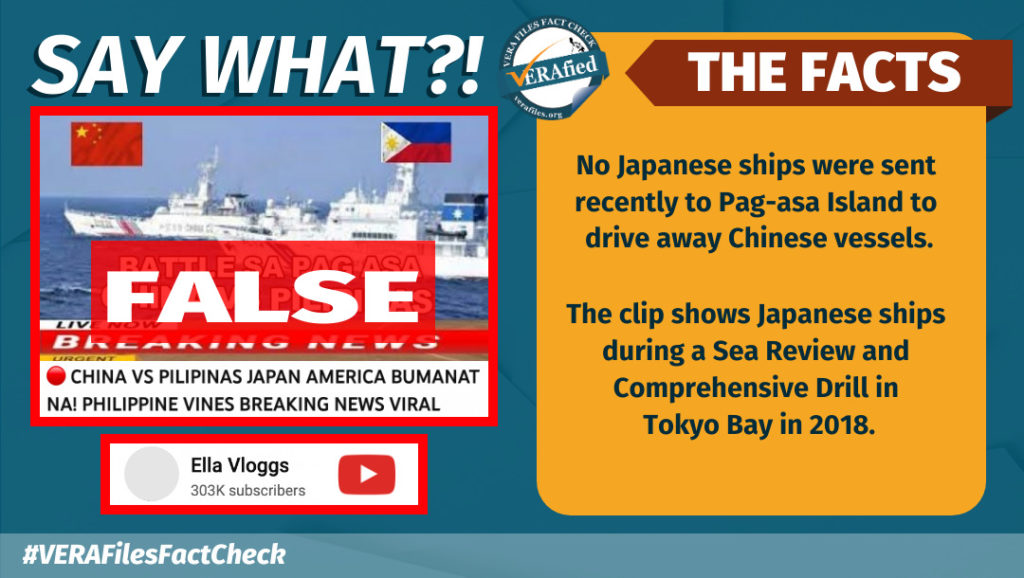 YouTube channel gonnosuke2008 uploaded the original video taken during Japan's Sea Review and Comprehensive Drill in commemoration of the JCG's 70th anniversary.
Other YouTube channels also uploaded videos of the same event from other angles.
The erroneous video was uploaded more than a week after Philippine legislators met with Japanese Prime Minister Fumio Kishida in an official visit to Tokyo where issues in the West Philippine Sea were discussed.
YouTube channel Ella Vloggs (created on Feb. 15, 2019) uploaded the untrue video that has 128,219 views as of writing. Netizens also shared links to the video on Facebook. 
This is the ninth time that VERA Files Fact Check debunked false content from this channel notorious for spreading military-related disinformation.
(Read related fact-check: Video does NOT show China, PH 'battle' in Pag-asa Island)
Have you seen any dubious claims, photos, memes, or online posts that you want us to verify? Fill out this reader request form or send it to 'VERA, the truth bot' on Viber.
(Editor's Note: VERA Files has partnered with Facebook to fight the spread of disinformation. Find out more about this partnership and our methodology.)