As Senate President Vicente "Tito" Sotto III met with partymates last week to discuss plans for the 2022 elections, netizens revived a three-year-old Pilipino Star Ngayon graphic on his suggestion to ban porn sites.
But the revivals carried no indication that the statement was dated, leading netizens to think it was made recently. Pilipino Star Ngayon, whose name can bee seen on the graphic, actually published it on Aug. 30, 2018.
Reposted between July 14 and 21, the image carried a photo of Sotto, and the text: "Pagbabawal ng porn sites sa bansa, iminungkahi ni Senate President Sotto (Ban on porn sites in the country, proposed by Senate President Sotto)."
Sotto originally made the statement on Aug. 28, 2018 during the interpellation of a bill intended to curb teenage pregnancy. He proposed an amendment to remove pornographic materials online. "I'm trying to imagine, how, when the best way to do it is to remove it from the internet, remove porn," Sotto said.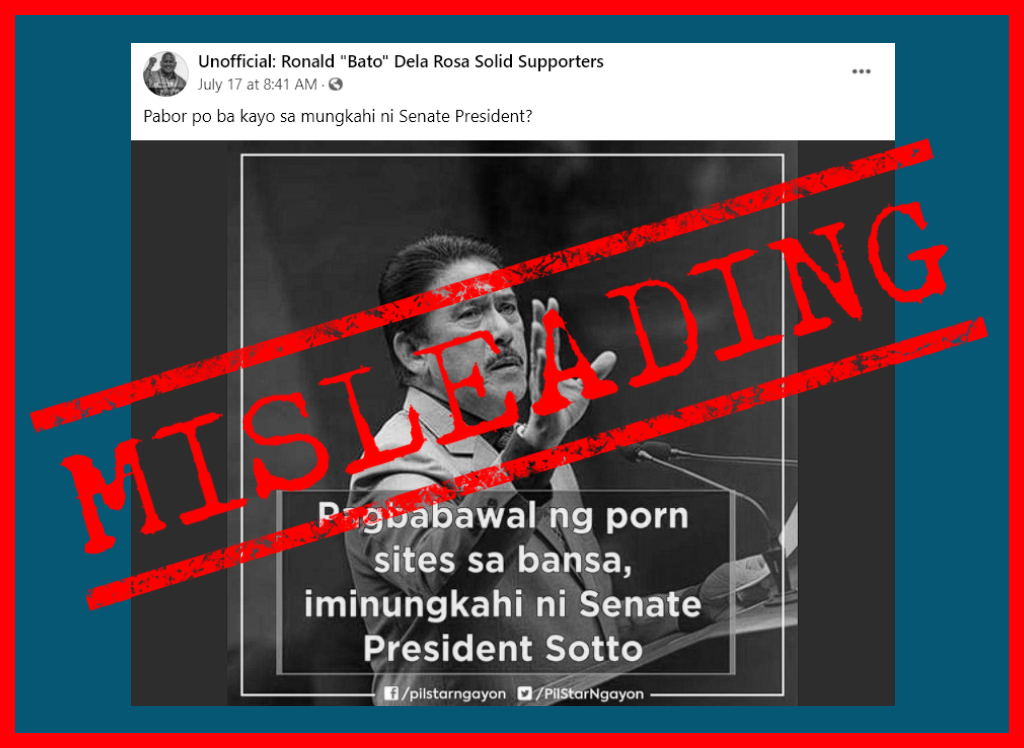 Some netizens who saw the revived posts were misled into thinking that Sotto made the suggestion to improve his image ahead of next year's national polls, where he plans to run as vice president.
This is shown in the comments section of the July 17 repost of FB page Unofficial: Ronald "Bato" Dela Rosa Solid Supporters. One comment, translated from Filipino, read: "Why is it just now when the elections are nearing that many good suggestions are being made, but after the polls and they've gotten their positions, they do nothing? How come?"
Others raised various issues lawmakers should prioritize instead of the ban on porn sites.
The repost garnered 3,600 reactions, 1,500 comments and 262 shares. This FB page was created in July 2016.
Social media monitoring tool CrowdTangle has recorded 44 other reposts of the graphic by FB pages and in public FB groups this month, collecting over 3,300 interactions as of publishing.
(Editor's Note: VERA Files has partnered with Facebook to fight the spread of disinformation. Find out more about this partnership and our methodology.)