Website pinoynews.info published April 30 a false story attributing to Sen. Antonio Trillanes IV the spark of an issue concerning a multimillion-peso transaction between the Department of Tourism, People's Television-4 and Bitag Media Unlimited Inc., the production house of Benjamin Tulfo, brother of Tourism Secretary Wanda Teo.
The story's headline "BUKING NA! ISSUE SA TULFO BROTHERS SI TRILLANES PALA PAKANA! PANOORIN (Secret's out! Turns out Tulfo brothers issue was Trillanes' doing! Watch)" does not reflect its content — a cropped and re-uploaded video of a 15-minute CNN Philippines live newscast of a DOT press conference, where neither Teo nor the two other undersecretaries who spoke made any mention of Trillanes.
The issue was, in fact, raised when the Commission on Audit published three days earlier a report revealing a multimillion-peso transaction between DOT and Benjamin Tulfo's Bitag Media Unlimited Inc. lacked supporting documents. This involved the placement of DOT's ads on the Bitag-produced show Kilos Pronto, which airs over PTV-4.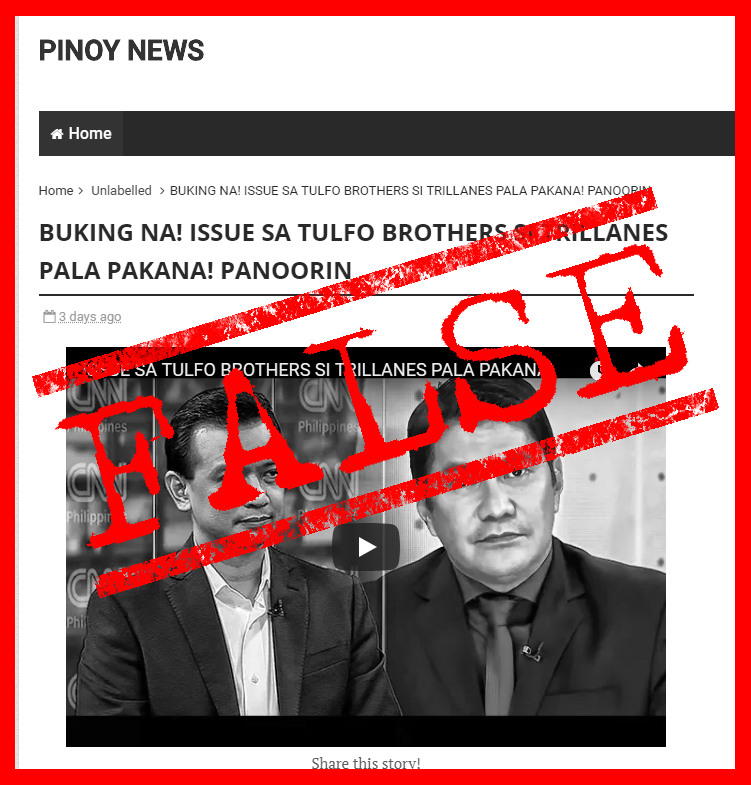 The fabricated story was published the day Teo held the press conference, where she denied any conflict of interest on the matter and said the deal was a government-to- government contract.
Pinoynews.info was created on April 27, while Youtube channel Pro DuterteKa Ba? – which uploaded the cropped video – was made in May 2016. Along with the Youtube video, the story could have reached more than a million people. Its biggest traffic generators on social media: President Duterte Worldwide Supporters, President Duterte Astig Supporters and President Duterte Loyal Supporters.
(Editor's Note: VERA Files has partnered with Facebook to fight the spread of disinformation. Find out more about this partnership and our methodology.)