A spliced video of Sen. Grace Poe "wanting to block Facebook" in the country is once again making rounds on social media.
Facebook page DU30 MEDIA Network published on Feb. 17 an edited two-and-a-half minute clip taken from the four-hour footage of a January 2018 Senate hearing on fake news.
The video begins with Poe asking lawyer Jose Jesus Disini if the government can block access to Facebook.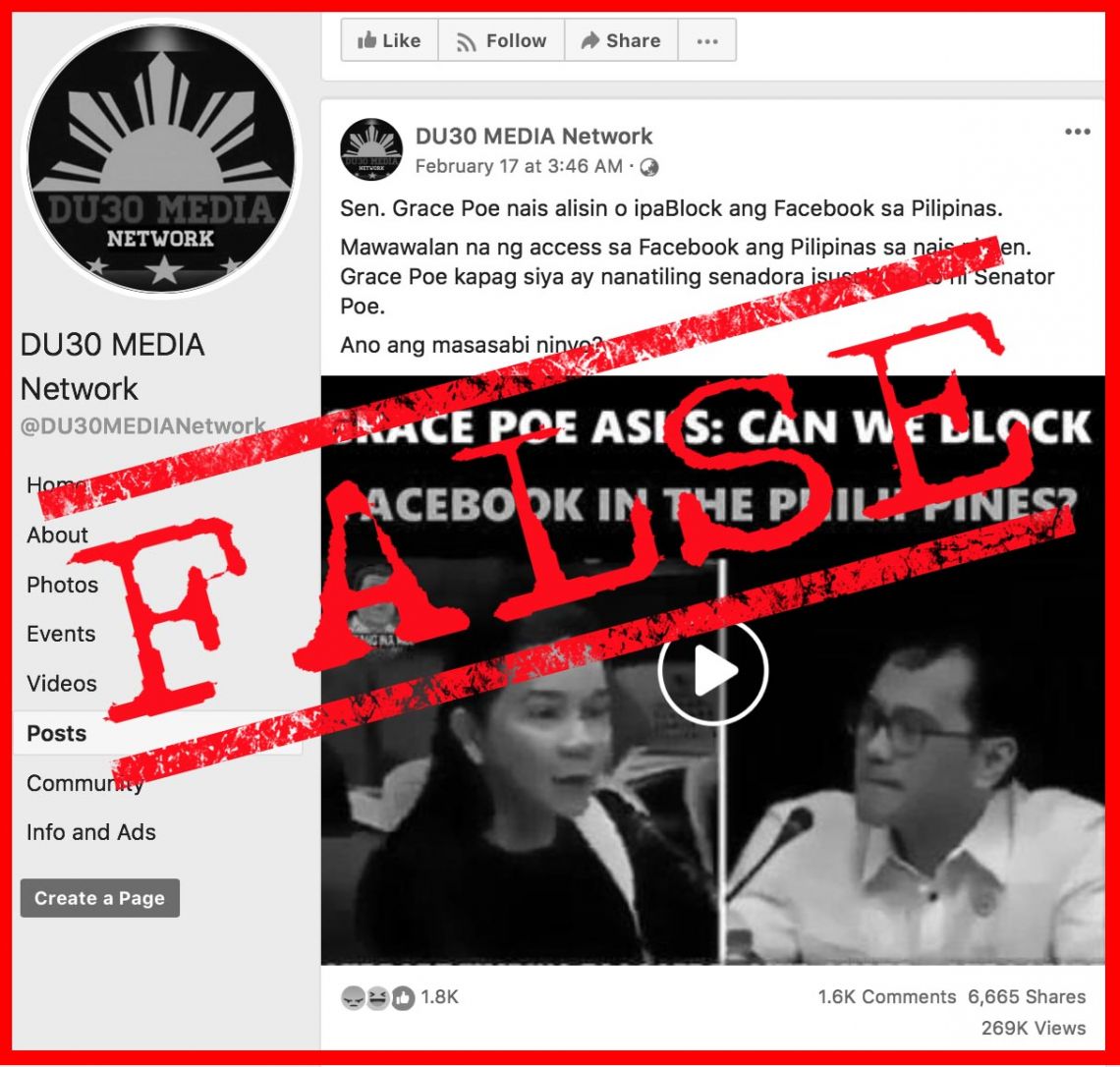 DU30 MEDIA Network deliberately excluded a crucial part of the senator's statement prior to posing the question to Disini. Italicized in the statement below is the part not included in the edited clip:
"Not that we're going to do this – I'll be the first to disagree if they do – but, let's say, can you block a particular company like Facebook from being accessed in the Philippines? I know they do this in China."

Source: Senate of the Philippines Youtube channel, "Committee on Public Information and Mass Media (January 30, 2018)," Jan. 30, 2018, watch from 1:11:31 to 1:11:46
The claim has also already been debunked by Poe herself last year, calling it "fake news" and "counterproductive," after several similar stories circulated on social media after the hearing — including one debunked by VERA Files Fact Check last April. (SEE: VERA FILES FACT CHECK: Poe not blocking Facebook app if reelected).
The manipulated video was revived two days after polling body Pulse Asia reported on Feb. 15 that Poe remains the top senatorial bet, according to a survey it conducted this January.
DU30 MEDIA Network's fake post could have reached over 2.6 million people, with traffic to the story largely coming from the page itself, Greco Belgica, and MARCOS LOYALIST. DU30 MEDIA Network was created on June 9, 2016.
(Editor's Note: VERA Files has partnered with Facebook to fight the spread of disinformation. Find out more about this partnership and our methodology)
(VERA Files is a part of Tsek.ph, a collaborative fact-checking initiative by the academe and the media for the 2019 Philippine midterm elections)