A Youtube channel using the name of President Rodrigo Duterte falsely implied that opposition senator Risa Hontiveros is "frightened" after "thieves" in the Philippine Health Insurance Corporation (PhilHealth) were revealed by neophyte senator Bong Go.
Channel DUTERTE ARCHIVES published Oct. 24 a 16-minute clip entitled "BONG GO BINALATAN ANG MGA KAWATAN SA PHILHEALTH (Bong Go uncovers thieves in PhilHealth)."
It was taken from an hour-long video of the Senate Blue Ribbon Committee's Aug. 14 inquiry into alleged fraudulent activities within PhilHealth, a state-owned corporation tasked to implement the country's universal health care coverage.
The video's thumbnail is a spliced photo of Go, Hontiveros, PhilHealth's logo, and the text:
TAKOT NA SI HONTIVEROS!
KAWATAN SA PHILHEALTH KILALA NA!

(Hontiveros is already afraid!Thief in PhilHealth already identified!)
The thumbnail insinuates Hontiveros is one of the PhilHealth officers involved in corruption in the agency.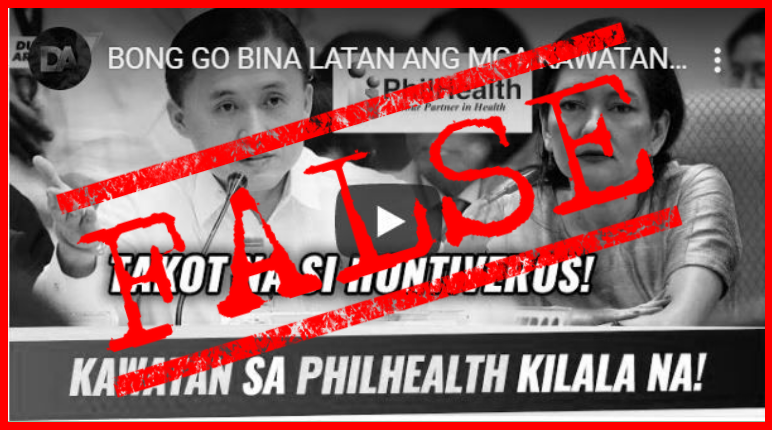 This is false on two levels.
First, Go, who was not in the video, did not reveal the identities of the alleged "thieves" in PhilHealth. It was PhilHealth ex-board member Roberto Salvador who named the members of a "mafia" inside the institution. Salvador clarified, however, that the individuals he named were not involved in criminal activities, just that they have "influence."
Second, there was no mention of Hontiveros being part of the said "mafia." The senator is no longer a board member of PhilHealth, having served from November 2014 to October 2015.
Hontiveros, often a target of disinformation online, was falsely tagged in 2018 as one of the officials of PhilHealth who ordered the grant of unauthorized bonuses to employees in 2009, 2010, and 2014. She was not yet a member of the board when the controversial bonuses were approved for release. (See VERA FILES FACT CHECK: Online posts claiming Hontiveros involved in PhilHealth bonuses mess FALSE)
The misleading video made the rounds on the internet a day after Go called for a settlement of the row between PhilHealth and the Private Hospitals Association of the Philippines, Inc. (PHAPi), as the latter demanded the health insurance institution to pay the unsettled claims of its member hospitals.
It was already viewed 153,000 times and could have reached around a million netizens. Its top traffic generators are public Facebook groups DUTERTE PARA SA BAYAN! and DUTERTE MARCOS SUPPORTERS, as well as Facebook page Status Pilipinas.
DUTERTE ARCHIVES was created on July 18, 2013
(Editor's Note:VERA Files has partnered with Facebook to fight the spread of disinformation. Find out more about this partnership and our methodology.)