Youtube channel DUTERTE ARCHIVES falsely claims neophyte Senator Bong Go has revealed Senate Minority Leader Franklin Drilon to be corrupt.
On Nov. 26, the Duterte-named channel uploaded a 13-minute video bearing the title "BONG GO BINULGAR NA KURAP SI DRILON, NAGKAINITAN PA SA SENADO (Bong Go reveals that Drilon is corrupt, even had a heated encounter in Senate)!"
Its thumbnail also included the text "IKAW ANG KURAP! ANONG NANGYARI SA ILO-ILO(It is you who is corrupt! What happened in Iloilo)!," with an arrow pointing at the opposition senator.
The post is false.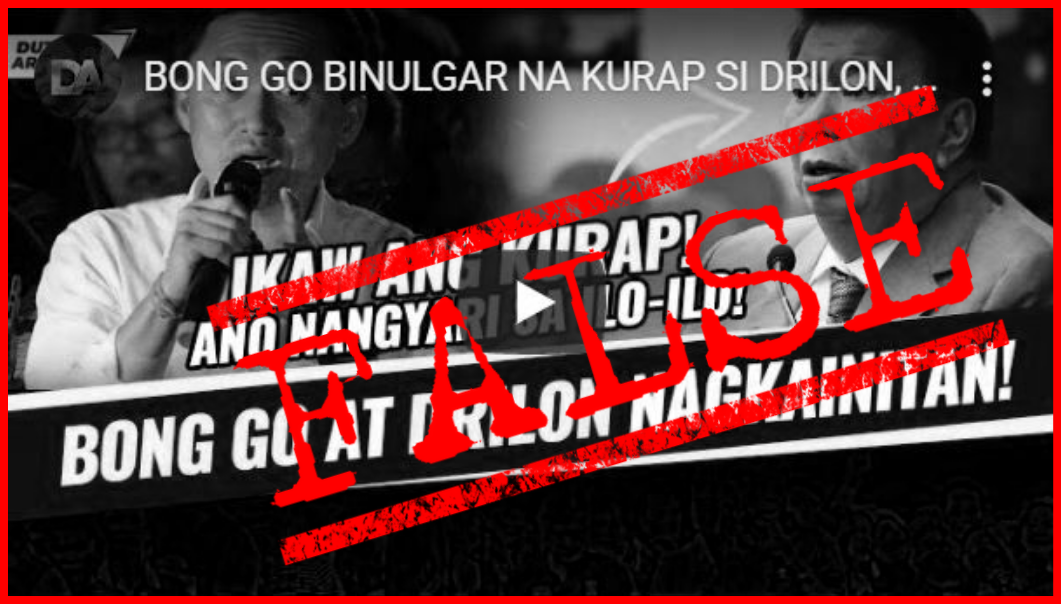 DUTERTE ARCHIVES, which claims to publish "original videos, not reused content," only lifted the clip from a two-hour-long video of the Nov. 19 Senate deliberations on the Philippine Sports Commission's (PSC) 2020 budget.
More, the 13-minute footage merely featured Drilon asking Go whether he knew who President Rodrigo Duterte was referring to when he said there was corruption in the Philippine Southeast Asian Games Organizing Committee (PHISGOC) Foundation, which is chaired by House Speaker Alan Peter Cayetano, a known ally of the president.
There was also never an instance in the Senate hearing where Go exposed any act of alleged corruption committed by Drilon.
In an interview earlier this year, the president expressed his desire for the government, not a private foundation like the PHISGOC, to handle the country's hosting of the 30th Southeast Asian (SEA) Games, saying foundations are a "hindrance," with "so many fingers dipping."
Presidential Spokesperson Salvador Panelo reiterated this in a July 16 press briefing, saying that the president "doesn't want the foundation" to take charge of the SEA Games because "there is so much corruption in private" organizations. The Games will officially open Nov. 30 and end Dec. 11.
Meanwhile, the mention of Iloilo on the video's thumbnail appears to refer to the corruption allegations levelled against Drilon, who comes from the province, by Iloilo-based blogger and local columnist Manuel Mejorada in 2017. Mejorada was convicted of libel the same year due to his accusations.
DUTERTE ARCHIVES' video, which made the rounds on the Web amidst controversies and overspending allegations surrounding PHISGOC's handling of the 30th SEA Games, was viewed more than 140,000 times and got around 4,000 interactions on Facebook (FB).
It could have reached 90,000 social media users, with public FB groups Pinoy Anti Corruption Movement Alliance Network and SARA DUTERTE FOR PRESIDENT 2022 – JOIN NA PO KAYO, and FB page Status Pilipinas generating the most traffic for the video. This is the fourth time VERA Files has flagged the YouTube channel for spreading disinformation.
(Editor's Note: VERA Files has partnered with Facebook to fight the spread of disinformation. Find out more about this partnership and our methodology.)