Website phfilenews.xyz published June 19 a misleading story that revives the Supreme Court's 2017 decision to hear former senator Ferdinand "Bongbong" Marcos' electoral protest of Vice President Leni Robredo's win in the 2016 polls.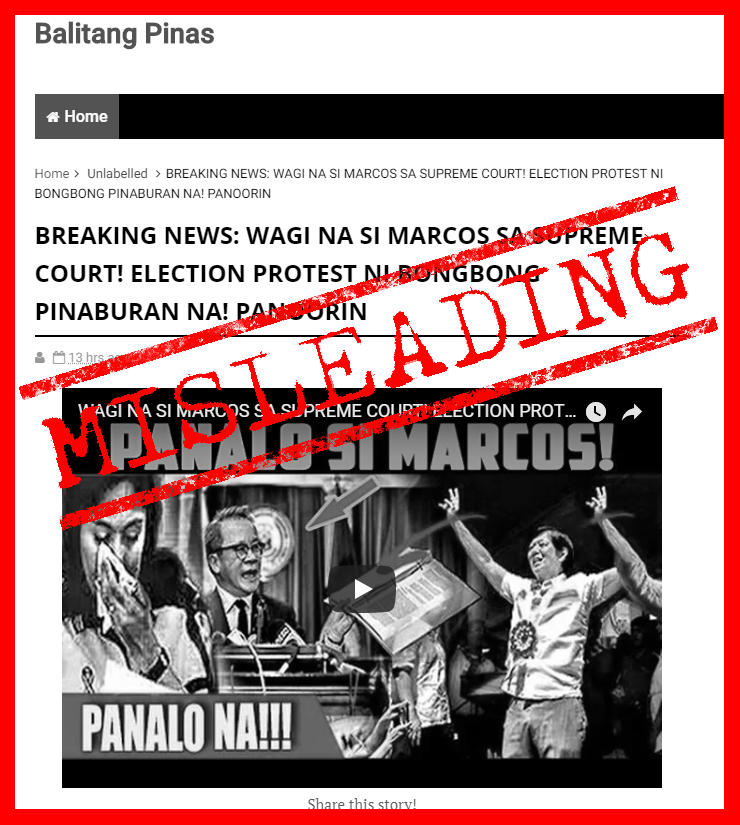 Bearing the headline "BREAKING NEWS: WAGI NA SI MARCOS SA SUPREME COURT! ELECTION PROTEST NI BONGBONG PINABURAN NA! PANOORIN (Breaking news: Marcos wins at the Supreme Court! Bongbong's election protest granted! Watch)," the website reposts an 11-minute May 4, 2017 video uploaded by Youtube channel News Philippines live that splices and manipulates the audio of three videos:

a 40-second clip of a 2017 news report about the Supreme Court, sitting as Presidential Electoral Tribunal, finding sufficient in form and substance Marcos' electoral protest.
a six-minute clip of a 2017 ABS-CBN report of Robredo's camp talking about their motion to delay payment of the P15-million electoral protest fee until after the SC decides there is truth to Marcos' claims of electoral fraud.
a four-minute clip of Robredo and Marcos during the 2016 vice presidential debates.
The electoral recount that began in April is still ongoing.
The misleading story was published the day news reports circulated about the Supreme Court's upholding of a 2010 and 2011 Sandiganbayan decision that states the Presidential Commission on Good Governance (PCGG) failed to prove that Bongbong's father, the late dictator Ferdinand Marcos, and his cronies amassed ill-gotten wealth.
Phfilenews.xyz was created on June 14; Youtube channel News Philippines live in July 2014.
(Editor's Note: VERA Files has partnered with Facebook to fight the spread of disinformation. Find out more about this partnership and our methodology.)