Website trendingtopicstoday.info published June 18 a misleading story that revives an old plunder case filed against former President Benigno "Noynoy" Aquino III and several other government officials that has been found to be based on a fake document.
Bearing the headline "AQUINO, DRILON, ROXAS, DE LIMA FACES PLUNDER CASE OVER ILLEGAL SHIPMENT OF GOLD BARS WITH US$141-BILLION – Philippine News," the story misleads by omitting the date when the case was filed.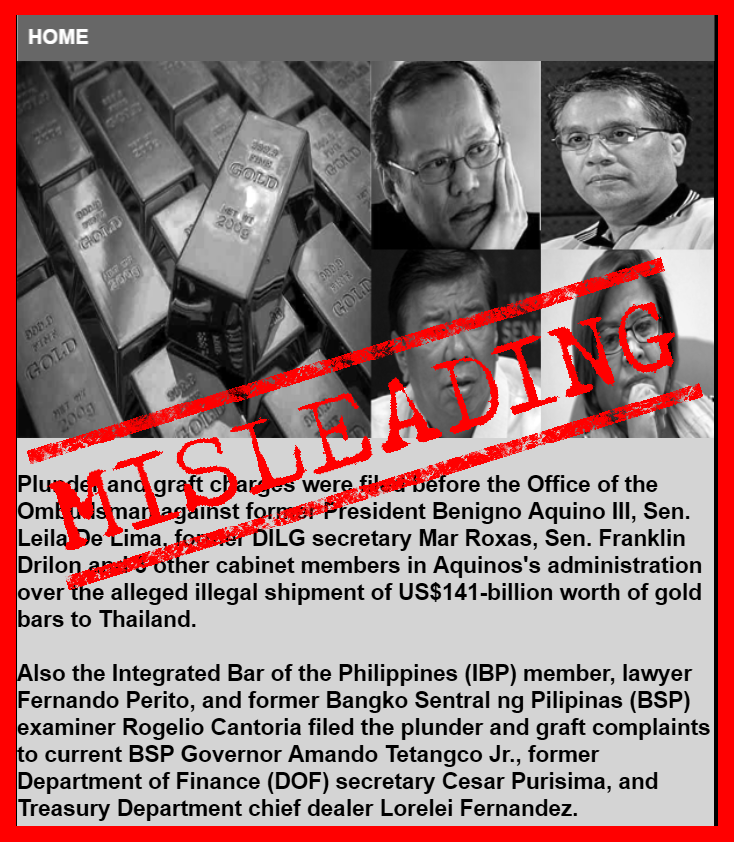 It was filed nearly a year and a half ago – Jan. 6, 2017 – with the Office of the Ombudsman. The complaint against Aquino, Senators Leila de Lima and Franklin Drilon, former Interior Secretary Manuel "Mar" Roxas II, former Finance Secretary Cesar Purisima, former Bangko Sentral ng Pilipinas (BSP) Governor Amando Tetangco Jr., and Treasury Department chief dealer Lorelei Fernandez alleged that they underhandedly shipped US$141 billion in gold bars to Thailand.
While the complaint indeed exists, the BSP circular that supposedly made possible the transfer has been called "spurious" by the BSP itself. (See: THIS WEEK IN FAKE NEWS: Aquino, allies DID NOT transfer Marcos gold to foreign company)
More detailed versions of the same story had also circulated on social media last May and in November 2017. (See: VERA FILES FACT CHECK:Website posts FAKE report rehashing outdated story on plunder case vs Aquino and allies)
Trendingtopicstoday.info's story, which could have reached more than 217,000 people, was published as the Department of Justice conducted earlier this month a preliminary investigation into a criminal complaint against Aquino for his involvement in the Dengvaxia vaccine controversy.
The story's top traffic generators from social media, Alan Peter Cayetano Supporters International, Duterte & Marcos United Bayan Muna Bago Sarili!!!!!!! and Duterte DieHard Supporters International, all shared the story today (June 19). Trendingtopicstoday.info was created in December 2017.
(Editor's Note: VERA Files has partnered with Facebook to fight the spread of disinformation. Find out more about this partnership and our methodology.)