Website pinoynews.info published May 4 a false report rehashing an unproven allegation that former President Benigno "Noynoy" Aquino III and members of his Cabinet transferred to a foreign company P6.8 trillion in gold bars owned by the family of the late dictator Ferdinand Marcos.
The false report, which already made rounds on social media in November last year, merely repeats details of a plunder complaint which the Bangko Sentral ng Pilipinas has said was based on a fake document. (See THIS WEEK IN FAKE NEWS: Aquino, allies DID NOT transfer Marcos gold to foreign company)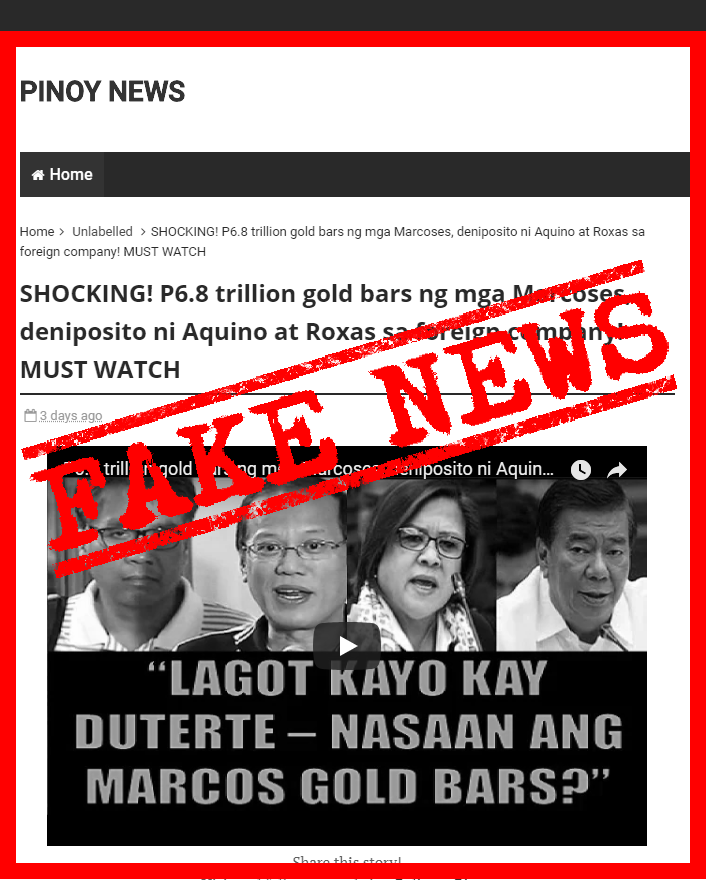 The report bore the headline "SHOCKING! P6.8 trillion gold bars ng mga Marcoses, deniposito ni Aquino at Roxas sa foreign company! MUST WATCH (Shocking! P6.8 trillion gold bars of the Marcoses, deposited by Roxas and Aquino at a foreign company! Must watch!)" and carried a Jan. 6, 2017 text-centric video of an ABS-CBN report posted the same day; the video was accompanied by an upbeat background music.
The report, which could have reached more than 1.4 million people, was published in the heat of another complaint filed against Aquino, this time regarding his involvement in the Dengvaxia vaccine controversy.
Pinoynews.info was created on April 27, while Youtube channel The Lazy Boy's Journey, which uploaded the video, in April 2011.
The report's biggest traffic generators on social media are President Duterte Worldwide Supporters, President Duterte Astig Supporters and Duterte and Marcos Unite Supporters.
(Editor's Note: VERA Files has partnered with Facebook to fight the spread of disinformation. Find out more about this partnership and our methodology.)
2018-05-07 07:30:26 UTC