Another misleading report has been published rehashing an old plunder charge filed against former President Benigno "Noynoy" Aquino III.
Since May, VERA Files has fact-checked at least two other stories of the same nature, one proven to be misleading and the other, fake.
Currently making rounds on social media is a Jan. 6, 2017 Aksyon News5 report re-uploaded June 18 by the pro-Marcos Facebook page Filipino Fighting For Freedom on Information 4Fol, which captioned it with:
"HINDI PEKE ANG MARCOS GOLD AND WEALTH
AYAN DI PO KATHANG ISIP ANG 3,500 METRIC TONS OF GOLD SHIPMENT SCANDAL NILA PINOY AQUINO.
SINO NGAYON ANG TOTOONG MAGNANAKAW?
(The Marcos gold and wealth is not fake
Here it is, the 3,500 metric tons of gold shipment scandal of Pinoy Aquino is not just a figment of the imagination. Who's the real thief now?)"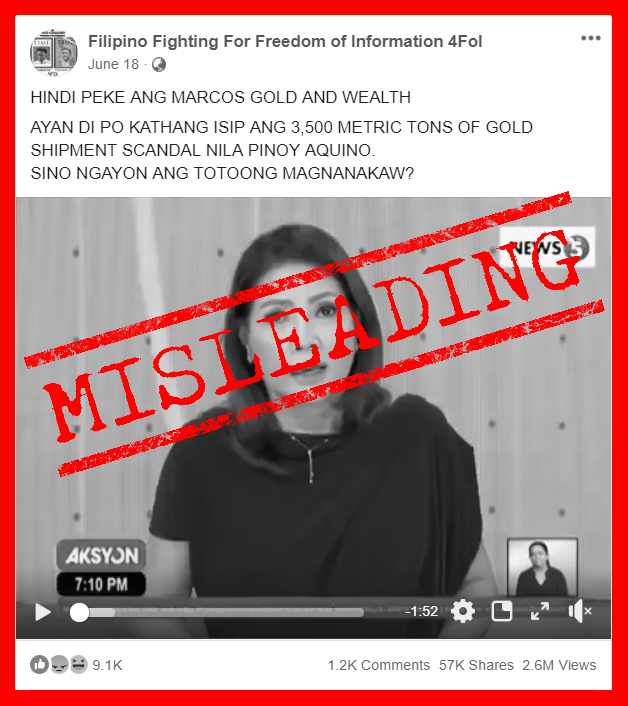 The News5 report merely details the plunder case filed at the Ombudsman that day against Aquino and five other government officials for supposedly underhandedly transferring 3,500 metric tons of gold bars overseas, through a Bangko Sentral ng Pilipinas (BSP) circular.
The BSP has called the complaint "spurious," saying it was based on a fake document.
The misleading online post could have reached over 605,000 people, its largest traffic generators from social media being Filipino Fighting For Freedom of Information 4Fol itself, and the pages Mang Ferdie and PRRD – the Greatest.
The misleading post was re-shared most recently last Sept. 17, four days before the 46th commemoration of the late dictator Ferdinand Marcos' declaration of Martial Law.
(Editor's Note: VERA Files has partnered with Facebook to fight the spread of disinformation. Find out more about this partnership and our methodology.)