A portion of a six-month-old video by a pro-Marcos YouTube channel that makes factually incorrect claims to prop up the late president Ferdinand Marcos Sr. and the so-called "Marcos gold" is being revived this month on TikTok and Facebook.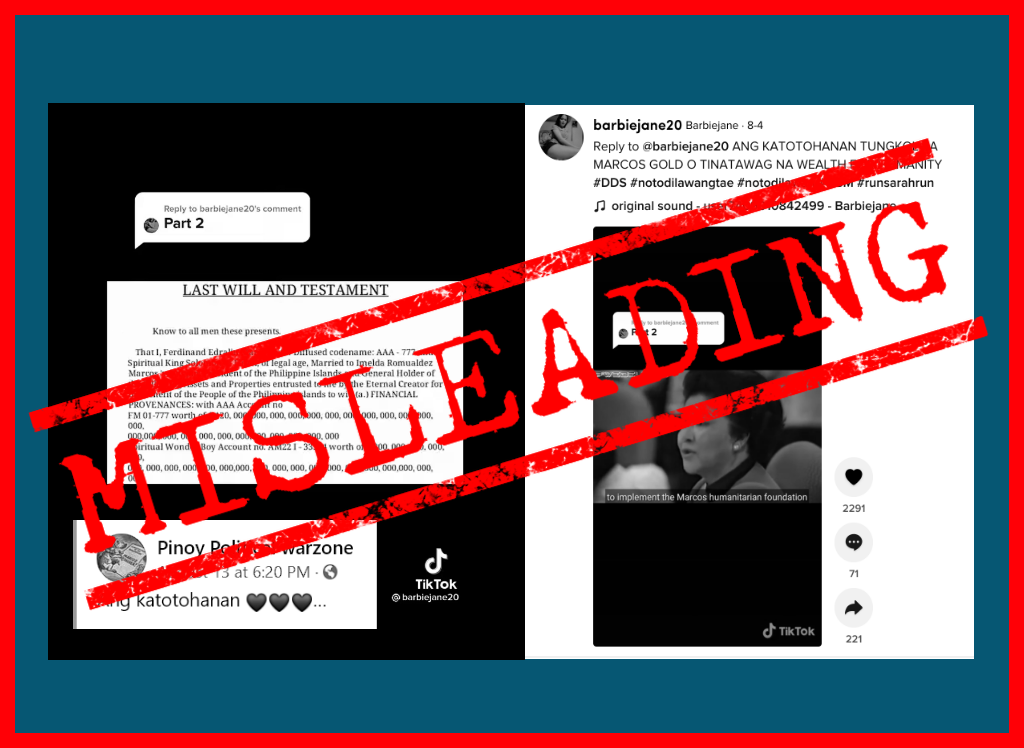 Originally posted by the channel PweDelie TV in February, the video erroneously claimed that former president Joseph Estrada was ousted in 2001, in part, for trying to set up a "Marcos humanitarian foundation."
It also showed fake copies of Marcos' last will and testament to support the video's narrative that the late dictator wanted his wealth to be distributed to the Filipino people after his death.
VERA Files Fact Check debunked these claims below.
On the impeachment of former president Estrada
The impeachment complaint filed against Estrada was based on accusations of bribery, graft and corruption, betrayal of public trust, and culpable violation of the Constitution. He was chief executive from June 1998 until his ouster in January 2001.
Former First Lady Imelda Marcos in 1998 sought help from senators to help carry out her late husband's "last will and testament" to establish a Marcos humanitarian foundation to "help the Filipino people." A year later, she said she knew Estrada would help her in the settlement of the Marcos assets under question and pave the way for a "Marcos foundation."
But there is no record of Estrada "almost approving" a Marcos foundation, nor was the impeachment complaint against him related to it.
On Marcos' last will and testament
PweDelie TV's video showed two copies of Marcos' supposed last will and testament, carrying the same messages but in different page formats. However, these look nothing like the actual last will and testament shared by the Marcos family to the media in 2016, which they presented as proof that it was the ex-president's desire to be buried at the Libingan ng mga Bayani.
A copy of the document released by the Marcos family can be seen in reports by ABS-CBN, GMA News, and News 5.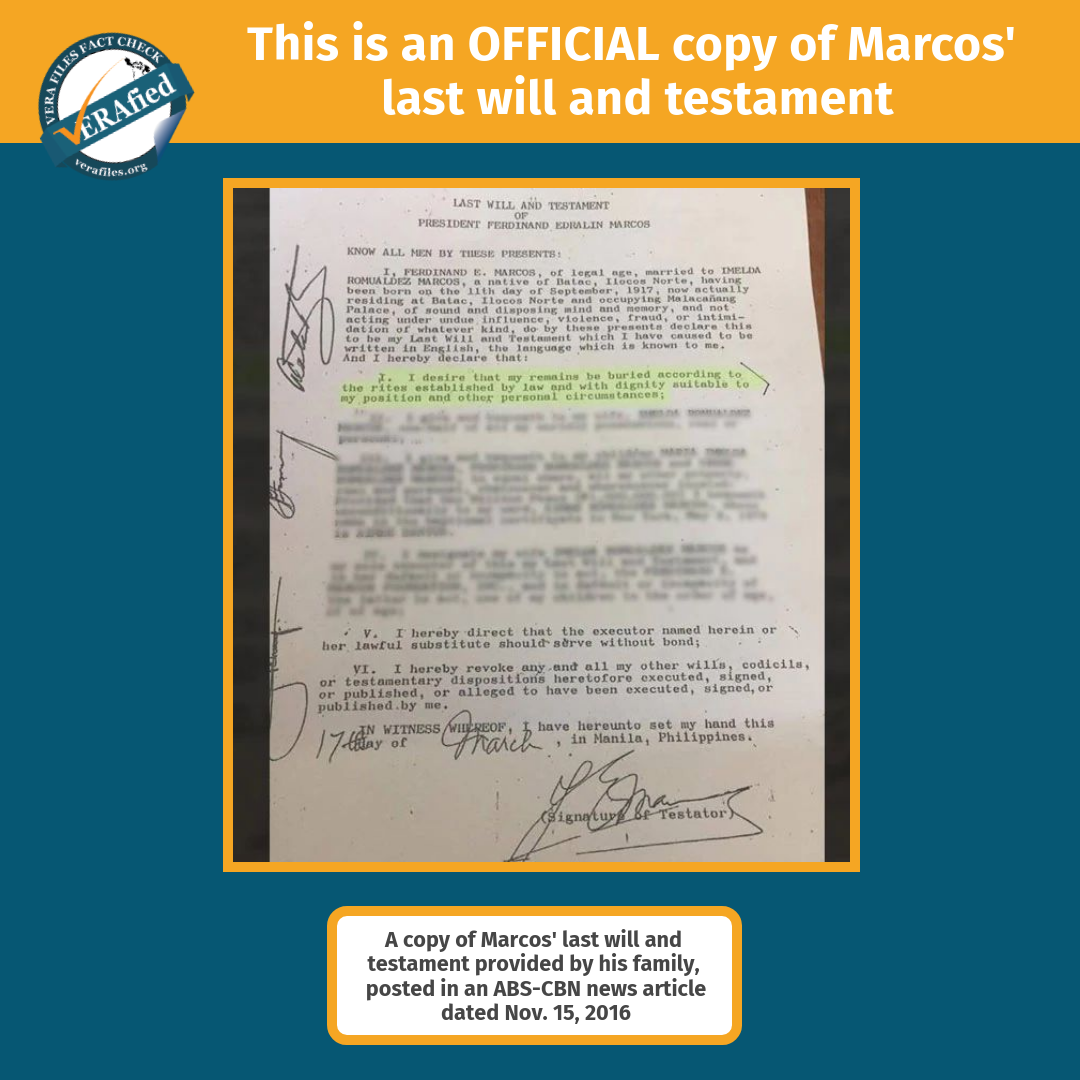 The fabricated copies as seen in the video showed that Marcos' wealth was larger than that of Jeff Bezos, currently the world's richest person. A cursory search traces a copy of the document to a blogger named American Kabuki in 2013.
PweDelie TV's video currently has 428,000 views. It was reuploaded by a pro-Marcos TikTok user on Aug. 4, garnering 35,500 views. Facebook page Pinoy Political warzone uploaded a copy of the TikTok video on Aug. 13, so far getting 15,800 interactions and 358,000 views.
Copies of the misleading video emerged after Robert Swift, a lawyer who won a class action suit defending victims of the Marcosian martial law, said in a Bloomberg video published Aug. 4 that he expects Marcos' ill-gotten wealth to find its way into funding campaigns in the 2022 elections.
PweDelie TV was created in April 2015 while Pinoy Political warzone, which posts memes and Marcos conspiracies, was formed only last Aug. 13.
(Editor's Note: VERA Files has partnered with Facebook to fight the spread of disinformation. Find out more about this partnership and our methodology.)