Two videos that made the rounds on social media this month featured recurring falsehoods about the criminal cases and wealth of the Marcos family. These incorrect claims are:
The Marcoses were not imprisoned because they proved to courts that they are not guilty of corruption;
International courts have ruled in favor of the Marcoses over "accusations" they had ill-gotten wealth;
400,000 tons of gold reserves are hidden at the Bangko Sentral ng Pilipinas (BSP); and 
Former president Ferdinand Marcos Sr. willed 70% of his wealth to FIlipinos and the remaining 30% to the world.
The videos were posted Aug. 9 on Facebook (FB) and on Aug. 5 by a vlogger named JVPH Ulat. VERA FILES Fact Check has debunked these claims.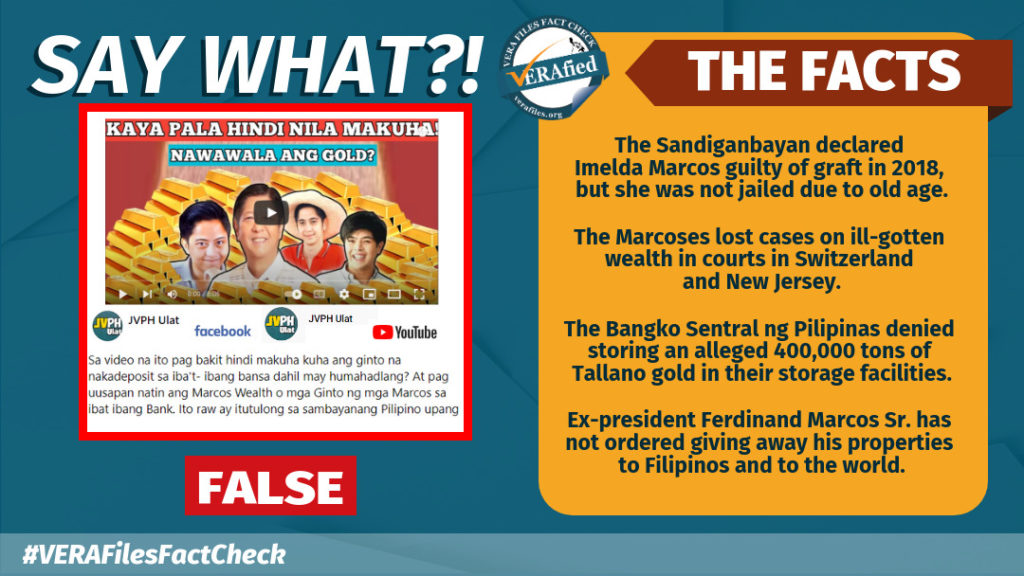 On the Marcoses not being imprisoned 
In 2018, the Sandiganbayan ruled that former first lady Imelda Marcos was guilty of seven criminal cases in connection with the creation of private foundations in Switzerland to funnel illegally-amassed government funds. She was sentenced with imprisonment of at least 42 years, but was allowed to post bail.
She posted a P300,000 bail and was not detained on account of her old age and health. 
On international courts favoring the Marcoses over ill-gotten wealth cases
In 1997, a Swiss Court ordered the return of assets in Swiss bank accounts worth around US$500 million at the time. It ruled that these assets were wealth that has harmed others. 
Paul G. Levy, a former judge in New Jersey, ordered in September 1986 the return of more than US$1.3 million worth of funds and property to the Philippine government. He ruled that these assets were bought with money stolen from the Philippines. 
On the Marcoses' 400,000 tons of gold 
The BSP has already denied storing 400,000 tons of gold allegedly owned by the Marcoses. (READ: VERA FILES FACT CHECK: No tons of 'Tallano gold' allegedly owned by Marcoses in BSP storage) 
Only 205,238 tons of gold have been mined throughout history, the World Gold Council reported as of January 2022. 
On Marcos giving away wealth to Filipinos and the world 
The late dictator never promised to give away his wealth to Filipinos and to the world, Miguel Paolo Reyes, a researcher from University of the Philippines' Third World Studies Center, explained in June 2022.

Marcos' last will and testaments, dated 1982 and 1988, state that Marcos bequeathed all his assets to his immediate family: 50% went to his wife Imelda, and the other half distributed to his three children and one adopted daughter. (READ: VERA FILES FACT CHECK: Marcos Sr. NEVER promised to give away his wealth)
The erroneous video posted by FB page JVPH Ulat (created on Oct. 24, 2020)  got almost 31,800 interactions. A longer version of the video, posted by a Youtube channel of the same name (created on Jan. 30, 2018), garnered over  2,700 views. 
Both videos appeared around the time President Ferdinand "Bongbong" Marcos Jr. sought to adopt evidence presented by a co-accused in a legal case over alleged ill-gotten wealth.
Have you seen any dubious claims, photos, memes, or online posts that you want us to verify? Fill out this reader request form or send it to 'VERA, the truth bot' on Viber.
(Editor's Note: VERA Files has partnered with Facebook to fight the spread of disinformation. Find out more about this partnership and our methodology.)