Videos on Facebook (FB) are erroneously claiming that the wealth of the Marcoses, including gold, purportedly stored in over 170 banks worldwide, will be used to fund the economic program and other priority projects of President Ferdinand Marcos Jr.'s administration.
Two videos appeared on Oct. 1 with similar false headlines. One of the titles read: "Marcos Wealth mula sa Mahigit 170 Bangko sa buong Mundo, Ipopondo na para sa Sambayanang Pilipino (Marcos wealth in over 170 banks worldwide, to be used as public funds for the Filipino people)!"
The video opens with former President Rodrido Duterte's 2017 speech where he claimed the Marcoses will bring back "a few gold bars" to cover the large deficit in government spending. The rest of the video stated where these alleged gold deposits are stored and discussed how Marcos Jr. will use his family's wealth to help Filipinos.
Duterte did say in his speech that he will "accept the donation", adding that the gold assets were taken by the late President Ferdinand Marcos Sr. from the country's vaults to "protect the economy." 
But the Marcoses never acknowledged they would "return" any such gold bars, much less use their wealth to bankroll the economy. Marcos Jr. even laughed off the myth behind the contentious "Marcos gold," saying he has never seen a single gold bar in his entire life.
In an interview last March, he said those reported tons of gold in their possession do not exist. (Read VERA FILES FACT CHECK: No tons of 'Tallano gold' allegedly owned by Marcoses in BSP storage)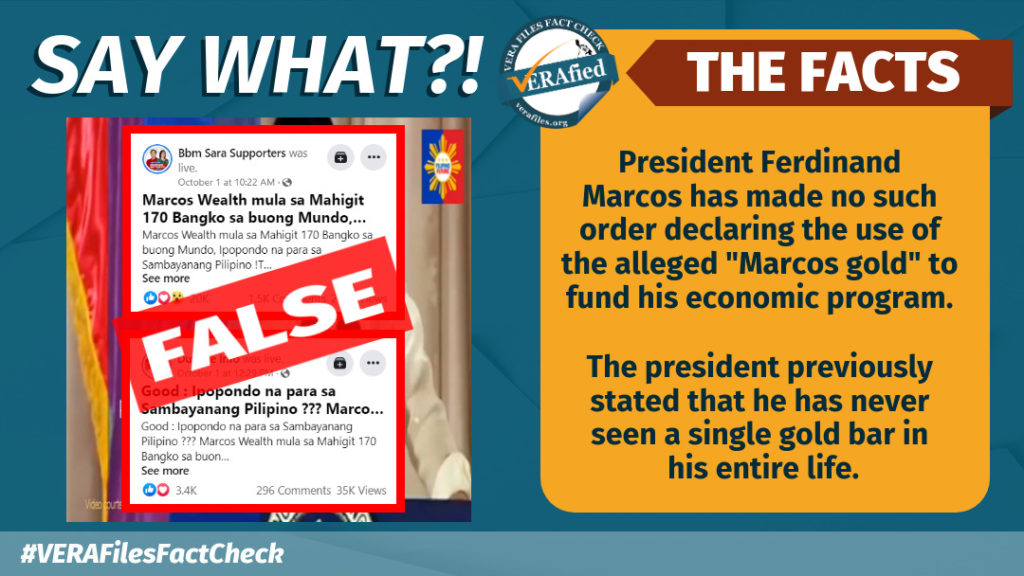 But even if such gold assets exist, Marcos Sr. never promised to give the Filipino people a share of his wealth and only entrusted it to his immediate family. (Read VERA FILES FACT CHECK: Marcos Sr. NEVER promised to give away his wealth)
The erroneous videos appeared more than a week after Marcos Jr. met with World Bank officials on Sept. 21 to talk about how the Bank can support his administration's priorities such as agriculture, energy, environment and post-COVID economic recovery.
FB pages Bbm Sara Supporters (created on Sept. 5) and Duterte Info (Aug. 30) published the untrue video, collectively garnering over 22,400 reactions, 1,600 comments, 7,800 shares and 280,000 views.
Have you seen any dubious claims, photos, memes, or online posts that you want us to verify? Fill out this reader request form or send it to 'VERA, the truth bot' on Viber.
(Editor's Note: VERA Files has partnered with Facebook to fight the spread of disinformation. Find out more about this partnership and our methodology.)