A TikTok video is rehashing bogus claims about the Marcos family's supposed gold reserves stored in the World Bank. These "deposits" are non-existent.
Specifically, it claimed that: 
President Ferdinand Marcos Jr. is withdrawing the interest earned by gold reserves deposited by his father, ex-president Ferdinand Marcos Sr., at the World Bank; and
the Marcoses have trillions of dollars in gold reserves.
It also falsely reported that Marcos Jr.'s meeting with World Bank officials was not reported by the mainstream media. 
VERA Files Fact Check debunks these claims, which were also circulated via Facebook (FB) Reels, below.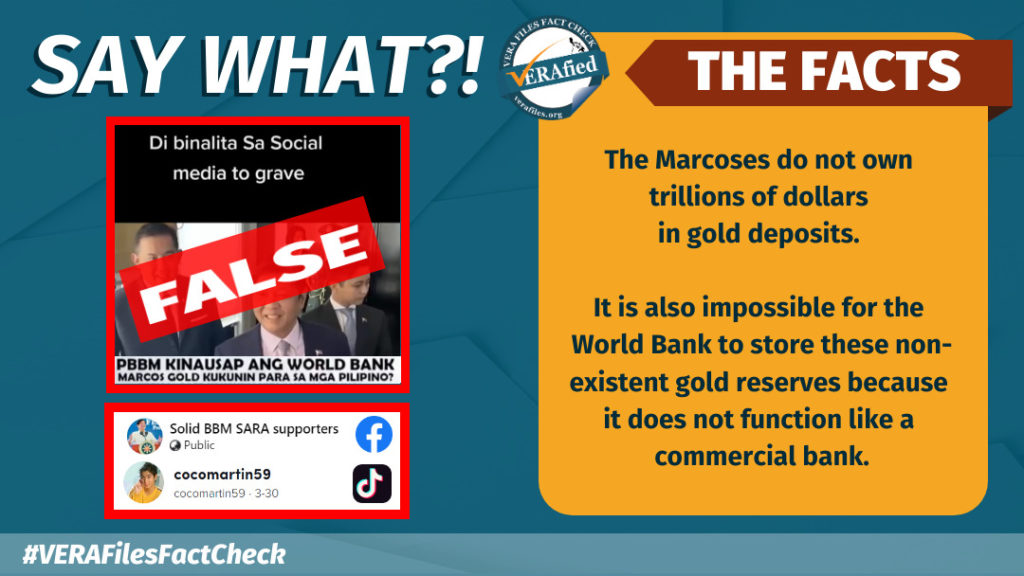 On the Marcoses withdrawing gold deposit interest from the World Bank
The World Bank is not a commercial bank where people can deposit assets and withdraw interest acquired over time. 
It is a financial institution that provides development loans for low- to middle-income countries. 
(Read related fact-check: Marcos Jr. DID NOT withdraw interest earnings from the World Bank) 
On the Marcoses' trillion-dollar gold deposits 
There is no evidence to support the claim that the Marcoses have trillions of dollars in gold. They are not even listed in Forbes Magazine's World Billionaires List as of April 2023.
In fact, not even the world's richest person — French business tycoon Bernard Arnault and his family — has that amount of money. Arnault's current net worth is US$238 billion, according to Forbes Magazine's Real-Time Billionaires List.

(Read related fact-check: Marcos NOT worth 'trillions to quadrillions' of dollars)
On the reportage of Marcos Jr.'s meeting with World Bank officials
Contrary to the video's claim, mainstream media did report on the president's meeting with World Bank officials in September 2022 (such as here, here and here). 
Marcos and the World Bank representatives had talked about agriculture, clean energy, education, and post-Covid economic recovery, according to his then press secretary. 
The erroneous FB Reel uploaded on April 17 by FB page Solid BBM SARA supporters (created on March 20, 2022) amassed 248,106 interactions. Its original version, uploaded March 30 by TikTok user @cocomartin59, got 117,433 interactions. 
The video appeared five days after the April 12 Philippine Economic Briefing in Washington, D.C., where a member of the World Bank was present. 
Have you seen any dubious claims, photos, memes, or online posts that you want us to verify? Fill out this reader request form or send it to 'VERA, the truth bot' on Viber.
(Editor's Note: VERA Files has partnered with Facebook to fight the spread of disinformation. Find out more about this partnership and our methodology.)