A video on YouTube claims that the wealth of President Ferdinand Marcos Jr. allegedly totals up to quadrillions of dollars. This has no basis.
On Nov. 13, a YouTube channel published the video that is still making the rounds online this week. Its headline read: "Mga Hari, Monarch at Lider Ng ASEAN Kinikilala si PBBM Na Pinaka-Makapangyarihan sa Asia? (Kings, monarchs and leader recognize [Marcos] as the most powerful in Asia?)"
While religious instrumental music played in the background, the video narrator claimed that, on top of his $7.6 billion net worth allegedly reported by Forbes Magazine, Marcos could be worth up to quadrillions of dollars due to the gold he purportedly inherited from his father.
It is not true. Even the world's current wealthiest person is not worth that amount.
Forbes Magazine listed Elon Musk as the wealthiest person in the world this year, with a net worth of $219 billion. In the magazine's list of the Philippines' Richest for 2022, there was no mention of Marcos at all, much less a net worth of $7.6 billion.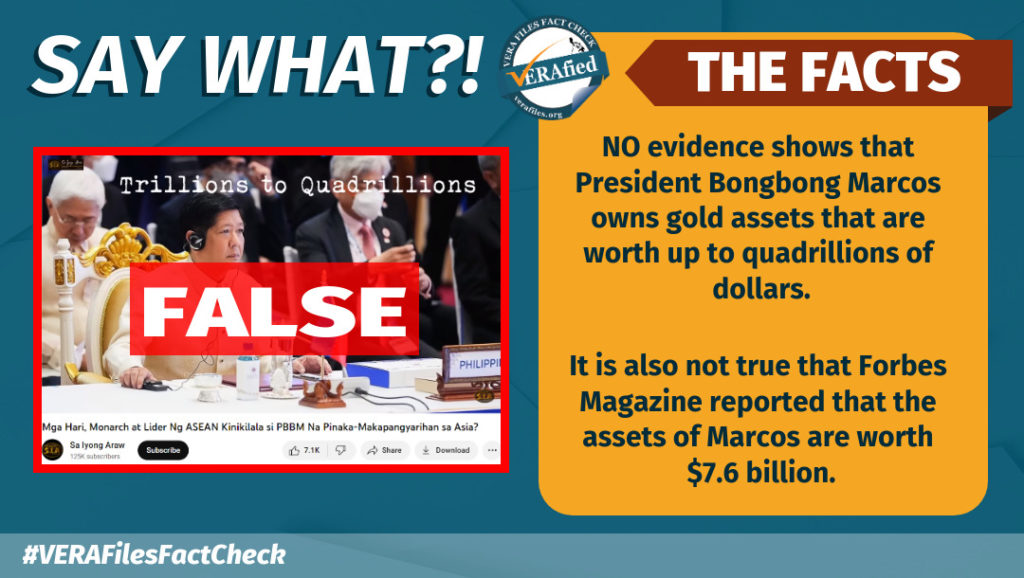 There is no evidence that Marcos owns trillions to quadrillions of dollars in gold, with the president laughing off the myth in one of his interviews during his presidential campaign.
(Read VERA FILES FACT CHECK: No tons of 'Tallano gold' allegedly owned by Marcoses in BSP storage)
According to the Presidential Commission on Good Governance, the Marcoses obtained around $5 to 10 billion worth of ill-gotten wealth. In a 1999 Senate inquiry, the late tycoon Enrique Zobel revealed that Ferdinand Marcos Sr. had a wealth of $100 billion, including $35 billion in gold bars.
(Read VERA FILES FACT CHECK: Ferdinand Marcos Jr. is NOT world's richest president)
The current total net worth of the president remains unknown. Marcos previously stated in January that he was "willing" to make his Statement of Assets, Liabilities and Net Worth public but fears that it might be "weaponized."
The video with the false claim appeared a day after Marcos joined the 10th Association of Southeast Asian Nations-United States (U.S.) Summit.
YouTube channel Sa Iyong Araw (created on April 2, 2021), which aims to spread the "word of God" according to its About page but posts mostly with political content, published the video. The channel has been flagged by VERA Files Fact Check several times. (Read Putin did NOT ask for help, borrow money from Marcos and Arrival of Philippines' first nuclear submarine NOT TRUE)
Its video has garnered over 227,000 views and 7,600 interactions. Facebook page The Real South Pride Production (June 2, 2020) reported the video, receiving more than 27,000 reactions, 1,800 comments, 3,600 shares and 476,000 views.
Have you seen any dubious claims, photos, memes, or online posts that you want us to verify? Fill out this reader request form or send it to 'VERA, the truth bot' on Viber.
(Editor's Note: VERA Files has partnered with Facebook to fight the spread of disinformation. Find out more about this partnership and our methodology.)