Shortly after the vote recount between Vice President Leni Robredo and former senator Ferdinand "Bongbong" Marcos Jr. started on April 2, a number of fake news stories targeting Robredo surfaced on social media.
Three such reports went viral and were flagged by VERA Files Fact Check as it began its partnership with Facebook:
LENI ROBREDO P1NAPA$U-N0G ANG MGA BAL0TA NI BONGBONG MARCOS! PANOORIN (Leni Robredo orders the burning of Marcos ballots! Watch!)
BISTADO NA!! Sl LENI PALA ANG SUMULAT SA EU PARA IMBESTlGAHAN Sl DUTERTE! PANOORIN (Busted!! It was Leni who wrote to the EU to have Duterte investigated! Watch!)
LENI ROBREDO NAG-WALA DAH1L LAMANG NA SI BONGBONG MARCOS SA RECOUNT! PANOORIN (Leni Robredo went wild because Bongbong Marcos now leads the recount! Watch)
The first two stories, published by website du30community.info on April 21 and 24, had no basis. The third, posted on pinoynews.info on May 3, was misleading.
Several Facebook pages shared these unproven and misleading reports, causing their virality. Among these, President Duterte Astig Supporters consistently shared all three articles to its followers, generating the most number of engagements to these fake stories.
But aside from having a similar target and being promoted by a common Facebook page, pinoynews.info and du30community.info shared one other element: their Google AdSense code.
Web publishers and YouTube channel owners may use Google AdSense to earn from their sites through advertisements. Publishers are issued a code to place on their web pages to display ads from Google.
From April to December, VERA Files Fact Check debunked 236 fake news reports that circulated on Facebook. Eighty-seven percent of these stories came from 139 websites.
Almost half of these sites had 22 common AdSense codes. Each ad code was used by two to nine websites, with some using more than one code. This suggests there may only be one person or organization behind each group of sites with a common code.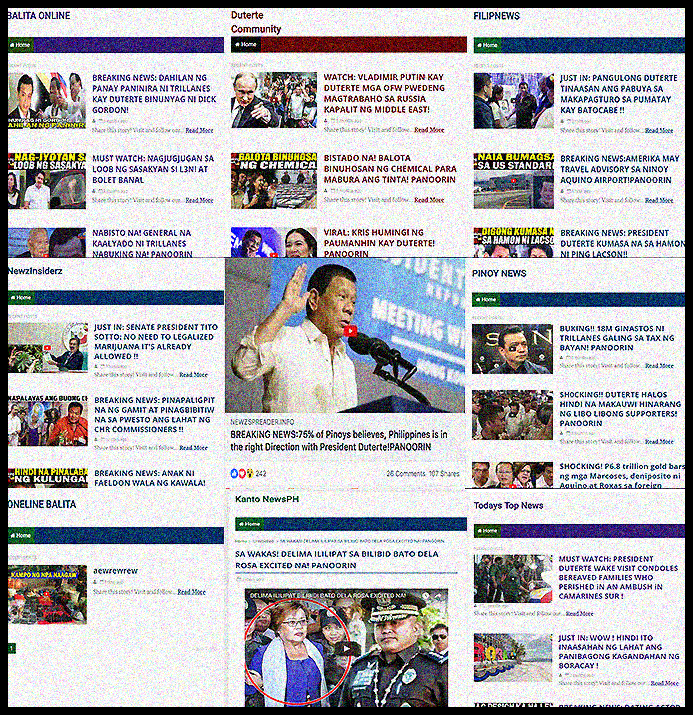 The ad code shared by the most number of websites — ca-pub-8418651787922751— is found in pinoynews.info, du30community.info and seven others:
balitaonline.xyz
kantonewsph.xyz
filipnews.org
newzinsiderz.info
newzspreader.info
onelinebalita.xyz
todaystopnews.xyz
Online investigation tool DNSlytics detected 52 more websites using the same code. We looked into this network and established the following.
Duterte, the political opposition and the Aquinos are the three main subjects of its stories
Of the 18 stories produced by nine websites, three distinct topics emerge: those that fabricate or twist current events to show President Rodrigo Duterte in a good light, those targeting opposition senators and Vice President Leni Robredo and those that target the Aquinos.
| | | | |
| --- | --- | --- | --- |
| Topic: | Duterte in a good light | Opposition senators and Robredo | The Aquinos |
| # of stories produced: | 7 | 10 | 1 |
More than half of the stories were about the political opposition.
Four of these targeted Robredo, amid the ongoing vote recount between her and Marcos, with one unsubstantiated story claiming she ordered pro-Marcos ballots to be burned, while another falsely claimed she "lost her cool" because Marcos was "leading" in the recount.
Other opposition members victimized by fake and false news were senators Risa Hontiveros, Leila de Lima and Antonio Trillanes IV. Sen. Francis "Chiz" Escudero was also a casualty.
On the other hand, there were seven stories that twisted fact to paint Duterte in a good light. These included a fake news in April about Kuwait "repenting" and "apologizing" to Duterte after the diplomatic brouhaha triggered by the Philippine embassy's rescue operations of reportedly maltreated Filipino workers, and a false story last month that claimed former US President George W. Bush was "impressed" by the killings under Duterte's drug war.
One published fake report rehashed a previously debunked claim that Duterte's predecessor, former President Benigno "Noynoy" Aquino III, had "stolen" Marcos gold bars.
Top social media traffic generators are pro-Duterte Facebook pages and groups
In each viral post it reviews, VERA Files Fact Check takes note of the three top social media traffic generators, or the Facebook pages or groups that bring in the most engagement to the story.
For example, in the unsubstantiated report that claimed Robredo ordered pro-Marcos ballots to be burned, the top traffic generators in social media were pages President Duterte Astig Supporters, President Duterte Worldwide Supportersand the public group President Duterte Loyal Supporters. All shared the unproven story a day after it was published on du30community.info.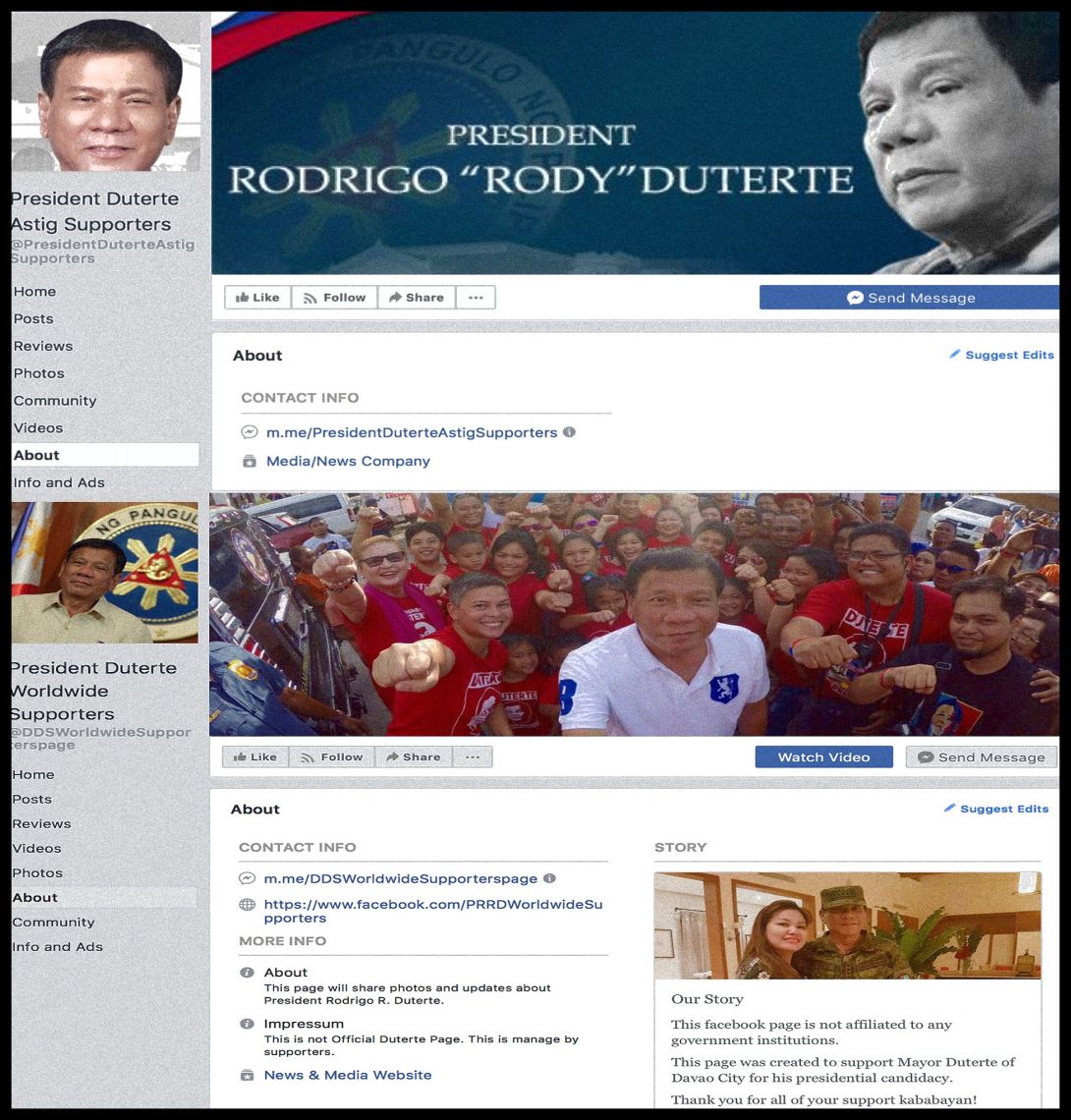 The pro-Duterte group and pages turned out to be the three top sharers of the 18 stories produced by websites using the ad code ca-pub-8418651787922751. Astigpage shared 11 stories; the Worldwidepage, 7 stories and the Loyalgroup, 5 stories.
Both the Worldwidepage and Loyalgroup have undergone name changes. Created on July 1, 2016, the Worldwidepage used to be known as President Duterte Random Photosuntil Dec. 8 when it adopted its current name. The Loyalgroup was created on Nov. 9, 2015, and changed to its current name on Aug. 15, 2017.
TheAstigpage was created on March 22, 2017, and has over 155,000 likes; the Worldwidepage has over 311,000 likes.
The Loyalgroup, which has over 4,000 Facebook accounts, has a list of rules for its members. Rule number 9 says, "YOU can attack goverment (sic) official here but be sure your account is your true name."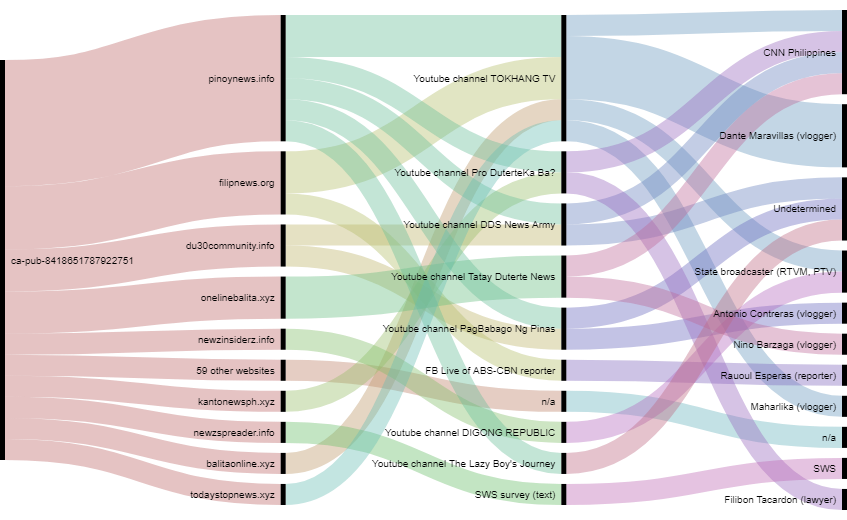 Reports are mostly in video form and use clips from CNN Philippines, vloggers
Seventeen of the 18 stories use videos as its content, specifically, Youtube videos.
| | |
| --- | --- |
| Source | # of times sourced |
| Youtube channel DDS News Army | 2 |
| Youtube channel DIGONG REPUBLIC | 1 |
| Youtube channel PagBabago Ng Pinas | 2 |
| Youtube channel Pro DuterteKa Ba? | 2 |
| Youtube channel Tatay Duterte News | 2 |
| Youtube channel The Lazy Boy's Journey | 1 |
| Youtube channel TOKHANG TV | 6 |
| Others (FB Live of ABS-CBN reporter) | 1 |
| Total | 17 |
A third of the stories using the top AdSense code sourced its content from the Youtube channel TOKHANG TV, which was created in November 2016 and currently has over 306,000 subscribers on Youtube. Most of the other stories were also sourced from Youtube channels whose names have something to do with "Duterte" or his slogan, "Change is coming."
Many of the videos VERA Files has fact-checked from these Youtube channels often either use clips from news reports available online, Facebook Live monologues by Duterte supporters, or sometimes, a mix of the two.
This is reflected in our tally of materials used by the above-mentioned Youtube channels as their videos' content. Topping the list are reports available online by CNN Philippines and Facebook Live videos of Bicol-based Duterte supporter, Dante Maravillas.
| | |
| --- | --- |
| Source Material | #of times sourced |
| Dante Maravillas (vlogger) | 3 |
| CNN Philippines | 4 |
| Maharlika (vlogger) | 1 |
| Nino Barzaga (vlogger) | 1 |
| Antonio Contreras (political science expert) | 1 |
| Filibon Tacardon (lawyer) | 1 |
| State-run broadcasters (RTVM, PTV, Radyo Pilipinas) | 2 |
| Undetermined | 3 |
Much of the videos using CNN Philippines reports mislead by twisting its headlines. Maravillas, on the other hand, livestreams on an almost-daily basis through his personal Facebook account, the pages Dante Maravillas BLOG and Tarabangan Albay News TV, where he spins current issues to Duterte's favor and often against critics of the administration and its policies.
Maravillas describes himself on Facebook as a "broadcaster" of Tarabangan Albay News TV and the "CEO/Owner" of Tarabangan Albay News and Media Production.
In May, VERA Files Fact Check looked into a string of death hoaxes produced that month targeting public figures. A deep dive into its AdSense codes also revealed how its web publishers may all be under one network, creating hoaxes which is a money-making scheme. (See: VERA FILES FACT CHECK: The scheme behind scams: Why death hoaxes don't die)
(Guided by the code of principles of the International Fact-Checking Network at Poynter, VERA Files tracks the false claims, flip-flops, misleading statements of public officials and figures, and debunks them with factual evidence. Find out more about this initiative and our methodology.)