A reader asked VERA Files Fact Check to look into an online story claiming the International Criminal Court (ICC) is putting President Rodrigo Duterte on trial for extrajudicial killings.
We checked. The story is fabricated.
The website france24-tv.com, which ran the story "We are Going to Put Duterte on Trial in January—ICC," is imitating france24.com, website of international French television company France 24.
Adding characters like "-tv" in the URL of news websites is a common trick employed by imposter sites, or websites masquerading as legitimate ones.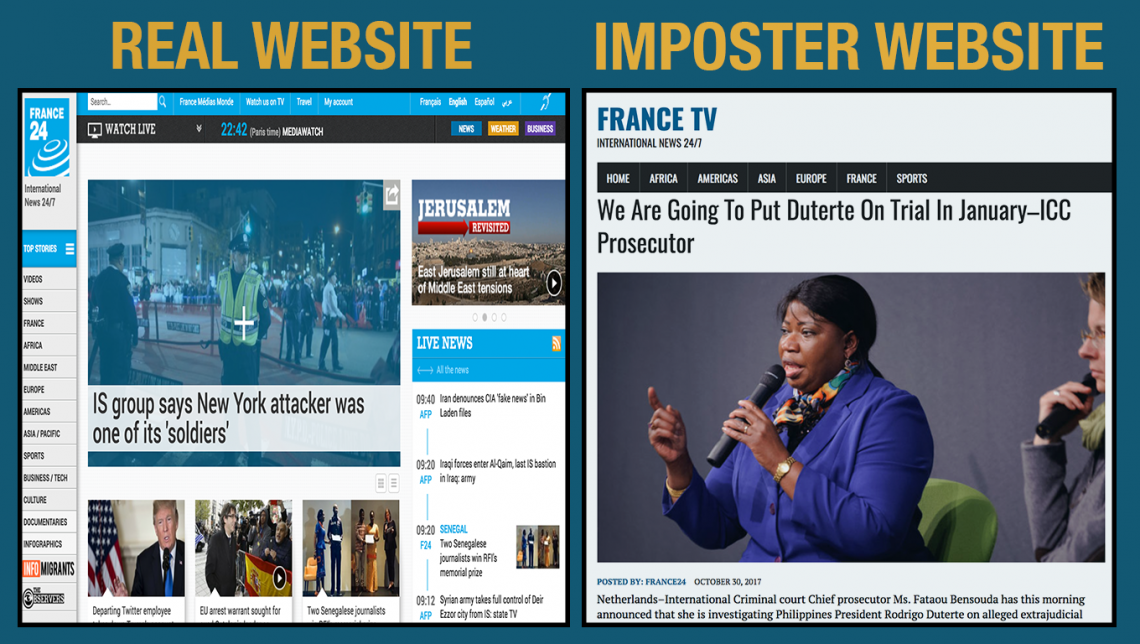 France24-tv.com also possesses these telltale signs of a fake news site—no bylines or author's names; no About Us and Contact Us sections. Per a domain name lookup service, the website was created only on Oct. 14. It ran its first story on Oct. 20.
Sought for comment, lawyer Ruben Carranza of the International Center for Transitional Justice said if the ICC prosecutor were to take a formal step, it would be called a "preliminary examination."
More, it would refer to a situation in a country rather than particular persons at that point, Carranza said.
Upon checking, France 24 last ran a story on Duterte on Oct. 29 about his appointment of Rep. Harry Roque as presidential spokesperson.
(Guided by the code of principles of the International Fact-Checking Network at Poynter, VERA Files tracks the false claims, flip-flops, misleading statements of public officials and figures, and debunks them with factual evidence. Find out more about this initiative.)
2017-11-03 11:19:48 UTC>
2017-11-04 10:46:21 UTC>