Pres. Duterte is not lending his political clout to Jinggoy Estrada and Bong Revilla, who both have been charged with plunder.
It's not because he hates plunderers despite his public declaration of "I hate corruption." That is as hollow as his "I hate drugs" mantra.
The reason he gave for not including the two in his chosen 11 was, they asked for his support "too late," long after he had completed his list.
(By the way, his grandson, Rodrigo "Rigo" Duterte II – son of Paolo – posted an opposition poster on his Facebook wall showing the pictures of Estrada, Revilla and Juan Ponce Enrile with the hashtag "#zerovoteplunderers.")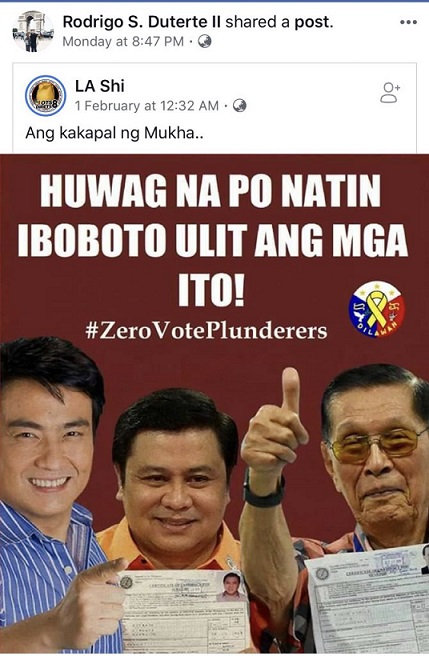 The President's grandson shared this FB post.
Sen. JV Ejercito, who has been adversely affected by his half-brother's decision to vie for the same position he is running for, should be happy. He is four to six slots away from the Magic 12. He may benefit from Duterte's exclusion of Jinggoy.
But Duterte's dropping of Estrada and Revilla is really for his favored candidates Christopher "Bong" Go and Ronald "Bato" de la Rosa.
Estrada is number nine while Revilla is number 12 in the January 26 to 31 survey of Pulse Asia for those running for senator for the May 13 elections.
Go has already entered the Magic 12 at number 8 but de la Rosa is still out hovering in the area of 13 through 15.
At number 8 and with the President's backing, Go may be safe but there is a need to knock out someone to make room for de la Rosa and possibly another favorite, former MMDA chair Francis Tolentino.
Duterte knows it's almost impossible to push out the top three Grace Poe, Cynthia Villar and Pia Cayetano. Besides, he has a cordial relationship with Poe, a fellow contender in the 2016 elections. Villar and Cayetano are his candidates. Lito Lapid, still basking in his enviable "Ang Probinsiyano" exposure and Nancy Binay would also be difficult to push out of Magic 12, even if they are pushed down below the top five.
Sonny Angara and Koko Pimentel have no terrible stain. Pimentel is a party mate and Angara is an ally and can now be considered in his fold.
Mar Roxas is the only opposition in the Magic 12 at number 10. His position is precarious.
Imee Marcos is number 11 and her position is also not secure. She is one of Sara Duterte's Hugpong 13 but there is talk that the current presidential daughter has told local officialsto exclude the former presidential daughter in their list.
The official campaign period has just started. The top 12 do not look inspiring. More than two months to go.
The situation can still change. Besides, I'm a believer in miracles.