Presidential daughter and Davao City Mayor Sara Duterte-Carpio is wrong in saying the law does not require senators to be honest and be of good moral character.
STATEMENT
In a March 9 chance interview, Duterte-Carpio, campaign manager of Hugpong ng Pagbabago (HNP) was asked: "Generally ma'am, do you think that honesty is a requirement in public service?"
Her response:
"Hindi naman ang iniisip ko ang importante eh. Ang importante is ano 'yung required ng batas, ano ba sinabi ng batas for a senator, 'able to read and write, natural-born citizen.' Does it say na dapat good moral character yung tao? Does it say that the person has to be honest? Kaya sinabi ko kung honesty ang pagbasehan natin, disqualified lahat ng kandidato .

(It's not what I think that's important. What's important is what the law says, what the law requires for a senator, 'able to read and write, natural-born citizen.' Does it say the person should have good moral character? Does it say that the person has to be honest? That's why I said if we base [the elections] on honesty, then all candidates should be disqualified)"

Source: Rappler.com, MISLEADING: Sara Duterte claims law doesn't require that senators be honest, March 10, 2019, watch from 0:01 to 0:31

In an earlier statement, Duterte-Carpio defended HNP senatorial candidates Imee Marcos and Christopher Lawrence "Bong" Go from allegations of dishonesty by saying "honesty should not be an issue" in the upcoming elections since "all candidates lie."
Ilocos Norte Governor Marcos is being criticized for falsely claiming to have graduated from the University of the Philippines and Princeton University. Former presidential aide Go, on the other hand, was accused of using public funds on campaign t-shirts.
FACT
Qualifications to be a candidate for Senator are distinct from the requirements prescribed by law for people who will hold public office.
Duterte-Carpio only referred to the qualifications to be a candidate for Senator, provided for by section 3, article 6 of the 1987 Constitution, enumerated as follows:
A natural-born citizen of the Philippines;
At least 35 years of age on the day of the election;
Able to read and write;
A registered voter; and
A resident of the Philippines for not less than two years a day before the election.
But good moral character, which includes a personal history of honesty, among other virtues, is a basic requirement for all public officials and employees. Those aspiring to be part of the bureaucracy are therefore expected to be of good moral character.
A number of laws supports this universal truth, primarily Republic Act 6713, the code of conduct for public officials and employees. It states that "it is the policy of the State to promote a high standard of ethics in public service."
More specifically, section 4 of the law includes a list of "standards of personal conduct" public officials, both elected and appointed, should observe in the execution of official duties. Among them are justness and sincerity:
"Public officials and employees shall remain true to people at all times. They must act with justness and sincerity and shall not discriminate against anyone, especially the poor and the underprivileged.
It added:
"They shall at all times respect the rights of others, and shall refrain from doing acts contrary to laws, good morals, good customs, public policy, public order, public safety and public interest."
Commitment to public interest, also under section 4 of the law, requires public officials to use government resources and powers "efficiently, effectively, honestly and economically to avoid wastage of public funds and revenues."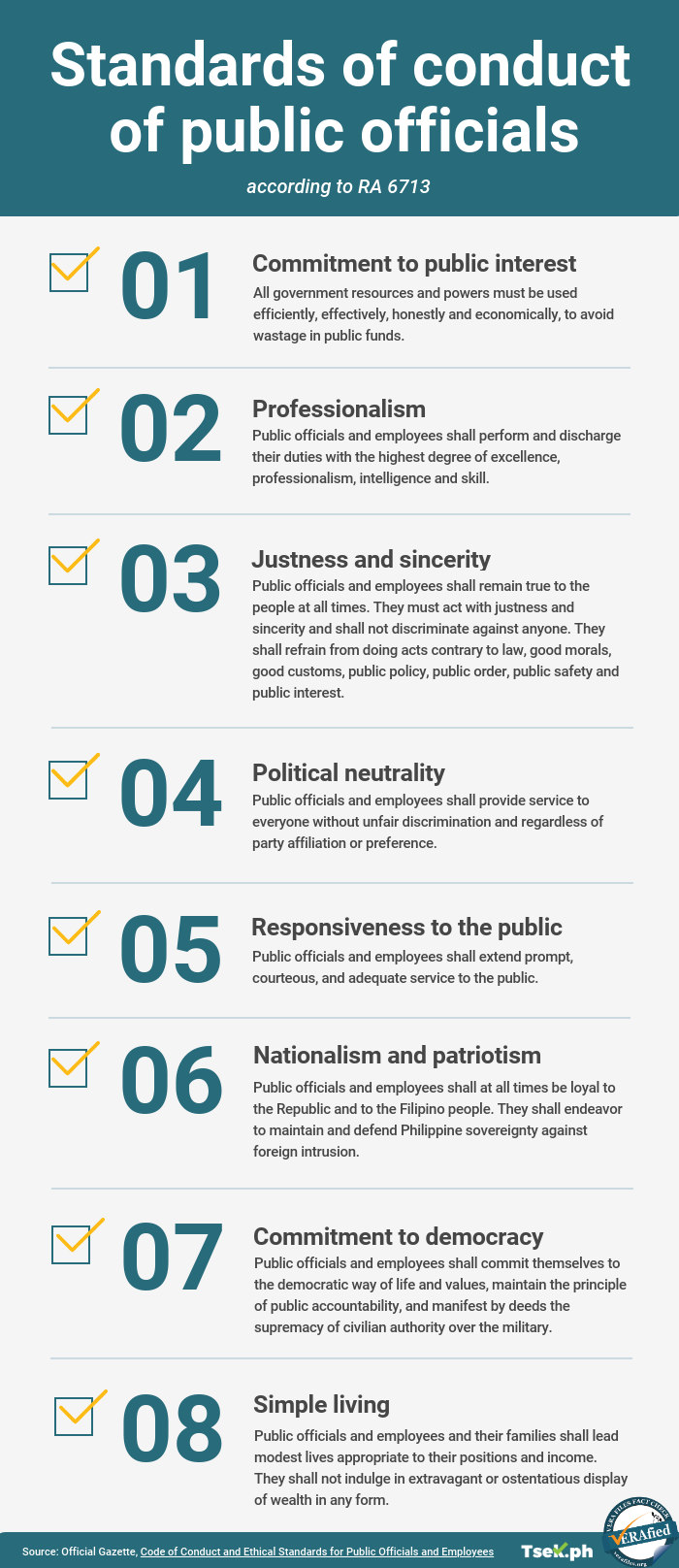 Likewise, proven violation of section 4 or the law's other provisions may be punished with a fine not exceeding the equivalent of six months salary or suspension not over one year, or removal, depending on the gravity of offense for government employees.
The 1987 Constitution also states that:
"Public office is a public trust. Public officers and employees must at all times be accountable to the people, serve them with utmost responsibility, integrity, loyalty, and efficiency, act with patriotism and justice, and lead modest lives."

Source: Official Gazette, 1987 Constitution, Sec. 1, Art. 11

Sources:
Rappler.com, MISLEADING: Sara Duterte claims law doesn't require that senators be honest, March 10, 2019
ABS-CBN News, Sara Duterte: Honesty should not be an election issue, March 6, 2019
News5, Honesty ng mga kandidato, hindi na raw dapat isyu ayon kay Mayor Sara Duterte, March 6, 2019
Inquirer.net, Sara Duterte: Honesty not an issue for Bong Go, March 7, 2019
Politiko, Lahat sila sinungaling! Honesty not an issue during polls since all candidates lies, says Mayor Sara, March 7, 2019
Official Gazette, RA 6713
Civil Service Commission, Rules Implementing the Code of Conduct and Ethical Standards for Public Officials and Employees
Official Gazette, 1987 Constitution
(Guided by the code of principles of the International Fact-Checking Network at Poynter, VERA Files tracks the false claims, flip-flops, misleading statements of public officials and figures, and debunks them with factual evidence. Find out more about this initiative and our methodology.)
(VERA Files is a part of Tsek.ph, a collaborative fact-checking initiative by the academe and the media for the 2019 Philippine midterm elections.)