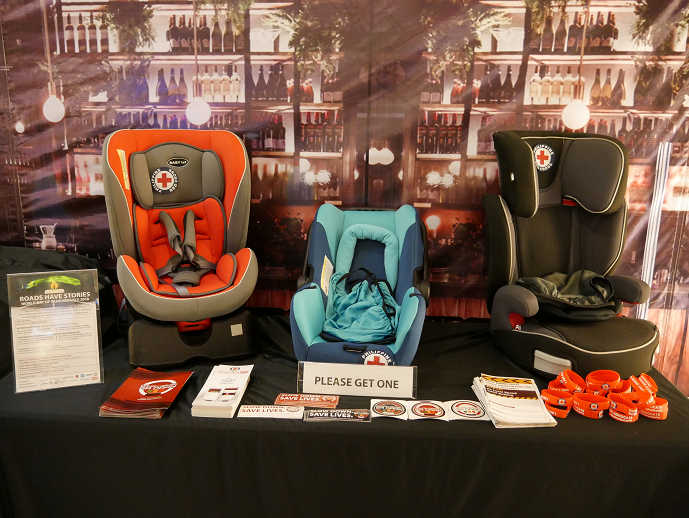 Child car seats (L-R: Convertible car seat, infant car seat, booster seat) from the Philippine Red Cross displayed on the table during a road safety photo exhibit last year.
A toddler sitting on a mother's lap or a small child unbuckled at the back of a moving vehicle is no longer allowed under a new law that mandates the use of car seats while transporting children 12 years and below.
The measure aims to protect infants and children, the most vulnerable road users, from death and injury in the event of a road crash.
The Child Safety in Motor Vehicles Law or RA11229 was signed by President Rodrigo Duterte last Feb. 22 and made public on Tuesday. Its implementing rules and regulations (IRR) will have to be formulated by government agencies, led by the Department of Transportation (DOTr), before the measure can be fully enforced.
The law requires drivers of private vehicles to use child restraints on children 12 years and below while travelling to protect them from injury during a crash or sudden stop. These are car seats, booster seats or car beds designed to diminish the risk of injury to a child because they limit a child's mobility.
Sen. JV Ejercito, author of the Senate bill on child restraints, stated: "It is also my hope that this measure will bring attention to the bigger problem of road safety in our country: over-speeding, lack of discipline, failure to follow stop signs and signal lights, etc.,"
"We want our children to be safe when travelling on the road. Grievous harm could be prevented or drastically minimized when children 12 years or lower are in car seats and not allowed to seat in front. Hopefully, through this measure, adults will also realize the importance of other aspects of road safety, such as speeding, road signs, drink driving," the senator said in a statement.
Under RA11229, "it shall be unlawful for the driver of a covered vehicle not to properly secure at all times a child, in a child restraint system while the engine is running."
No child 12 years and below shall be allowed to sit in a front seat of a motor vehicle with running engine unless the child meets the height requirement of at least 150 centimeters (4'11") and is properly secured using the regular seat belt, it further states.
The World Health Organization (WHO) says child car seats are "highly effective in reducing injury and death to child occupants" as they keep kids from being thrown against the car interior, from hitting other car occupants, or from being ejected from the vehicle.
If correctly installed and used, these devices reduce deaths among infants by about 70 percent and up to 80 percent among small children, it says.
In its 2018 Global Status Report on Road Safety, the WHO said road traffic injuries are currently the leading cause of death for children and young adults aged 5–29 years. This, it adds, signals a need for a shift in the current child and adolescent health agenda which has largely neglected road safety. (See more: Road crashes now top global killer of kids and young adults).
In the Philippines, an average of 671 children aged 14 and below died each year from 2006 to 2014 from road crashes, according to the Philippine Statistics Authority.
Road safety advocates have pushed for the mandatory use of child car seats in a country where the preferred practice is to carry a child on one's lap and protect the kid with one's arms.
They have also countered criticisms that the measure is elitist because of a car seat's steep price, saying the cost of a child restraint would come out cheaper than medical bills that could be incurred if a child were injured during a road crash.
"While some people might hesitate on additional spending, we should be mindful that no price can compare to a child's life, and that is at stake everyday on the road," Senator Ejercito once said during a committee hearing on road safety last year.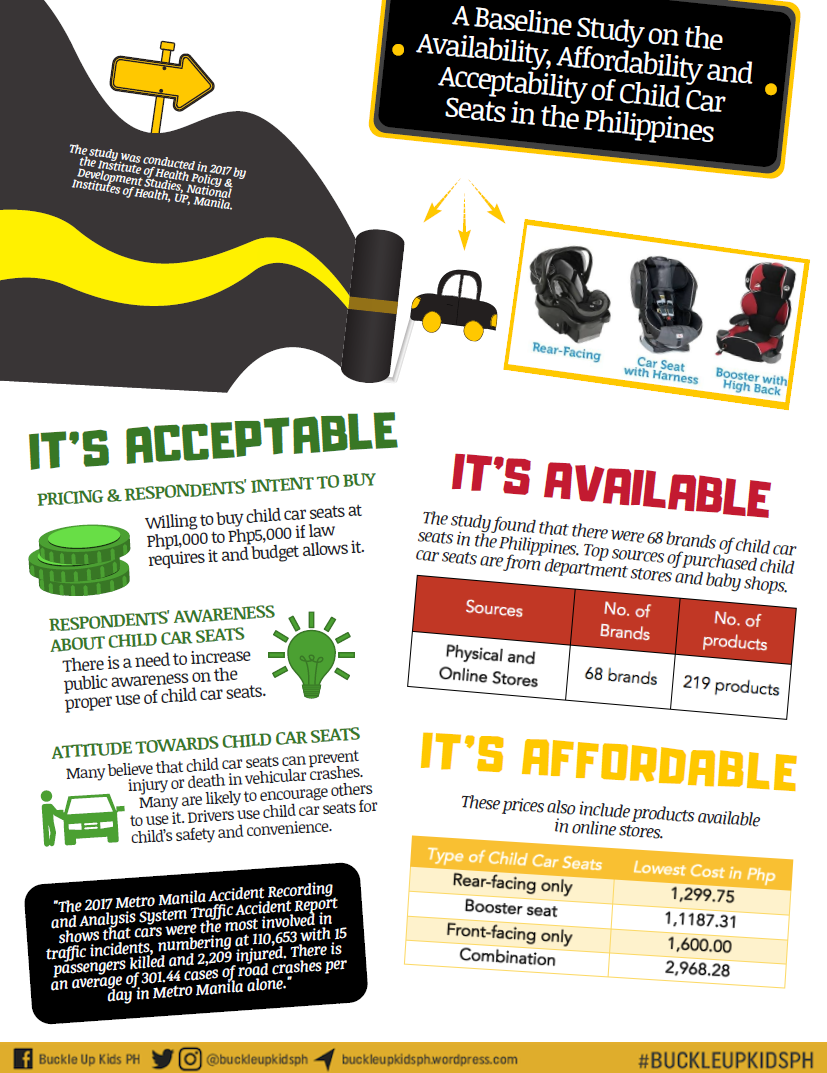 An infographic on child car seats from Buckle Up Kids PH, an organization advocating for road safety.
There are no known local producers of child restraint systems but there are 68 foreign brands readily available.
Seven of these brands are locally distributed, another seven are available through online purchase and delivery from company sites. Thirty are from general online shopping sites, according to a 2017 study called Child Restraints in the Philippines: A Baseline Study on the Availability, Affordability and Acceptability of Child Restraints in the Philippines.
In addition to having safe roads and safe vehicles, ensuring the safety of road users is also an important pillar in the United Nations Global Plan for the Decade of Action for Road Safety.
In the Philippines, there are laws on managing vehicle speed, addressing drink-driving and distracted driving, mandating helmet use by motorcyclists and seatbelt use to help ensure the safety of road users.
With the law on child restraints, the Philippines now joins dozens of other countries with legislation meant to protect the most vulnerable road users – children.
A person that violates the law will be fined P1,000 for the first offense, P2,000 for the second offense, and P5,000 and the suspension of the driver's license for one year for all succeeding offenses.
This story has been produced with the help of a grant from The Global Road Safety Partnership (GRSP), a hosted project of the International Federation of Red Cross and Red Crescent Societies (IFRC).