Road crashes now kill children and young adults worldwide more than any other cause, a new study, released the same day the annual Christmas "carmageddon" is expected to commence, shows.
"Road traffic injuries are currently the leading cause of death for children and young adults aged 5–29 years, signalling a need for a shift in the current child and adolescent health agenda which, to date, has largely neglected road safety," read the 2018 Global Status Report on Road Safety made public by the World Health Organization (WHO) Dec. 21 at the Rizal Park Hotel, Manila.
"This is the most chilling, most heartbreaking figure in this document," said John Juliard Go, National Professional Officer for non-communicable diseases of WHO Philippines, during the report launch.
In contrast, an earlier WHO report released 2015 showed road crashes were the main killer for only one age group, young adults aged 15-29 years old.
The rise might be due to children becoming more exposed to increasingly dangerous roads, Go said.
"Kasi naman ang mga bata pwede naman pedestrian at pasahero. Ibig lang sabihin nito, mas lalo lang na-expose ang kabataan…kaya lumala ang sitwasyon (Children can be passengers and pedestrians. They might have been more exposed to roads, that is why the situation worsened)," he said.
"Hindi naging sapat ang pamamaraan para maging ligtas 'yung pagiging dangerous ng daan para sa kanila (Safety measures taken were not enough to protect them from the dangers of the road)," he added.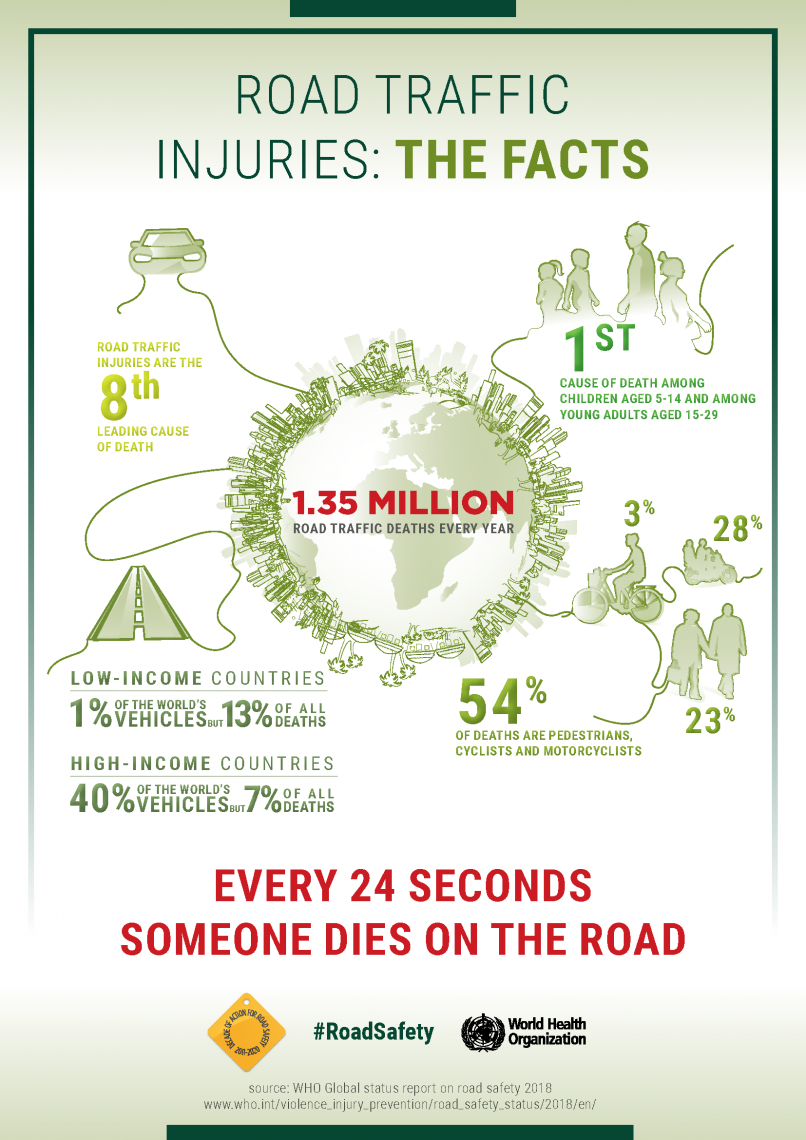 In November, the bicameral committee approved the Child Safety in Motor Vehicles Law, which mandate the use of child car seats to protect children 12 years and below against death and injury, in the event of a car crash or a vehicle's sudden stop. The consolidated bill is set to be transmitted to the Office of the President for signing into law.
The WHO report adds more worries to those heading home for the holiday season; the Metropolitan Manila Development Authority (MMDA) had already warned motorists and commuters to brace for heavier-than-usual traffic congestion until the season is over.
More worrying findings from the WHO report: that more people die from road crashes than from HIV/AIDS, tuberculosis and diarrheal diseases; that crashes are the eighth leading cause of death for all age groups worldwide, up from ninth in 2015; and that in Southeast Asia, riders of motorcycles and other three-wheelers account for almost half of deaths due to crashes.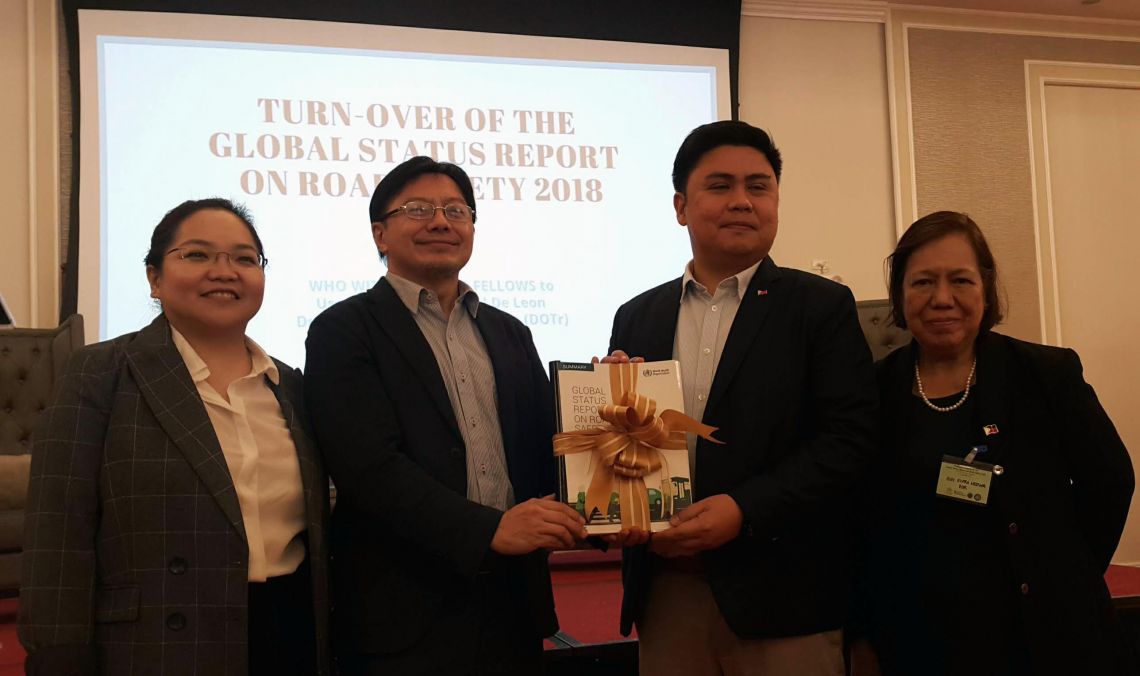 Dr. John Juliard Go of WHO Philippines (second from left) turns over a copy of the 2018 Global Status Report on Road Safety to Usec. Mark De Leon of the Department of Transportation (second from right).
Poor safety standards, lack of enforcement, people driving distracted or under the influence, speeding and failure to wear seat-belts or helmets are among the reasons cited by Tedros Adhanom Ghebreyesus, WHO Director-General, for the increasing number of road deaths globally.
"The number of deaths on the world's roads remains unacceptably high, with an estimated 1.35 million people dying each year," the WHO report read.
In the Philippines, the same report estimates some 12,000 people died in crashes in 2016.
These deaths, Ghebreyesus reminded, could be stopped.
"Road traffic crashes are not 'accidents,'" he said. "They are completely preventable."
WHO Representative in the Philippines Gundo Weiler said stricter enforcement of road safety laws will help arrest the increase in road deaths in the country.
"While there are strong legislations in the country, we continue to call on government and various road safety partners to strengthen the implementation and enforcement of these laws," he said.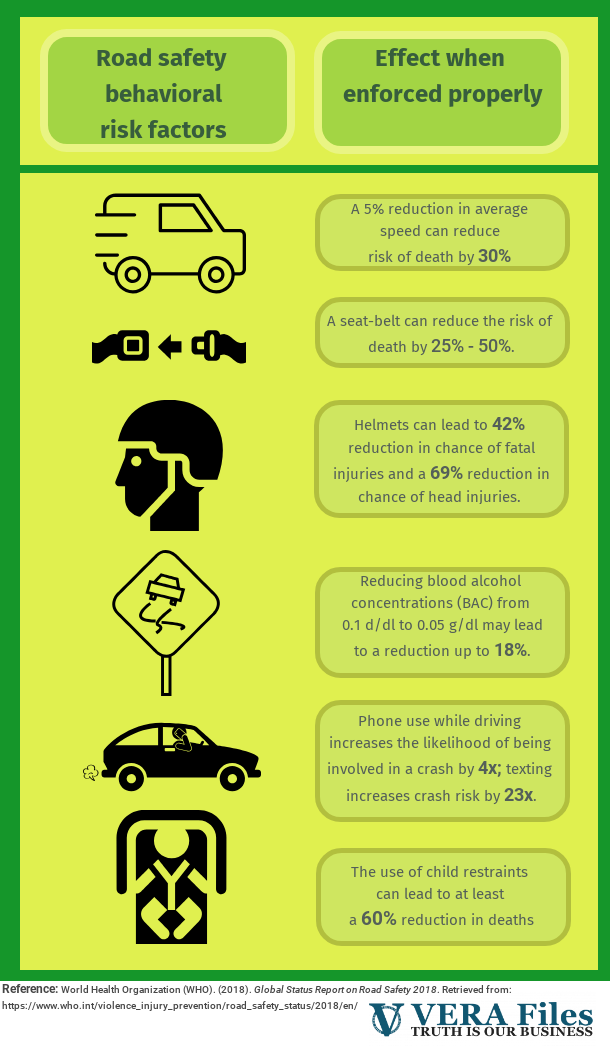 This story is produced under the Bloomberg Initiative Global Road Safety Media Fellowship implemented by the World Health Organization, Department of Transportation and VERA Files.