A bill that could save hundreds of Filipino children from injury or death during road crashes took a step closer to becoming law after senators, government and private sector representatives, including road safety advocates, discussed the issue of requiring car seats for children during a hearing on May 23.
The steep price of the child restraint systems (CRS) and the preference of Filipinos to physically protect their children with their bodies were the main concerns raised during the first public hearing of Senate Bill 1447, or the Child Safety in Motor Vehicles Act of 2017, authored by Senator Jose Victor Ejercito.
"There's this thinking that you can just embrace your children at the backseat in order to protect them," said lawyer Antonio Salvador of the Initiatives for Dialogue and Empowerment through Alternative Legal Services (IDEALS). "You have the risk of actually strangling your child."
Road crashes are the second leading cause of death for Filipinos aged 0 to 17, just next to drowning, according to the Department of Health (DOH). According to the Philippine Statistics Authority, an average of 671 children, aged 14 years and below, died each year in road crashes from 2006 to 2014.
On a global scale, crashes are the leading cause of death for those aged 15 to 29, and the sixth for children aged 5 to 9, according to the World Health Organization.
While private vehicles are mandated to have seat belts, there is no law in the country requiring the use of child restraints or car seats to protect children.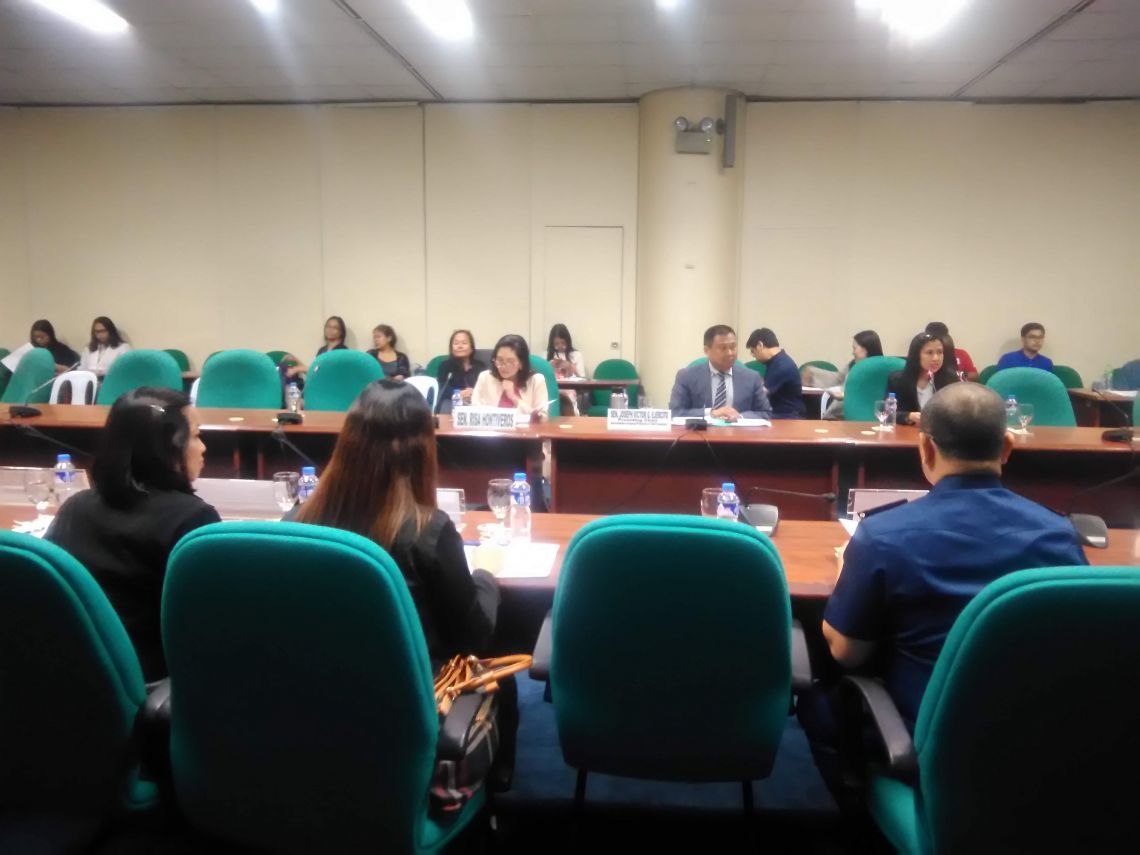 Senators Joseph Victor "JV" Ejercito and Risa Hontiveros preside over the first public hearing of Senate Bill 1447 on May 23, which seeks to require child car seats in private vehicles. Almost 20 public and private organizations, including a number of road safety advocates, attended the hearing.
The Senate bill now under consideration is the counterpart of House Bill 6938, which was approved unanimously last February by the House of Representatives. Both require the installation of CRS in private vehicles "appropriate to the child's size, height and weight." The measure also bans children aged 12 and below from occupying the front seat of a vehicle.
"Without restraints, we can lose these children to road crashes," said Automobile Association of the Philippines advocacy and marketing manager Cynthia Reyes. "Too big a price to pay for not adopting child restraints."
A study conducted by the Institute of Health Policy and Development Studies in the University of the Philippines Manila (UP-IHPDS), however, reveals the average price of CRS in the country is five thousand pesos, an amount many organizations say is "too expensive" for common Filipinos.
There are only 32 companies in the country offering a total of 281 child restraint products, none of them locally-made, the study also found.
In response, Dr. Hilton Lam of the UP-IHPDS suggested cheaper alternatives to buying brand new child restraints, namely rentals, offering of discount coupons, partnerships with car companies to include child restraints in their packages, and instituting trade-in programs by letting parents trade their younger children's car seats for more age-appropriate ones as they grow older.
Road safety advocates have pointed out that the cost of a child restraint would come out cheaper than medical bills that might be incurred if children were injured during a road crash.
"While some people might hesitate on additional spending, we should be mindful that no price can compare to a child's life, and that is at stake everyday on the road," said Ejercito in his closing remarks.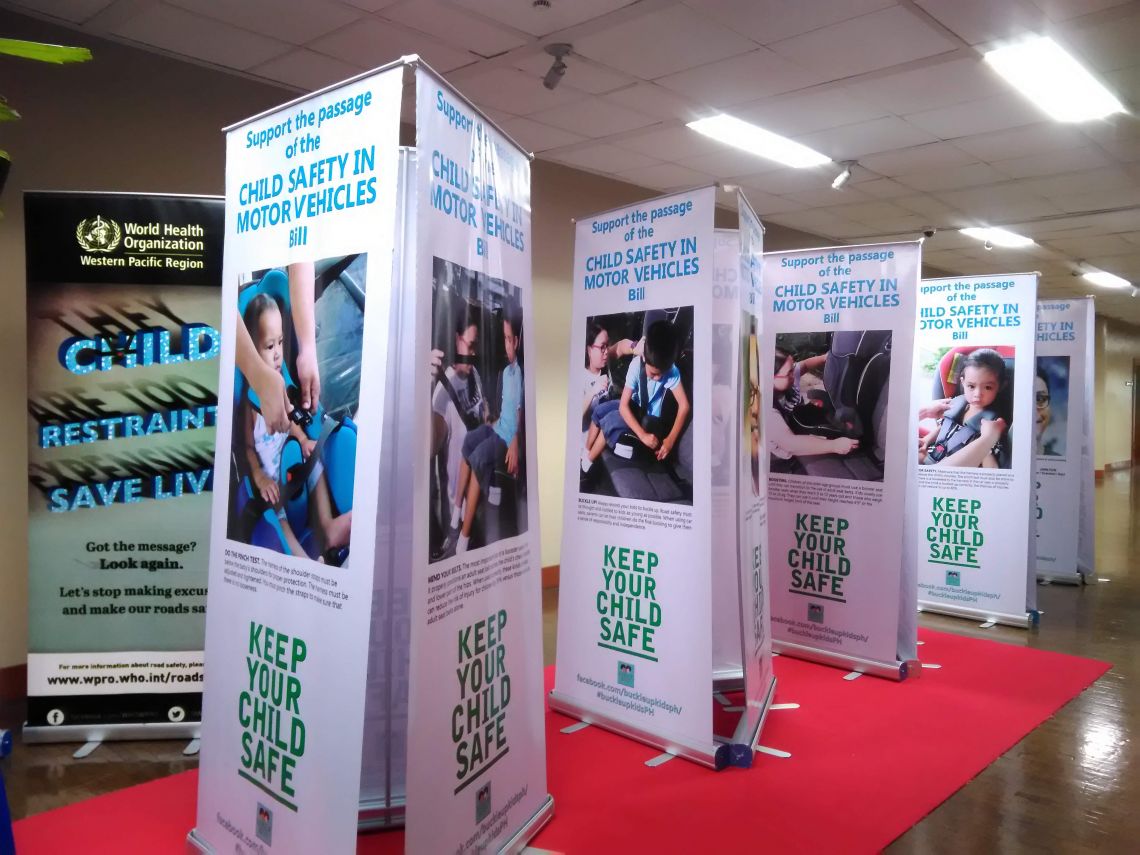 Tarps calling for the passage of a child road safety bill line the second floor hallway of the Philippine Senate as part of an exhibit launched May 23 by the Child Car Seat Coalition.
The bill received support from all 19 agencies and organizations present at the hearing. Apart from addressing the steep prices and the preferred bare-handed approach of Filipino families to child road safety, they also concluded that the success of the law's implementation will rely on strong and inclusive public information campaigns.
Only ten percent of the 1,000 drivers and parents interviewed by the UP-IHPDS currently had a correct understanding of CRS, underscoring the need for information campaigns. But Lam said: "Many agreed that if there is a law, they will abide by the law."
The Ejercito bill was discussed under the Committee on Public Services headed by Sen. Grace Poe and the Committee on Women, Children, Family Relations and Gender Equality under Sen. Risa Hontiveros.
This story is produced under the Bloomberg Initiative Global Road Safety Media Fellowship implemented by the World Health Organization, Department of Transportation and VERA Files.