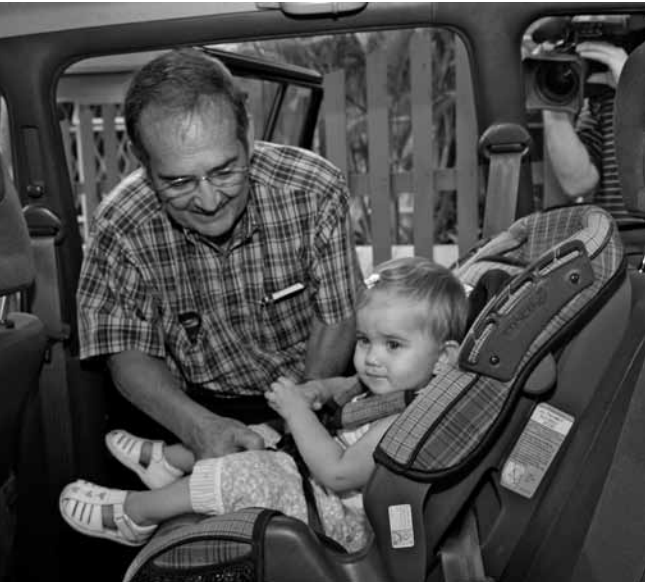 Photo by Richard Stanley of the FIA Foundation, taken from the World Health Organization's 2009 manual, "Seat-belts and child restraints: a road safety manual for decision-makers and practitioners."
There are more than enough studies that prove child restraints such as car seats save lives, contrary to what AKO-Bicol Party-list Representative Rodel M. Batocabe has claimed.
STATEMENT
Voting against the child restraints bill, Batocabe in a Sept. 18 Facebook post wrote:
"Ma enforce ba 'yan? (Can that be enforced?) No! Because it goes against our very own culture. They don't even have data if these child restraints really help prevent injuries."

Source: Rodel M. Batocabe's Facebook post
If passed, the proposed measure would be the first law in the country to require private car owners with children aged 12 and below to use child restraints, which are safety devices designed to keep children secure in a vehicle when a crash occurs. Examples in the bill include child safety seats, car seats, booster seats, vests and car beds.
Batocabe opposed the bill, calling it a "class legislation that would be hard to enforce" and would favor only the few who can afford these protective devices.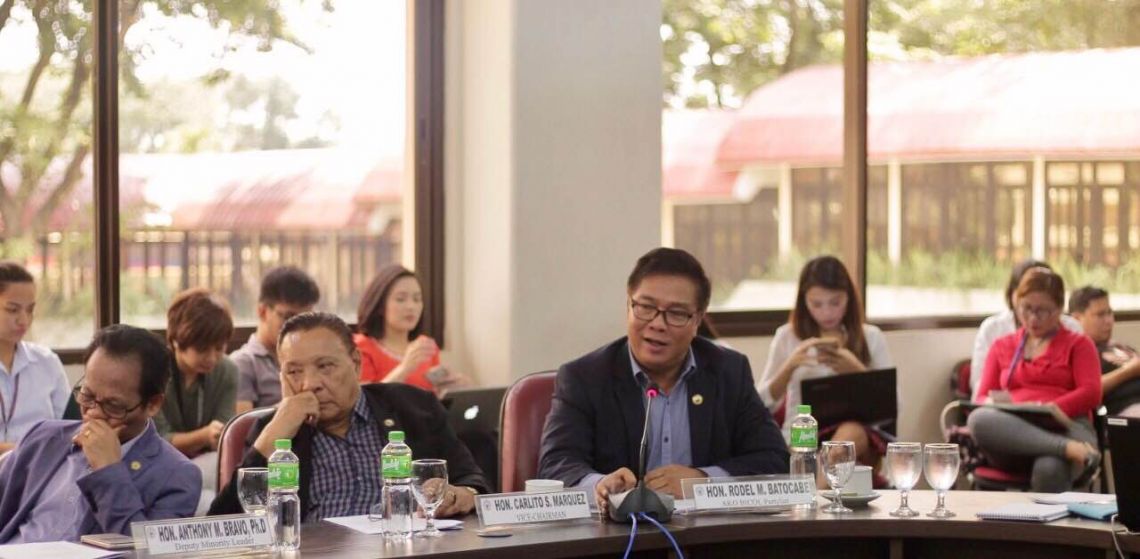 AKO-Bicol Party-list Representative Rodel M. Batocabe during the Sept. 18 Committee on Transportation hearing.

FACT

Batocabe is wrong in declaring an absence of data backing the effectiveness of child restraints.
In the event of a crash, child restraints prevent children from colliding with the interior of a vehicle or being ejected from it.
At present, the country's seat belt law only requires passengers to wear adult seat belts. These, however, are not designed for children's specific needs depending on their sizes and weights. The seat belt law also only suggests but not mandates the use of special car seats for infants, "if deemed necessary" by the Land Transportation Office.
Worldwide, health institutions have established that child restraints guarantee a higher protection than adult seat belts since the 1970s through extensive research and simulations.
In the United States, where child restraints have been mandatory as early as 1975, the National Highway Traffic Safety Administration (NHTSA) tallied a total of 10,940 children below five years have been saved by these devices.
Of at least 266 lives spared from road crash deaths in 2015, 248 or 93 percent were secured in child restraints while 18 were harnessed with adult seat belts, the NHTSA found.
A 1976 study published on Pediatrics, the official journal of the American Academy of Pediatrics, found that child restraints could save the lives of 91 percent of infants and toddlers who would otherwise be killed in crashes.
More, the study revealed they reduce injuries by 78 percent, compared to seatbelts that offer 64 percent protection.
In 2009, the WHO reported that child restraints can lower the risk of injuries by 50 to 80 percent for toddlers up to four years of age and 52 percent for those aged five to nine.
Seatbelts, meanwhile, can reduce injuries only up to 32 percent for children aged four and below, and 19 percent for five- to nine-year-old children.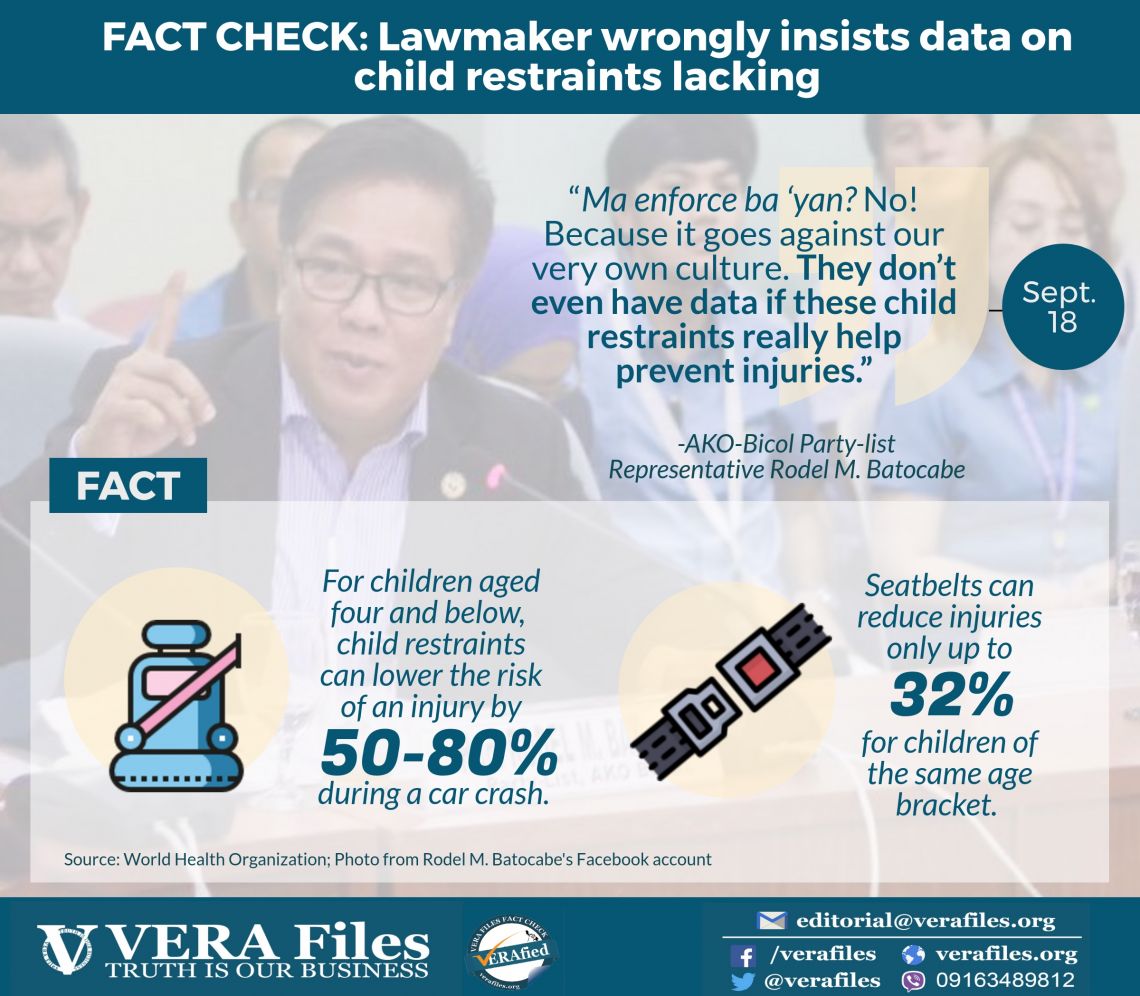 Despite these findings, the Philippines is still not one of the 96 countries that have passed a law requiring child restraints.
In the absence of a child restraints law in the Philippines, infants and toddlers are usually cradled by adults in seat belts when riding a vehicle.
A vehicle crash test made by the Center for Advanced Product Evaluation demonstrated that an 18-month child held by an adult on his or her lap could be thrown in the air when a car running at 56 kph gets involved in a head on-collision.
Despite Batocabe's opposition, the House Committee on Transportation approved with an 11-2 vote on Sept. 18 the Child Safety in Motor Vehicles Act of 2017, requiring private vehicles to install child restraints.
Sources:
Bae, J. Y., Anderson, E., Silver, D., & Macinko, J. (2014). Child Passenger Safety Laws in the United States, 1978–2010: Policy Diffusion in the Absence of Strong Federal Intervention. Social Science & Medicine (1982), 100, 30–37.
Global Status Report on Road Safety. (2015). Geneva (Switzerland): World Health Organization.
Occupant protection in passenger vehicles: 2015 data. (2017). National Center for Statistics and Analysis.
Richelderfer TE. (1976). A first priority–childhood automobile safety. Pediatrics. 58, 307–308.
Seat-belts and child restraints: a road safety manual for decision-makers and practitioners. (2009). London: FIA Foundation for the Automobile and Society.
Use of seatbelt for kids hurdles House com
(Guided by the code of principles of the International Fact-Checking Network at Poynter, VERA Files tracks the false claims, flip-flops, misleading statements of public officials and figures, and debunks them with factual evidence. Find out more about this initiative.)
2017-10-03 03:54:34 UTC