Advocates are calling on parents to take specific actions to push for an important child safety measure that has reached the Senate.
While lauding the recent passage of House Bill 6938, which seeks to make car seats mandatory in private cars, advocates said on Wednesday they will not rest until the measure becomes a law.
They are appealing to parents to champion the bill, by writing to lawmakers, endorsing the measure through letters to the editor, and spreading the word on the benefits of car seats to their friends and family.
"It is important for us parents, uncles, grandparents to open our eyes that this is a very important measure," said road safety advocate Jason Salvador of the Ateneo School of Government.
Securing the safety of children should be considered urgent, advocates said, as data from the Philippine Statistics Authority show from 2006 to 2014, an average of 671 children 14 and below died each year.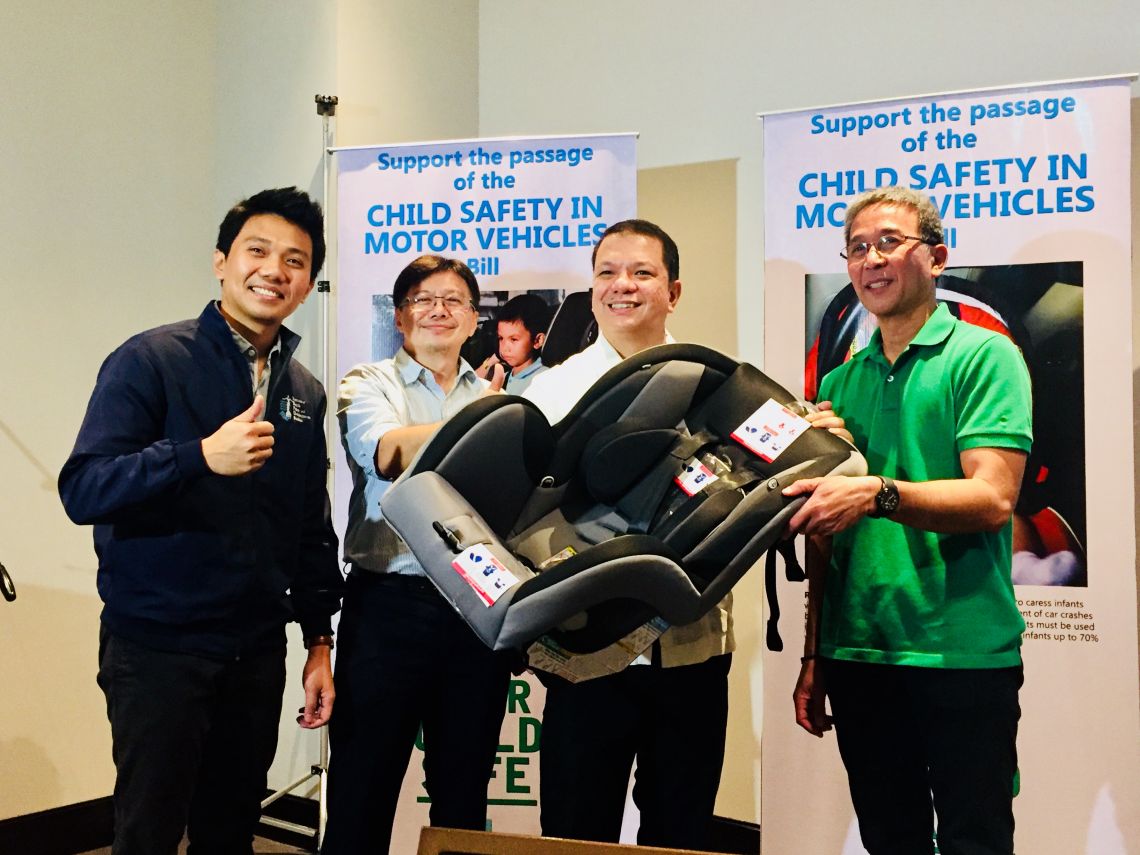 Road safety advocates call on the public to support the passage of the child restraints bill on Jan. 31, Quezon City.
Senate Bill 1447, or the Child's Safety in Motor Vehicles Act, is pending with the Committee on Public Services and is scheduled for hearing next week.
If passed, this would be the first law in the country to require private car owners with children 12 and below to use child restraints that match their size, height and weight, based on standards set by the United Nations.
It would also impose fines on drivers who fail to ensure that child passengers use quality standard car seats.
Child restraints—the collective term for child safety seats, car seats, booster seats and car beds—are safety devices designed to keep children secure in a vehicle during a crash or sudden braking.
If correctly installed and used, these devices reduce deaths among infants by about 70 percent and up to 80 percent among small children, according to the World Health Organization (WHO) Philippines.
"Over the years, we've seen that children are the most vulnerable on our roads," Salvador added. "Unfortunately, they're the least protected."
Jose Descallar from the office of one of the bill's authors, Buhay Party-list Rep. Mariano Michael Velarde Jr., said the bill will push parents to put their child in a car seat.
"If required by law, parents will buy it," he said.
Pushing for use of child restraints
A 2017 study found that the lack of a law requiring it and low awareness are among the main reasons why private vehicle owners do not use child restraints.
Of 1,004 private vehicle owners and drivers surveyed nationwide from March to June 2017, only 9.4 percent use child restraints, said lead research associate Dr. Red Thaddeus Miguel of the University of the Philippines Manila.
While most agreed that child restraints are effective safety devices, they wished that more information about it are available.
The study dealt with drivers and owners of a sedan, pick-up, van or SUV, who are at least 18 years old and who have children, siblings or relatives 13 years and below.
Drivers of public utility vehicles, cabs, transport network services and school buses were not included in the study.
Other reasons for the refusal to use safety measures include the absence of products in the market and the expensive price tag.
"We asked, what would make people use child restraints?" Miguel said. "If it's good quality, they'll use it. It's durable, and low priced."
Miguel's team asked drivers and car owners how much they were willing to spend for a child restraint.
"Anywhere between 1,000 and 5,000. And if the law will force us to buy it," he said.
A child car seat costs around P8,800 on the average in department stores and baby shops, the UP Manila study reported.
Online, they are relatively cheaper, with prices ranging from P3,500 to P5,700 depending if they're brand new or secondhand.
Added expenses, the common criticism against the measure, should not get in the way of protecting a child's life, Descallar said.
Yet, advocates said these are nothing compared to possible hospital expenses after a road crash.
For instance, a child car seat that costs more than P7,000 entails a minimal spending of P3.88 daily for five years, said Descallar. "Three pesos and 88 cents for a child's safety."
"How much is an x-ray for an injury? In the event of a road crash, how much would an arm cast cost? (A child) would have to wear that cast for two, three months. If you frequent the hospital, how much would that cost you?" he said.
Dr. John Juliard Go of the WHO Philippines echoed this sentiment, saying the cost of road crashes extends beyond healthcare.
When children get hospitalized after a road crash, parents are forced to take time off work to look after their children, he said.
"The price that we will have to pay to be able to buy that child restraint for our children would be miniscule compared to the high cost that we could incur if ever an injury or worse would happen to our children," added Go.
Currently, the bill covers only private car owners. It, however, requires the Department of Transportation to conduct within three years a study on how child restraints can be integrated into public utility vehicles and transport network services.