Senator JV Ejercito delivering a privilege speech on Wednesday in celebration of the 4th UN Global Road Safety Week
Soon, children may no longer ride in cars without a car seat made specifically for them.
This is if the two bills filed in Congress this week requiring child restraint systems (CRS) in privately owned vehicles pass the hurdle to eventually become a law.
Child restraint systems are designed to keep a child secure in the vehicle during sudden movement or in the event of a road crash. They significantly reduce the risk of injury and death.
BUHAY Partylist representative Michael Velarde Jr. filed House Bill 1319 or the Child Restraint Act. It is now being deliberated in the Committee on Transportation headed by Rep. Cesar Sarmiento.
In the Senate, Sen. JV Ejercito proposed the Child Safety in Motor Vehicles Act of 2017 during the United Nations Global Road Safety Week.
Speaking before road safety advocates in a forum before Wednesday's session, Ejercito noted the Philippines has transport laws addressing five of the six behavioral risk factors for road injuries and deaths identified by the World Health Organization (WHO). A law specifically protecting children in four-wheel vehicles however is still lacking.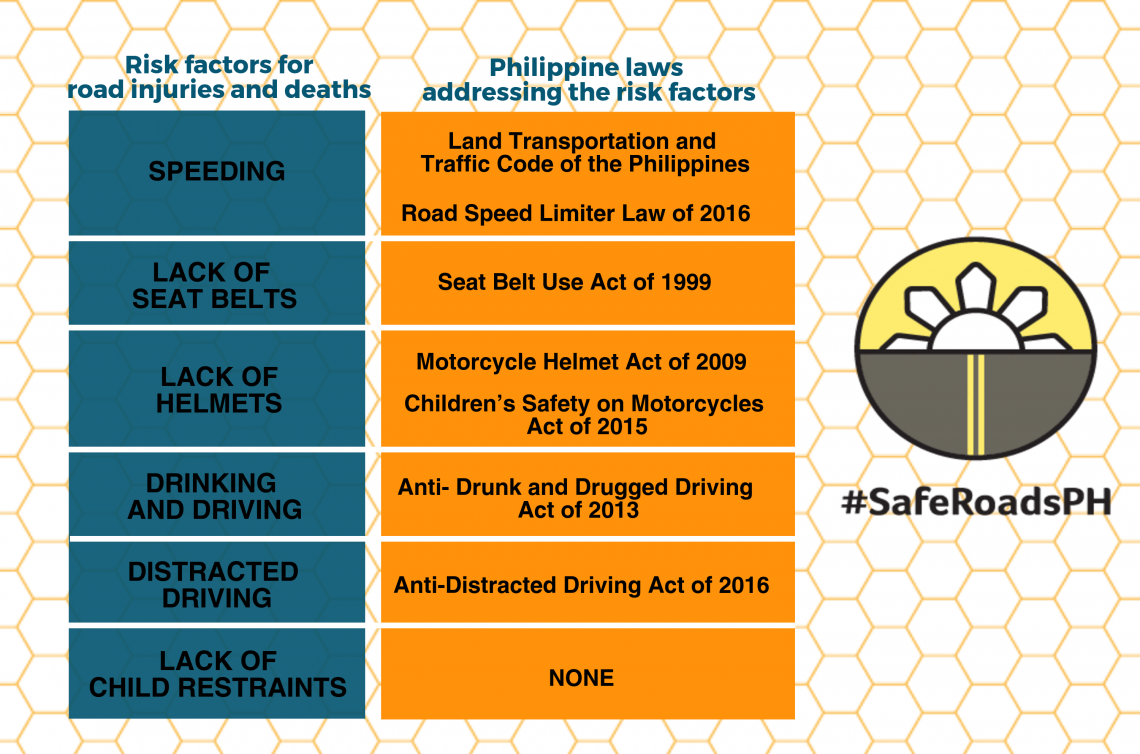 Both bills propose all children 12 years old and below should sit at the back, strapped to a child restraint system, except during emergencies. A CRS includes infant car seats, booster seats and booster cushions for older children. In the Ejercito bill, CRS is not required for children with disabilities.
Lawyer Maan Sto. Domingo of Imagine Law, a public interest law organization, said CRS reduces the risk of injury and death in infants by 70 percent. She emphasized the need for child restraints in the country, because more Filipinos have been buying cars in recent years. The number of road crash incidents is also steadily increasing.
"There is rapid motorization in our streets. (With) more cars sold, more children riding in cars are at risk. (We need to) make sure that children and families are safe. If you can buy a car, then you can buy a child restraint system," she said.
A crash test showing what happens to an 18-month old child who is not seated in a child restraint during a collision. Courtesy of www.imminet.com
Ronaldo Quintana, a doctor from WHO-Philippines, mentioned that an annual average of 671 Filipino children 14 years and below died in road crashes from 2006-2014. "Road safety is everyone's concern, so we need to work together," he said.
Lawyer Karl Marx of Initiatives for Dialogue and Empowerment through Alternative Legal Services (IDEALS), one of the advocates for child restraints, said they are pushing for mandatory testing of all child restraint products sold in the country. There is currently no required testing, as the country does not have a set of standards for these products.
This story is produced under the Bloomberg Initiative Global Road Safety Media Fellowship implemented by the World Health Organization, the Department of Transportation and VERA Files.