UPDATE as of June 4: NCRPO Chief Oscar Albayalde identifies the gunman as Jesse Javier Carlos, a former employee of the Department of Finance who was dismissed due to misdeclaration and non-disclosure in his Statement of Assets, Liabilities, and Net Worth (SALN).
UPDATE as of 11:37 p.m., June 2: IS claimed responsibility for the incident at Resorts World, issuing a formal communication via its own Amaq News Agency. SITE Intelligence group carried a screengrab of the said announcement.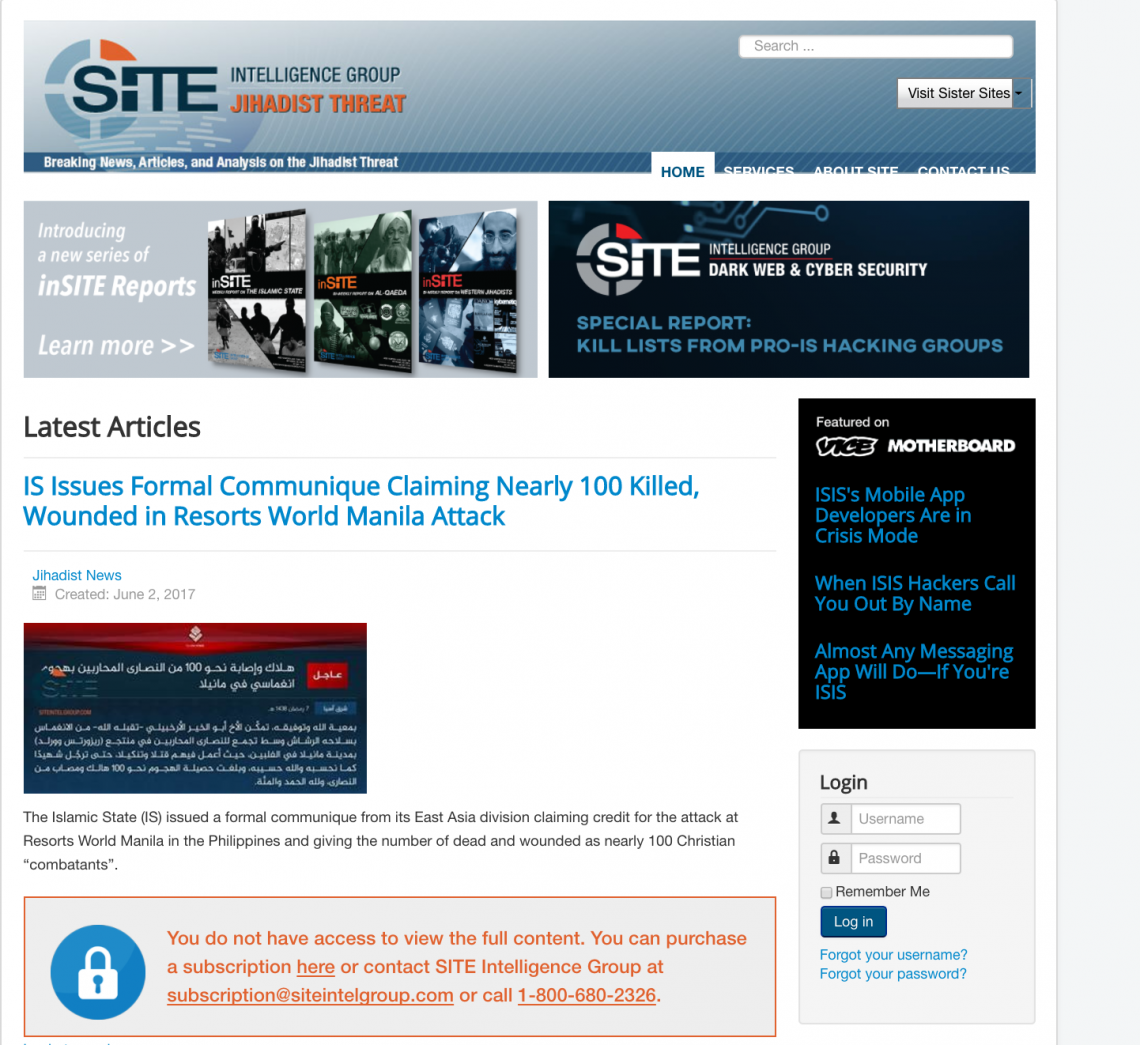 (Screengrab from SITE Intelligence's website)
United States President Donald Trump called the incident at Resorts World Manila early morning Friday a "terrorist attack."
STATEMENT
Trump, at a White House press briefing 3:32 a.m., June 2 in Manila, before announcing his country's withdrawal from the Paris climate agreement, said:
"I would like to begin by addressing the terrorist attack in Manila. We're closely monitoring the situation, and I will continue to give updates if anything happens during this period of time. But it is really very sad as to what's going on throughout the world with terror. Our thoughts and our prayers are with all of those affected."


(Source: Statement by President Trump on the Paris Climate Accord, Public Broadcasting Service News Hour, watch from 3:30 to 4:03)
Was the incident that left 36 people dead and 54 injured as of noon Tuesday, at the casino-hotel-mall in Pasay City a "terrorist attack" as Trump claimed?
FACT
No. Philippine authorities said the attack was a criminal act committed by an "emotionally disturbed individual."
During Mindanao Hour, Malacañang's triweekly press briefing for updates on the Marawi City crisis, Presidential Spokesperson Ernesto Abella said that although the suspect gave warning shots, there was no indication that he wanted to shoot or hurt anyone.
The country's Human Security Act of 2007 defines terrorism as criminal acts "which will sow and create a condition of widespread, extraordinary fear and panic among the populace to coerce the government to give in to an unlawful demand."
These acts include piracy, mutiny, rebellion or insurrection, coup d' etat, murder, kidnapping and serious illegal detention as well as crimes involving destruction.
Resorts World Manila said a lone gunman entered the casino around midnight. He fired shots and set the game tables on fire.
All the deceased died of suffocation at the casino's second floor gaming room, said Abella. The gunman committed suicide at a hotel room later on.
"We cannot relate it to terrorism because he did not shoot anybody, he didn't hurt anyone," National Capital Region Police Office Director Oscar Albayalde said.
If he were a terrorist embarking on a suicide mission, he would've brought tons of bombs with him and he could've shot everybody with all his ammunition, Albayalde said. The suspect was carrying a "baby" Armalite rifle.
Though he took P113-million worth of chips from the casino's storage, Albayalde ruled out robbery because the perpetrator wouldn't have been able to spend or convert those chips to cash, he said. These chips were later found inside a backpack in the comfort room.
Simply, it was the act of a mentally disturbed individual, said Albayalde.
SITE Intelligence Group, which describes itself as "the world's leading nongovernmental counterterrorism organization," initially posted a report on its website, saying "an Islamic State (IS) Filipino operative who provides daily updates on the ongoing clashes in Marawi stated that the group is responsible for the attack at Resorts World Manila in Pasay, Philippines."
A subscription is needed to view the entire report, which was posted almost three hours after Trump's statement.
A later post in the website claimed that the Filipino IS operative had "identified the alleged attacker and noted that his main objective was to burn the casino inside."
The Philippine National Police remains on full alert, following the bombing in Davao City in September last year.
Albayalde said police intelligence continues to monitor security threats but has not encountered any terrorist threat in Metro Manila.
Reacting to comments about the terrorist group claiming responsibility for the incident, Abella said "people who are interested in propagating their own position will take advantage of any opportunity to do so."
He cautioned that these incidents should be approached in a sober manner and said "we should listen to our own people first."
Sources:
Resorts World Manila statement
Press briefing: Mindanao Hour, June 2, 2017
SITE Intelligence Group, IS operative indicates IS responsibility for resorts world manila attack
SITE Intelligence Group, IS operative identifies alleged Resorts World Manila gunman says he targeted casino