After an official from the World Health Organization (WHO) advised that lockdowns should not be the primary method of control against COVID-19, Facebook (FB) page Lynn Channel published a video on Oct. 12 declaring that the statement is a "reversal" of the agency's earlier guidance. This misinforms.
The now-viral FB post, shared over 30,000 times in less than two days, bore the caption: "BREAKING NEWS!!! BUMALIKTAD NA ANG WHO SA KANILANG POSISYON SA LOCKDOWN! HINIHIKAYAT NA NILA NGAYON ANG MGA LEADERS SA BUONG MUNDO NA ITIGIL NA ANG LOCKDOWN (WHO reversed its position on lockdowns! They're now urging leaders around the world to stop lockdowns)!!!"
Lynn Channel repeated the same wrong claim in its 18-minute video, stressing that the official, WHO special envoy on COVID-19 David Nabarro, asked countries to "stop" their lockdowns.
In an Oct. 12 Laging Handa press briefing, WHO Representative to the Philippines Rabindra Abeyasinghe clarified that the agency has not made any changes in its stance regarding lockdowns.
"We have not, at any stage, advocated that large-scale lockdowns should be the primary response. This is very clear, so there is no flip or change in our position. We have always been advocating the same position," said Abeyasinghe.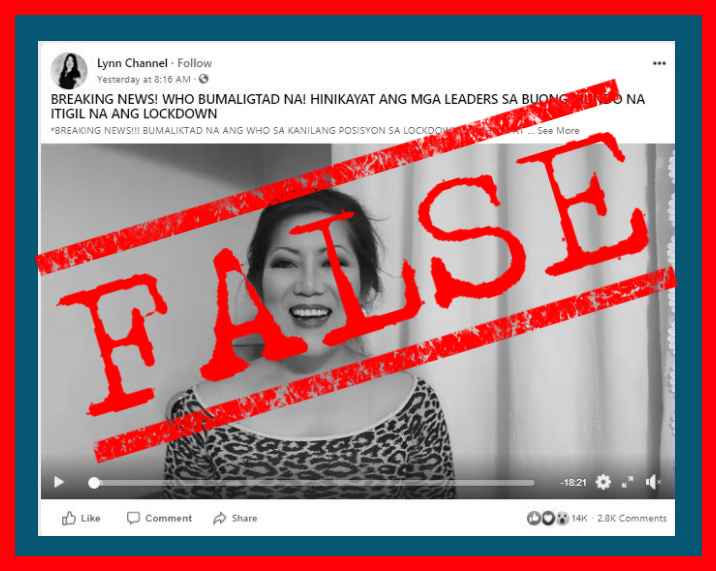 "The primary response should be a public health response. And when this fails, when the health systems are being overburdened, it is necessary to use lockdowns as a last resort," he also said.
A document published by the WHO on April 14 bears this out. It states that movement restrictions such as lockdowns and shutdowns should only be implemented in low-income and crisis settings "where justified" after an analysis of trade-offs between public health measures and necessity of people to meet their basic food and protection needs.
Lynn Channel's video cited an Oct. 10 report by The Washington Examiner about a statement Nabarro made in an Oct. 8 interview with British magazine The Spectator.
The WHO special envoy explained that lockdowns are only justified under special circumstances.
"The only time we believe a lockdown is justified is to buy you time to reorganize, regroup, rebalance your resources; protect your health workers who are exhausted. But by and large, we'd rather not do it," said Nabarro.
He also urged countries worldwide to "stop using lockdowns as (their) primary control method."
The misleading video was posted days after Nabarro's statement was reported by multiple international news organizations. It now has over 16,000 reactions and 3,000 comments as of posting, and could have reached over 14 million people, according to social media monitoring tool CrowdTangle.
Lynn Channel was created last Feb. 10.
(Editor's Note: VERA Files has partnered with Facebook to fight the spread of disinformation. Find out more about this partnership and our methodology.)