A video claiming to debunk a death hoax on actor and retired pro wrestler Dwayne "The Rock" Johnson currently circulating on social media is misleading. It used a clickbait headline and thumbnail suggesting he has indeed passed away.
On Nov. 15, a verified YouTube channel called Crezy Lifestyle posted the 72-second video. Its content featured a slideshow of several photos and movie posters of the actor and a screengrab of a fake report about Johnson's death, while an automated voice read a Nov. 14 article by British entertainment news site Metro that disproved the fabricated claims of his passing.
The video's headline and thumbnail, however, do not reflect its content.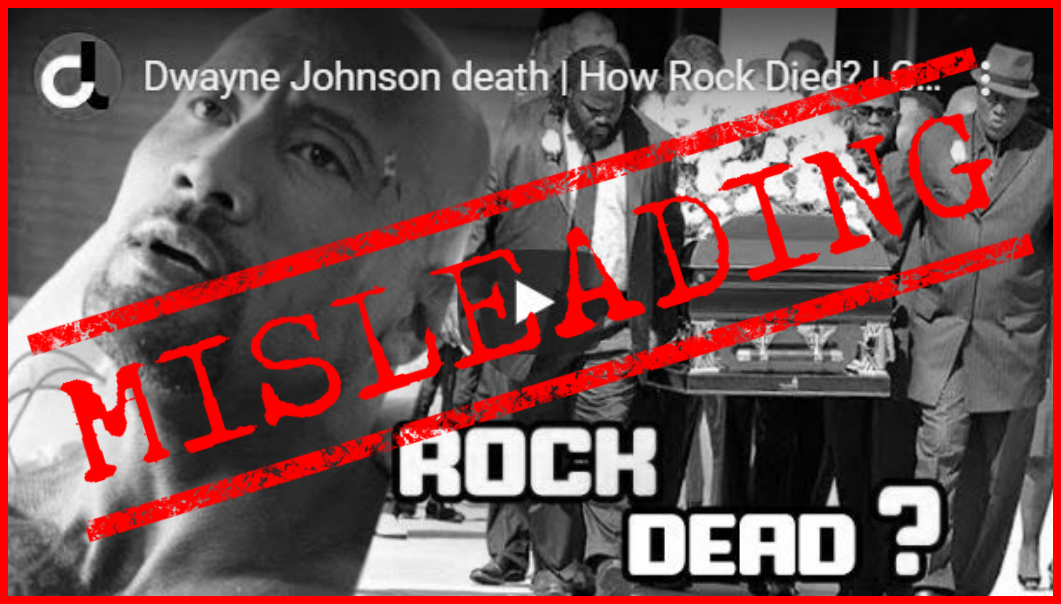 Crezy Lifestyle instead tricks readers into thinking that the story discusses the manner of Johnson's death, with its headline, "Dwayne Johnson death | How Rock Died? | CREZYLIFESTYLE."
Its thumbnail also misleadingly showed a screengrab of Johnson on a hospital bed in the 2015 film Fast and Furious 7, juxtaposed with a 2012 Alamy photo taken during the funeral procession of American actor Michael Clarke Duncan, where Johnson's fellow wrestler Mark Henry was pallbearer. The text, "ROCK DEAD?" was superimposed on the photos.
A look at Johnson's social media accounts proves that the actor is indeed alive. His last Instagram and Facebook posts are promotions of his newest film, Jumanji: The Next Level, published on Dec. 1 and 2, respectively. His latest Twitter activity is a Dec. 2 retweet thanking Eric Goldman for watching his movie.
The misleading Crezy Lifestyle video was posted a month before the premiere of his latest movie and was widely shared as promotion for the film. It has now been viewed more than 470,000 times.
Its top traffic generators are Facebook groups Zlatan ibile fans and Komunitas Stm Bogor.