A Facebook (FB) user in the Philippines uploaded on July 4 an image that originated from messaging application WhatsApp in India in March. The image contained misleading information attributed to a doctor from the All India Institute Of Medical Sciences in New Delhi (AIIMS) who shared the following list of respiratory symptoms of COVID-19 and similar diseases:
"Dry cough + sneeze = air pollution
Cough + mucus + sneeze + runny nose = common cold
Cough + mucus + sneeze + runny nose + body ache + weakness + light fever = flu
Dry cough + sneeze + body pain + weakness + high fever + difficulty breathing = coronavirus"
This advisory is not found anywhere on AIIMS' website nor YouTube channel. However, the institute's primer on COVID-19 did identify common symptoms of the disease including "fever, sore throat, cough and shortness of breath."
The guide also mentioned that the indications of having COVID-19 are "similar to the symptoms of any viral infection, like the common cold, influenza," but no elaborations on the differences in symptoms were made.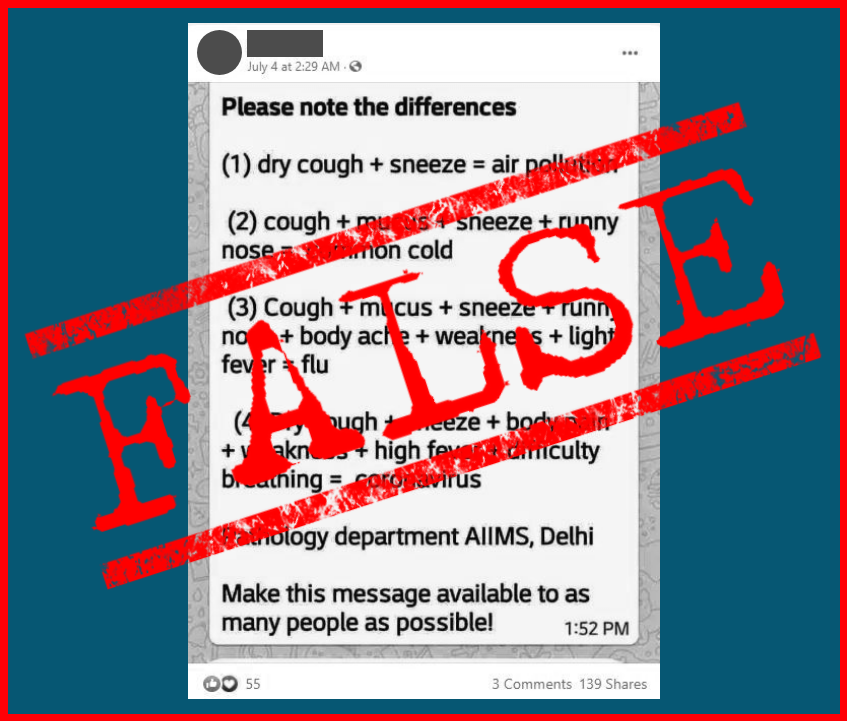 An online search shows the information on the list is comparable to a write-up published on March 18 on the website of Dr. KK Aggarwal, former head of the Indian Medical Association. After giving a rundown on the COVID-19 situation in India at the time, a paragraph on the disease's symptoms were mentioned:
"Symptoms: fever, tiredness, and dry cough (most common); only cough (pollution), cough and cold (allergy), fever with sore throat in children (streptococcal), fever above 100.4 with cough and cold (flu), fever with cough and breathlessness (corona like illness), cough > 2 weeks rule out TB
No fever no flu no corona; No breathlessness no seriousness, no breathlessness no oxygen requirement no seriousness"
An article from Republicworld.com, an Indian news website, published in April said the misleading message had been circulating in WhatsApp since March and spread to other social media platforms in the country. WhatsApp is a popular messaging software in the South Asian country.
A study quoted by the United States Center for Disease Control found that 97.5% of persons "with COVID-19 who develop symptoms will do so within 11.5 days" of infection from SARS-CoV-2, the virus that causes the disease.
The World Health Organization (WHO) also states that "COVID-19 affects different people in different ways. Most infected people will develop mild to moderate illness and recover without hospitalization." There are also the asymptomatic carriers of the virus, those who never develop symptoms and "don't feel unwell" according to the Department of Health.
The misleading image from India surfaced in the Philippines after the country recorded over 40,000 cases on July 3. As of July 8, there are nearly 50,359 cases of COVID-19 nationwide.
The FB post has been viewed more than 19,000 times, according to Claim Check, Facebook's disinformation tracking tool.
(Editor's Note: VERA Files has partnered with Facebook to fight the spread of disinformation. Find out more about this partnership and our methodology.)