By PABLO A. TARIMAN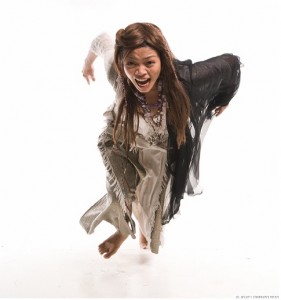 APART from its three leading symphony orchestras and three ballet companies, Manila is potpourri of stage talents with its vibrant theater companies offering assorted theater fare year in and year out.
Interestingly, some of the country's finest artists have passed on their acting genes to their children.
The new production of Francisco Baltazar's "Orosman at Zafira," which will run at the SM Mall of Asia Centerstage Theater from Feb. 4 to 26, features some actors who have inherited the musical theater genes of their parents.
Tao Aves, who plays Zelima, has the solid singing voice of her mother, Grace Nono—an exponent of new vibrant ethnic music. Like her mother, Aves is a product of the Philippine High School for the Arts (PHSA) and has also taken to composing her own songs.
"It's possible I have inherited my mother's love for new music and new ways of interpreting them," she said.
A complete child of theater is Delphine Buencamino, who plays Zafira in the Balagtas-inspired musical. The daughter of actor Nonie Buencamino and actress Shamaine Centenera, Delphine is also a product of the PHSA.
A humanities major at the Ateneo de Manila University, Delphine said an advantage of coming from a family of actors is that she gets free coaching in acting 24 hours a day.
"I don't know how my parents' generation of actors fared, but observing them live and breathe theater, I guess I inherited their passion for the craft," she said.
Her parents are headliners in the new Marilou Diaz-Abaya film, "Ikaw Ang Pag-ibig," with actress Ina Feleo, daughter of director-actress Laurice Guillen and the late character actor Johnny Delgado.
Director Alexander Cortez, who is artistic director of the University of the Philippines-based Dulaang UP, said both the old and new generation of actors share a deep passion for theater.
He observed, though, some slight differences. "We were all trained in the classics which not all young actors went through," he said. "I like to think we had more focus but the young ones have that, too."
Cortez believes the young generation has some edge, saying, "They have better opportunities, which the old generation of actors didn't have. We used to rehearse without cell phones and iPods, and now they are all over the place. They are a bit income-conscious, too, which is good. They might help industrialize the theater."
If the preview was any indication, Balagtas' new version of "Orosman at Zafira" with the music of Carol Bello is headed for instant acceptance, especially by young people.
"Our generation is so distant from the time of Francisco Balagtas," said director Dexter Santos. "But through his text, we were able to connect and draw meaning from his poetry in action."
The moving force behind this production is lawyer-theater buff Darwin Mariano, who hails from Balagtas, Bulacan where the King of Tagalog Poets came from.
"Theater, like all art, inspires people," intimated Mariano. "It equally inspires them to do all sorts of crazy things."
He continued: "I am producing this show because 'Orosman at Zafira' is groundbreaking for its passion, poetry, music and dance. I am producing this show because not enough of us realize the genius of Francisco Baltazar and the values of good citizenship, discipline and faith that underlie his works."
He cited another reason for producing this show: "To showcase Filipino theater talent at its finest."
The theater companies have indeed honed the talents of many artists. For instance, the Philippine Educational Theater Association, which is active to this date, was once a training ground for director Lino Brocka.
Bulwagang Gantimpala, formerly based at the Cultural Center of the Philippines, has produced great actors Irma Adlawan and John Arcilla, while Repertory Philippines has to its credit world-renowned artists Lea Salonga and Monique Wilson, who has put up her new theater group called The New Voice Company. Atlantis Production has rediscovered the theater talent of film actress Dawn Zulueta in the musical "A Little Night Music."
The past CCP-based Tanghalang Pilipino has seen unforgettable performances of Pen Medina and Nonie Buencamino, among others. Medina, who won Best Supporting Actor in Marilou Diaz-Abaya's "Muro-Ami," has passed on his strong acting genes to his son, Ping Medina, who has shone in several indie films and is getting mainstream notices in the teleserye, "Mara Clara."
Moreover, Dulaang UP has also seen guest appearances of Medina, Buencamino with wife Shamaine  in the company of actor-directors Tony Mabesa and Alexander Cortez.