By ARIANNE CHRISTIAN TAPAO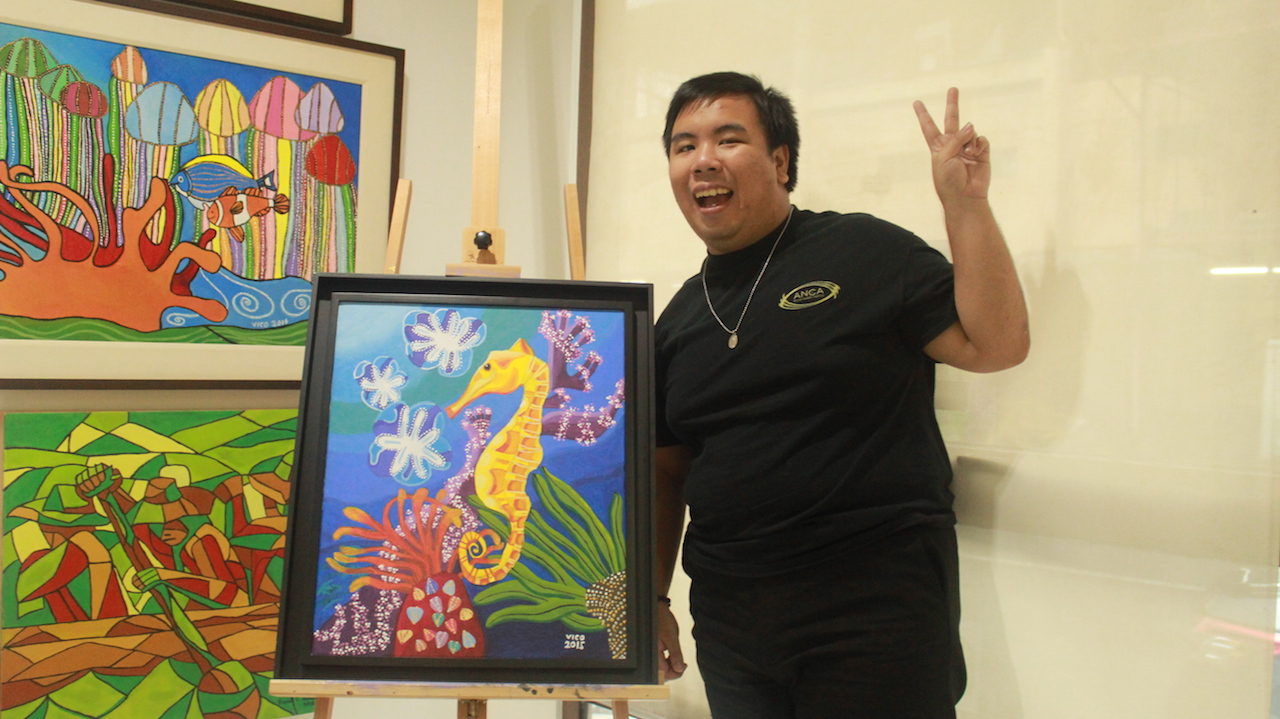 IN a 26-square-meter studio deep within the heart of Pasig City, people with autism fill the world with art, one canvas at a time.
Last April, Vico's Artism Gallery was established for them to hone their skills, and to an extent, make a living out of it. Artism is short for "art" and "autism."
On the gallery's walls are artworks of seven students. One of them is Vico Cham, the person the gallery was named after.
From what was once a blank page, he would blend in different colors and turn these into an ultimately new creation, as he did in the latest of his sold artworks: A seahorse of yellow and orange hues mixing with corals and seaweeds in the deep blue.
There is a remarkably recurring theme in his art: life under the sea. When asked why he loves drawing sea-themed paintings, he exclaimed: "I see the whale, the dolphin!"
His mother Catherine Cham was the one who thought of setting up the gallery. A number of his paintings now hang on the walls alongside hundreds of his colored pencil bookmarks the 24-year-old has been making since he was 10.
But that's not all. Vico also works as a graphic assistant at a corporate office. He gets off an hour earlier from work on Tuesdays and Fridays for his painting sessions that span two hours straight.
Having an autism spectrum disorder has never made Vico perform less. And he seems to be luckier than other persons with autism (PWA), as it's especially hard for families with little income.
"There's this perception that all kids with autism are rich. It's not true," said Autism Society of the Philippines (ASP) president Mona Veluz.
Overcoming hurdles
The ASP estimates 1.2 million Filipinos have autism. For every girl with it, four boys have autism.
Many families with children with autism go through difficult challenges — from the moment autism is detected when the child is 3 years old, until they find a workplace.
For Vico, signs of autism showed when he was two years old. He had little to no eye contact, said a few words, flapped his hands, and was always preoccupied.
His mother hoarded books at a library to learn about her son's condition. And she discovered what is still true today: There's no known substantiated cause nor any cure for autism.
The Autistic community however prefers to treat autism not as a disorder or sickness, but an inborn condition.
In the meantime, Veluz said PWAs need all the help they can get.
The ASP provides five pillars for an autism-friendly society: Autism-friendly spaces, compassionate workplaces, more transition specialists and professionals, and livelihood opportunities.
And although the ASP already has 81 chapters nationwide, the lack of public awareness continues to be a problem for the Autistic community.
ASP is now reaching out to local government officials and public hospitals like the National Children's Hospital, which has been identified by the Department of Health as an autism centre.
Rehabilitation programs such as therapy sessions, hiring an instructor and building private special education centers are expensive.
As its contribution, the Philippine Health Insurance Corporation this year improved access to assistive devices for children with disabilities, in addition to existing benefit packages. The law's implementing rules and regulations will be out this October.
"And the people who are going to take advantage of this are definitely those on the lower end of the spectrum (of socioeconomic status)," Veluz said.
But he said most benefit packages, like this one, cater only to PWDs 18 and below.
Contributing to society
For those of working age, landing a job is also a problem.
Republic Act No. 10524, which hopes to give equal opportunity for employment, states at least 1 percent in government agencies shall be reserved for PWDs. Private companies are encouraged to do the same. The law has yet to be fully implemented with its IRR having just signed.
The ASP says 40 percent of PWAs are 18 and above.
Companies like the Unilab come up with programs to hire PWDs, but only few are hired full-time. (See Companies told not to hire PWDs to boost image)
But Vico has had much success.
In 2013, he was offered a position at the Unilab Foundation as part of the Project Inclusion program. As a graphic artist, he was made to design greeting cards, among others.
Two years later, Vico was hired as a regular employee.
"Vico is the most punctual in our team," said Unilab Foundation president Rhodora Palomar-Fresnedi. "If you come in at 9:05 he would say you're late."
Catherine shared that when she heard the news of Vico's employment over the phone, she was jumping in joy. The artism gallery that was supposed to be unveiled around that time was then postponed, but no matter, she said.
Without expecting it, Vico gained recognition he deserved.
In July 2014, he was appointed as Best Buddies ambassador in Indianapolis, United States. The following October, Vico was nominated for a Philippines Visual Arts special award by the Autistic Network for Community Achievement.
Last year, he received two Apolinario Mabini awards: One, in visual arts category, and another for being a model employee for PWDs.
His paintings have gone to Dubai, Canada and Geneva.
Back in the gallery at 6:30 p.m., it had begun to rain outside. Vico, who was already working on an artwork for about an hour, would from time to time ask his arts teacher standing behind him. The teacher and Vico would discuss what to draw next.
Vico has learned to express what he thinks and feels through art, his mother said, in a society where the members of the Autistic community are often misunderstood for not communicating in the usual language.
But Catherine knew Vico would be going places, and it's her job to help him find the way.
She hopes others will do the same.
"We really need our community to understand them and love them. We need our community to be inclusive," she said.
(The author is a University of the Philippines student writing for VERA Files as part of his internship. July 17-23 is the 38th National Disability Prevention and Rehabilitation Week.)