By DESIREE CALUZA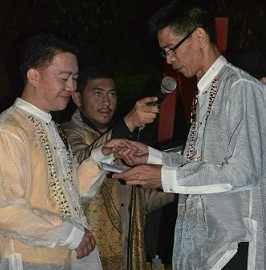 DEDICATED to the proposition that "Love is beyond gender and sexual orientation," a church in Baguio City makes possible same-sex love to bloom and have it formalized in a marriage ceremony.
Last Dec. 23, Myke Sotero, 44, exchanged "I do's" with his long-time partner Gregory Rugay,40, in a solemn ceremony conducted by the Metropolitan Community Church (MCC)— a Christian church that ministers to homosexuals.
"We dedicate this holy union to the LGBT's struggle for equal rights and in defiance to discrimination, hate and homophobia. We give back all the glory to God whose love is universal, inclusive and unconditional," the couple said in a statement which they distributed to guests.
Sotero, pastor of MCC Metro Baguio (MCCMB), said his union with Rugay was not only about nurturing a romantic partnership but was also part of LGBTs' fight for gay rights.
"We decided to marry in affirmation of our love, and to be true to our advocacy, as leaders of MCC and Ladlad Party list, that love should be equal," Sotero said. "This union is a testimony to the community that the LGBTs are equally part of God's children and that marriage should be accorded to all people who want to profess their love before families and friends."
For this gay pastor who once called himself "byuding" or "byudong bading" (a gay widower), love is sweeter the second time around, when he finally married his partner of three years in an elaborate ceremony held in one of the resorts here.
The couple were both clad in traditional barong tagalog, while their male entourage led by "flower gays" and bubble dykes (or bubble blowers) were dressed in colorful gowns.
The Dap-ayan ti Kultura iti Kordilyera (DKK) sang the entrance song "Entay Ganaganasen," an Igorot-themed music, at the "holy union sacramental rites"  officiated by Pastor Edgardo Constantino of MCC-Makati at the Highland Villa garden on Bokawkan Road in this city.
During the exchange of vows and rings, Rugay said he was committed to his partnership to Sotero.
"Myke, because this ring is perfectly symmetrical, it signifies the perfection of true love," Rugay said. "As I place it on your finger, I give you all that I am and ever hope to be. Wear this ring as we journey through life together."
The couple said they also wanted to dedicate the union not only to each other but also to the LGBT community.
"We are happy in this celebration especially as LGBTs," Pastor Constantino said. "However, there are those who do not understand this ceremony as they ask if this is a cult which is doing illegal things. But for us, we believe that God is love, and Myke and Gregory are brothers who are in love and who are so in love with each other. As witnesses, we have big roles as we unite in supporting their wedding vows."
After the ceremony, the couple signed a certificate of union.
As the couple was cheered by the guests to kiss each other, the rainbow flag (known internationally as a symbol of gay and lesbian pride) was collecting mists at the patio where it was hung, as if calling for a new beginning for this gay couple whose love for each other knows no boundaries.
"This is already the second time. I hope that time will be on my side and that I am not going to bury my partner and cry again," Sotero said.
His first partner Alex died from stroke in 2007. They were married in November 2003 at a clandestine wedding ceremony, officiated by Fr. Richard Mickley, superior of the Order of the St. Aelred.
The Order of the St. Aelred, a monastery of gay priests and lesbian nuns, was put up in the Philippines in 1996 to provide a support system for gays and lesbians who are often discriminated, according to Mickley.
Sotero and Rugay were instrumental to the holding of a mass gay union in Baguio City last year. They have joined other gay rights activists in campaigning for same-sex "union," which earned criticisms from mainstream Catholic and evangelical churches, as well as local government officials.
Sotero, as an MCCMB pastor, officiated the mass "wedding" of a male couple and  seven lesbian partners at a local bar here. He called the ceremonial rites "same-sex holy unions" and not same-sex marriages because the community acknowledges that Philippine laws do not recognize homosexual unions in the country.
Metropolitan Community Churches, which started in the United States and have spread in many parts of the world,  say they " are on a bold mission to transform hearts, lives, and history…Just as Jesus did, we are called to: Do justice, show kindness, and live humbly with God. (Micah 6:8)."
The MCCMB, in its website, said it will continue to conduct same-sex holy unions for LGBT couples not only here in Baguio but in other parts of the country as well "to prove that no law is higher than love."