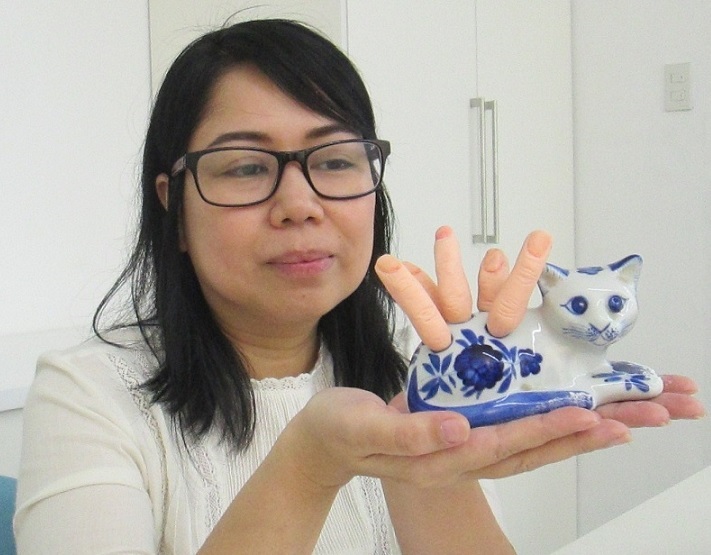 Tin Garcia holding up Dimsum of All Parts 2
It's admittedly the most in- your- face solo show that visual artist Tin Garcia has had since she started exhibiting with Pablo Galleries.
With "Sovereign Tea Party," made up of assemblage, installation and wall-bound works, she removes the layers and filters that marked her previous shows, the last being "Alice Isn't Real," also at Pablo Fort in Bonifacio Global City of Taguig. In "Alice," she used the Lewis Carrol story as her take-off.
In this current show, she uses Ming Dynasty-inspired pottery, reproductions sourced from a reliable thrift shop, to make a statement on the West Philippine Sea issue and the increasing presence and influence of the Chinese in the Philippines.
The first work that greets the visitor is "Ibaon sa Limot/Magtanim ng Galit," a wooden crate filled with seven sacks of fertilized soil. In it are growing snake plants and creeping purple heart vines with a dozen sculptures of buried articulated hands.
In her artist's notes Garcia stated, "The hands form either a f–k-you gesture or a raised clenched fist. The purple heart vines are encouraged to snake around these wooden hands while the snake plants grow around them, in effect obscuring them from view. I chose the snake plant and purple vines because they can grow and thrive indoors without too much supervision, and also because of the names: 'snake' to denote treachery and the purple hearts for bravery. The installation title asks the question whether people will choose to forget this treachery or continue to be angry about it."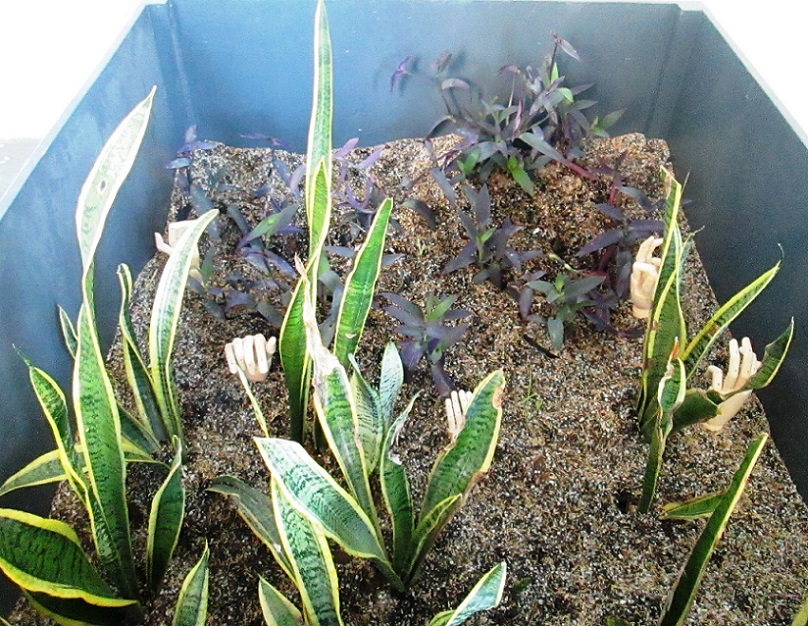 Magtanim ng Galit, Ibaon sa Limot

The hands, she said, express either defiance or surrender. These will either be covered with plants as the exhibit wears on until summer or they will push out.
She also said that installation is her way of venting her frustration over the "repetitive shares we do of news in social media. Does the sharing, the pressing of the 'Share' button plant anger? Is this anger growing? It seems we've opened a Pandora's Box of bad news. Or is the anger forgotten, natanim sa limot, because you shared the piece of news already?"
On its 10th year of existence at Unit C-11, South of Market Condominium at the Global City, Pablo Fort decided on a show that would define how it has evolved through the years and that tells the story of artists and how they matured under the gallery's wings. Four artist friends of Garcia decided on a solo show series, a collaboration on a big show with each adding elements to what she first put up.
The three other artists, Pauline Despi, Auggie Fontanilla and Ivan Despi, willbuild on what Garcia has started. Multimedia artist Pauline Despi will add sound elements to Garcia's works. The sounds will be motion-controlled so when people approach a work, they'll hear something.
Fontanilla, a street artist who used to do graffiti on public walls, will do something urban inspired based on tattoos and the Nazareno of Quiapo. Ivan Despi has a video and sound installation in mind.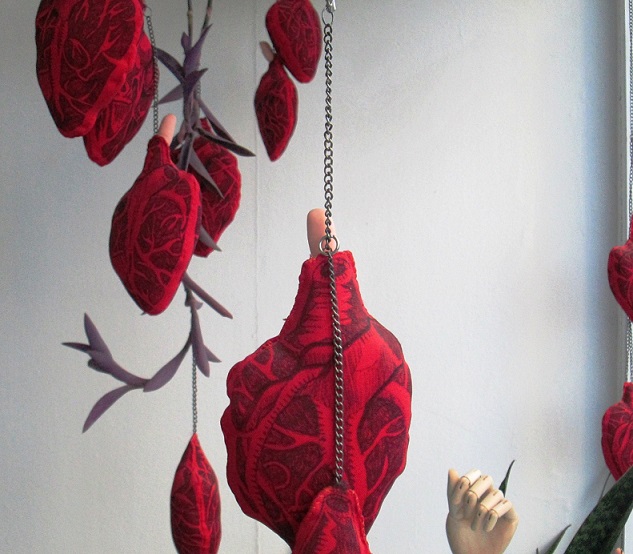 Detail of Low Hanging Fruit, soft sculpture installation
Hanging on the gallery's first floor is the oil and enamel painting"Jinyiwei," named after the broacade-clad guards who secured the Ming Dynasty emperors. Garcia, who did her research on the dynasty, described these guards as "deputized to capture, arrest, execute who they perceived to be enemies of the state." She quoted a Wikipedia definition saying that this imperial secret police was "given the authority to overrule judicial proceedings in prosecutions with full autonomy in arresting, interrogating and punishing anyone, including nobles and the emperor's relatives."
Also hanging on the first floor are heart-shaped soft sculptures on chains called "Low Hanging Fruit" accompanied by indoor plants with middle finger sculpture. Garcia explained, "I wanted a visual interpretation of the definition of 'low-hanging fruit': a thing or person that can be won, obtained or persuaded with little effort." The fingers peeking out of the hearts, she added, are like signs of "growing defiance."
On the second floor is the installation "West Philippine Tea" made up of a square tea table with teacups, a teapot, a milk jug with Ming Dynasty patterns filled with "swirly, turbulent 'sea' water (transparent modeling putty). I chose the Ming pattern because that's when they first started using gunpowder-powered warfare and fell because of a peasant revolt" As for a revolt happening in the Philippines, Garcia called it "wishful thinking" on her part.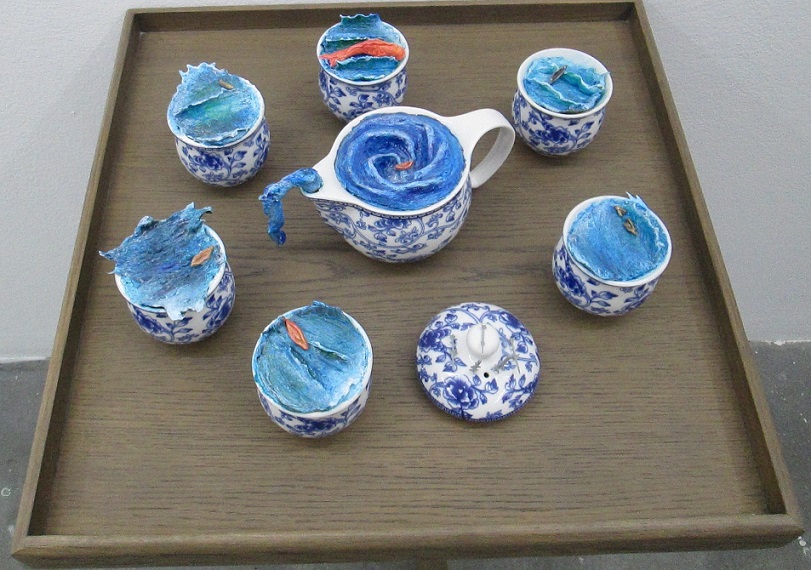 West Philippine Tea, assemblage of eight piece porcelain tea set with painted polymer sculpture and plastic parts

The last installation is "Curiosity Killed the Cabinet," described in her notes as "an assortment of Ming Dynasty-inspired assemblages presented as a collection in a curio cabinet." Here the viewer must pause and move from one row to another to see how soldiers, although made of plastic, maneuver to acquire more parts of the West Philippine Sea. The Ming porcelain—spoons, bowls, ceramic cats—are present to indicate the nationality of the land and sea grabbers.
The purple hearts may not be growing as fast as Garcia wants them to. In a sense, she said, "they need more care, but once they've grown, they actually blossom like Filipinos or whoever will do something about our current situation."