Update: Presidential Spokesperson Salvador Panelo morning of Feb. 25 issued a reaction to this column (See statement down below).
Im also posting my reply:
I note that while Mr. Panelo claims the ICC has no jurisdiction over Mr. Duterte, his principal has taken such lengths as to actually unilaterally withdraw Philippine treaty commitments under the Rome Statute that established the ICC, a clear signal that the President has sleepless nights over a possible prosecution before the international tribunal over his deadly drug war.
The DFA, which has been deeply involved from Day One of the drafting of the Rome Statute, knows such withdrawal, only covers events after it takes effect. The ICC, it it finds basis to move from preliminary examination to preliminary investigation on the basis of communications submitted to it about the drug war, will still have jurisdiction to investigate cases that happened before the withdrawal.
He can only postpone the inevitable. But if the ICC finds basis to try him and his cohorts and issues an international warrant, at the very least, they can expect to have limited movements. No more junkets to countries that respect the Rule of Law.
Chief Presidential Legal Counsel Salvador Panelo
On the opinion of Ellen Tordesillas on Davao City Mayor Inday Sara Duterte
We note the opinion of columnist Ellen Tordesillas in her February 23 blog entry entitled, "Pres Sara in 2022 is Duterte's insurance from ICC arrest when he is out Malacanang."
The opinion of Ms. Tordesillas, is nonsensical. The ICC has no jurisdiction over PRRD, and for that matter any Filipino citizen. It is no hidden fact that Ms. Tordesillas as a columnist is a vocal sympathizer of Senator Antonio Trillanes IV and the Magdalo cause and staunch critic of the President and his administration. It is a no brainer that a biased journalist or columnist like Ms. Tordesillas would regularly come up with conjectures inimical to the President. That is what we call black propaganda.
Nevertheless the President respects freedom of expression. His record of not filing any libel case against any member of the media in his more than forty years as a public servant is res ipsa loquitur (the thing speaks for itself).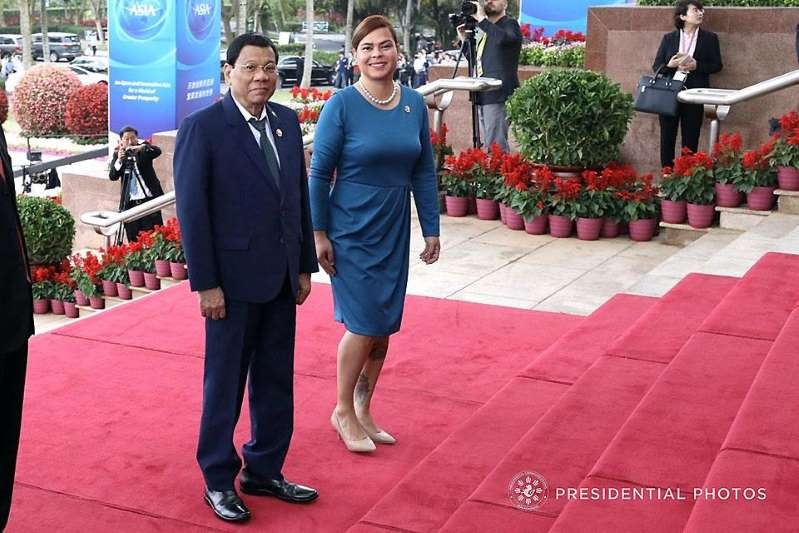 Davao City Mayor Sara Duterte accompanied her father, Pres.
Duterte, to the BoaO Forum in Hainan, China on April 201, 2018. Malacañang
photo by Simeon Celi.

Early last week, fellow Malaya columnist JB Baylon posted this shout out in his Facebook wall:
After DU30, Sarah
Accept it.
Sorry na lang for those who sucked up hoping for an endorsement.
She's the "term extension"
Last week also, as Davao City mayor Sara Duterte-Carpio went around campaigning for her 13-member Hugpong ng Pagbabago senatorial slate, there had been a lot of comments about her being a strong contender for the 2022 presidential election.
House Speaker and former President Gloria Macapagal-Arroyo called Duterte-Carpio "a rising star" in politics adding that it is not farfetched that she would be succeeding her father in Malacañang. "Let me just put it this way: historically, children of presidents do rise," she said.
In the Philippines, there have been two presidential children who have become presidents: Arroyo (2001 to 2010). Her father, Diosdado Macapagal, was president in 1961-1965. Benigno Aquino III was president 2010 to 2017. His mother, Corazon Aquino was president 1986 to 1992.
Sen. Panfilo Lacson re-issued his earlier statement on Sara, who is running for re-election as Davao City mayor: "I said this before, sometime in August last year and I'll say it again – speaking of Mayor Sara Duterte, if the next leader of our country would emerge from the young, fresh, and new faces in national politics, my top choice right now is Sara Duterte."
There was no comment from Duterte himself, but his Presidential Spokesperson Salvador Panelo smugly remarked that he won't be surprised if Sara succeeds her father adding that raising funds for a presidential campaign won't be a problem because she has many "admirer."
On Duterte-Carpio's part, not only did she not rule out a presidential run in 2022, she even boosted the idea saying "It depends on the circumstances. Maybe we can make a deadline in January 2021. Assuming it's automated elections for 2022, the deadline most probably (would) be October of the previous year."
Showing political savvy, she added: "It is money, machinery and the most important is wisdom and guidance of God because it would be difficult if it's not for you. Magiging madali yan kung intended ng Diyos na para sa iyo ."
As JB's shout out suggested, Sara for president in 2022 puts a damper on thehopes of Manny Pacquiao, Richard Gordon, Alan Cayetano to be endorsed by Duterte in 2022.They can vie, though, to be Sara's running mate.
But the most significant of JB's shout out is:She's the "term extension."
There is no need to revise the Constitution to allow Duterte to continue being in power after 2022. Sara succeeding him in Malacañang will assure Duterte that the International Criminal Court won't be allowed in the country to arrest him when the case progresses to that stage. He would not have to answer for the extra-judicial killings attributed to him.
Sara as the next president will also continue to clamp down on the Anti-Money Laundering Council and the Ombudsman so the case of Duterte's unexplained wealth would remain uninvestigated.
More so because Sara is a co-depositor in that BPI account that showed bank deposits exceeding at least P100 million not reported in her Statement of Assets, Liabilities and Net worth -a violation of the law – during the period when she was mayor and her father was her vice mayor.