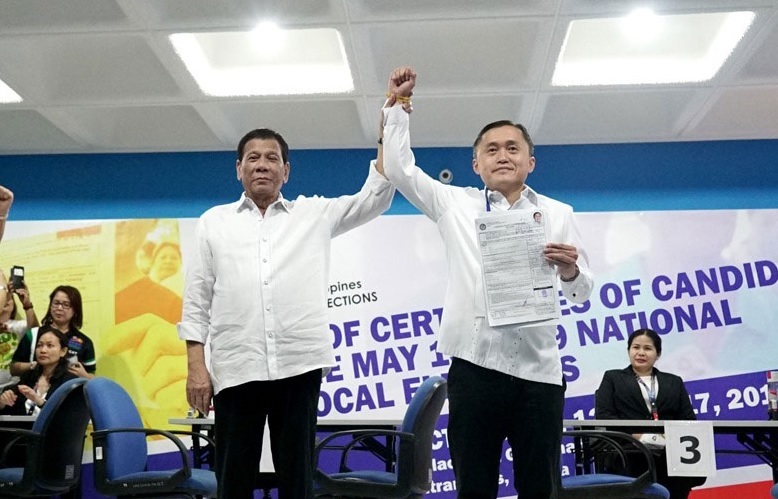 Pres. Duterte raises the hand of his Special Assistant, Bong Go, who filed his certificate of candidacy for senator at Comelec in Intramuros, Manila on October 15. Malacañang photo by King Rodriguez.
Christopher LawrenceGo, popularly known as Bong Go, special assistant to President Duterte until last Monday, made a mark in the country's electoral history by filing his certificate of candidacy for senator the 2019 midterm elections accompanied no less by the highest official of the land.
He was in tears after hearing a mass before his filing of his certificate of candidacy. In his prepared statement, he said: "Ako po ay nagpapasalamat sa Diyos dahil natutunan ko kay Pangulong Duterte kung ano ang tunay na malasakit at serbisyong publiko. Dalawampu't tatlong taon akong nanilbihan sa kanya at ang karunungan ko ngayon ay utang ko rin sa kanya. Dahil kay Mayor Rody, lalong naging malawak at malalim ang aking pang-unawa (I thank God because I learned genuine concern and public service from President Duterte. I served him for 23 years, and I owe him the wisdom and understanding I've learned through the years)."
Weeks and months before last Monday's filing of his certificate of candidacy, Duterte was endorsing Go for senator and declaring that he will win in next year's senatorial race. In Pulse Asia's September survey, Go ranked number 24 – 27 despite inundating the national landscape with streamers emblazoned with his name and face.
Duterte is president. His performance approval rating is declining but still high (75 percent in September 2018 from 88 percent in June 2018, Pulse Asia) and his endorsement of Go is expected to carry weight among his supporters.
The big question is, how is Duterte going to manage in Malacañang without Bong Go beside him?
Go is Duterte's dependable sidekick for the past 20 years and more. If Duterte wants to talk with somebody, he calls Bong Go. If he wants a document, he calls Bong Go. If he wants to give an order to an official, he calls Bong Go.
In Malacañang, he is The Gatekeeper. All calls to Duterte pass through him.Go makes calls for Duterte. It's Go who screens calls to Duterte.
How he juggles his cellphones to cope with the calls for the President amazes observers who have seen closely the relationship between the Chief Executive and his special assistant?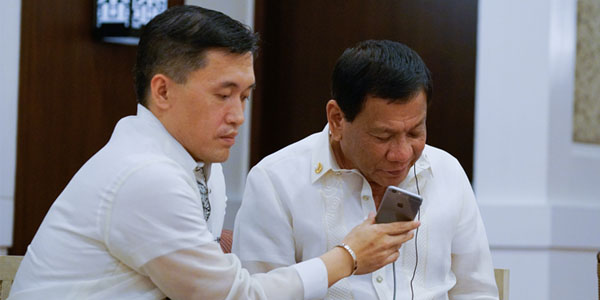 Bong Go holding the phone for Duterte. Photo released by Malacañang of U.S. President Trump's call to Pres. Duterte on April 29, 2017.
Anybody who wants to see Duterte passes through Go. All papers for Duterte's signature pass through Go.
Go can make or unmake one's career by prioritizing one's appointment paper or putting it in the bottom of the pile.
A journalist related an interview with a military officer who complained that "BG" was meddling withAFP and PNP appointments and promotions. "BG", the officer said, favors officers who are from Davao or were assigned in Davao. Those who played basketball with BG enjoys an advantage.
The journalist asked who the "Brigadier General" is, thinking it was an abbreviation of the military rank.
The officer was disappointed: "Di mo alam? BG is Bong Go!"
How will Duterte manage if Go wins and goes to the Senate?
Presidential Spokesperson Salvador Panelo said no one has yet been named to replace Go.
But many are suspicious of Go's senatorial bid seeing it as part of Duterte's smoke and mirrors strategy as he tries to hold on to power halfway his six-year term amid a worsening economy and reports of serious illness.
Election rules allow substitution for an official candidate of a duly registered political party or Coalition who dies, withdraws, or is disqualified for any cause until November 29, 2018.
Is someone from Davao goingto go national at the last minute?As one political observer said, . "Malalim na laro ito (This is a deep and complicated game)."