Updated July 19 to include VP Sara's reaction.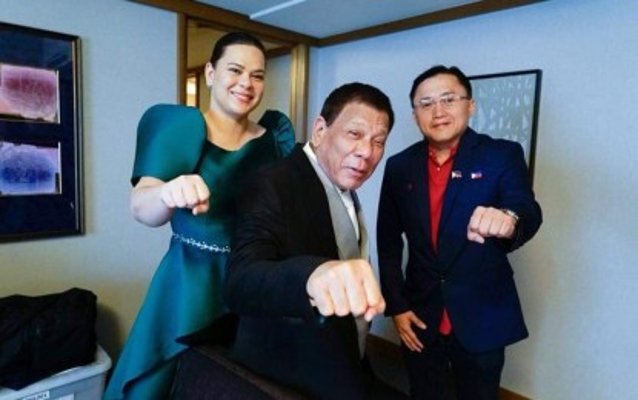 Aside from former president Rodrigo Duterte, Vice President Sara Duterte-Carpio and two incumbent senators were named in documents submitted to the International Criminal Court (ICC) investigating the killings related to the drug war during the previous administration and when Duterte was mayor of Davao City, a copy of the documents obtained by VERA Files shows.
The vice president's name was mentioned as knowing and approving the killings when she was city mayor, a post that her father held for more than 20 years. Sara was mayor from 2010 to 2013, and from 2016 to 2022.
A person knowledgeable of the ICC probe said she could be issued a "summons" by the ICC. If she would not comply with the summons, she would be issued a warrant of arrest.
This is the first time the name of Sara was mentioned in the documents relevant to the ICC investigation.
VERA Files sent messages to the OVP, her spokesperson and media officer for her side, but got only an automated reply from the OVP acknowledging receipt of the email and that it has been forwarded to the concerned unit for appropriate action. Her spokesperson also acknowledged VERA Files' request sent by text.
VERA Files has not received any statement as of 10 p.m., July 17.
On July 18, 7:51 p.m. Sara's information officer Jefrey Tupas sent a text message: "No comment."
Bong Go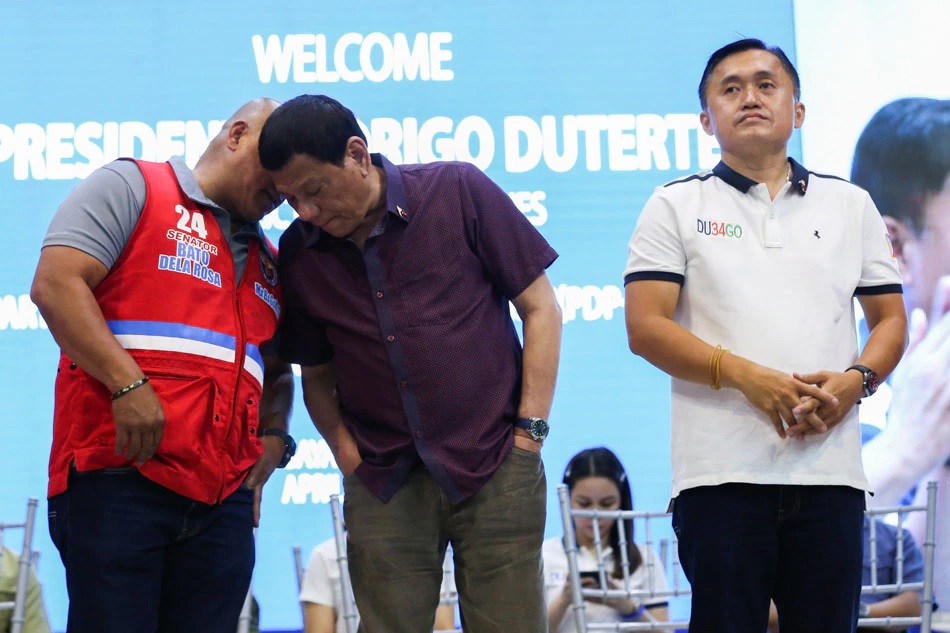 Sen. Christopher Lawrence "Bong" Go, the former president's longtime aide, was mentioned at least 70 times and Sen. Ronald "Bato" Dela Rosa, at least 90 times in a 186-page affidavit by a person who had knowledge of Duterte's bloody style of governance but had asked not to be identified.
Once included in the investigation, Dela Rosa and Go could be issued warrants of arrest by the ICC.
Several other names were mentioned in the documents that covered at least 100 killings that happened mostly in Davao City when Rodrigo was mayor.
The ICC announced on July 12 that it will release its judgment on the appeal of the Philippine government against the resumption of the investigation at 10 a.m. (4 p.m. in Manila) on July 18 at The Hague, where the international probe body is headquartered.
According to the documents with the ICC, during the years when Go served as executive assistant and personal aide to then-Davao City mayor Rodrigo Duterte, he, on several instances, was the one who relayed the former's orders to kill to the Davao Death Squad, which was allegedly carrying out the extrajudicial killings for the local chief executive.
Some of the kill orders were unrelated to the anti-illegal drug campaign. Rodrigo served as Davao City mayor for 22 years, from 1988 to 2016, broken only by years when he held other elective positions (1998-2001, member of the House of Representatives and 2010-2013, vice mayor).
The documents also contained a report of two separate killings, which were allegedly ordered by Go, and "cleared and approved by Mayor Rodrigo Roa Duterte." One was the murder of Primo Nilles, driver of businessman Jon Gaisano, whose wife Ana Nilles was one of the suspects in a cash pilferage in Gaisano's business establishment. The other was the killing of second-hand truck importer Christopher Yu sometime in 2013 or 2014.
Go held a powerful position during the Duterte presidency as gatekeeper for the chief executive. Even when he was elected senator in 2019, he was always seen in almost all the activities of the president.
VERA Files tried to get the side of Go by email and text but has not received any reply as of July 17.
'Bato' Dela Rosa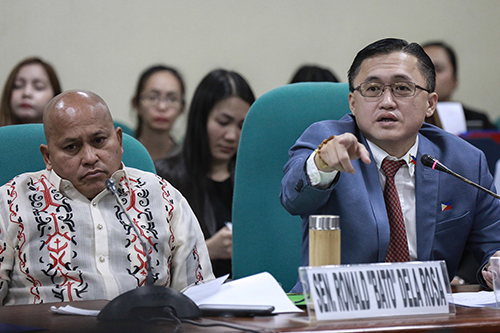 Dela Rosa was Davao City police chief from 2012 to 2013 under then-mayor Sara Duterte-Carpio, who is now vice president. He previously held other positions such as station commander and intelligence division chief under the Davao City Police Office from 1992 to 1997, when the elder Duterte was the city mayor.
In the documents, it was alleged that Dela Rosa formed his own death squad to carry out anti-illegal drug operations in Davao.
As chief of the Philippine National Police (PNP), he presided over Duterte's bloody war on drugs from 2016 up to 2018, which saw the killings of some 30,000, according to the estimates by human rights groups. Police admit to some 6,000 killed in drug war operations.
VERA Files also tried to get the side of Dela Rosa but has not received a reply as of July 17.
Dela Rosa had said that he was not afraid of the ICC investigation as the Netherlands-based court no longer has jurisdiction on the Philippines. However, the police chief-turned-senator admitted avoiding traveling to countries he perceives to be "loyal" to the ICC to evade potentially getting arrested should the court issue a warrant for him.
"Hindi ako takot. Alam ko naman na walang mangyayari diyan kung hindi lang ako lalabas sa ating bansa … just in case pupunta ako sa ibang bansa at huhulihin ako doon, nandiyan na si Sen. [Francis] Tolentino to the rescue para mag-represent sa akin sa kahaharapin ko," Dela Rosa said last March
[I'm not afraid. I know that nothing would happen as long as I don't go outside the country … just in case I go to another country and I will be arrested there, Sen. [Francis] Tolentino will be there to rescue and represent me.]
Although it lacks police power, the ICC relies on its 123 member states to cooperate in enforcing its arrest warrants. It can also seek the help of the International Criminal Police Organization (Interpol) by issuing a request to its 195 member countries, including the Philippines, to arrest a wanted individual. Still, it is entirely subject to Philippine discretion to implement an Interpol request.
ICC approval of investigation 
In September 2021, the ICC Pre-Trial Chamber I granted the request of former prosecutor Fatou Bensouda to launch a full-blown probe into the alleged crimes against humanity in the Duterte administration's drug war from July 2016 to March 16, 2019. It also allowed the probe to cover the alleged killings and related crimes in the Davao region from November 2011 to June 2016 by the "Davao Death Squad."
The Pre-Trial Chamber is a judicial body in the ICC that permits the court's prosecutor to conduct or resume an investigation. It also issues arrest warrants or summonses to those wanted of crimes against humanity, war crimes and other international crimes.
In her 57-page investigation request, Bensouda named Duterte for ordering the implementation of the drug war and publicly expressing support for the killing of suspected drug personalities.
She said other officials who used a similar rhetoric include Justice secretary Vitaliano Aguirre II who once said that "the criminals, the drug lords, drug pushers, they are not humanity". Aguirre denied that he ever said drug lords "are not humans."
Duterte's first two PNP chiefs — Dela Rosa and Ronald Albayalde — were also named for implementing Duterte's drug war. Bensouda said Albayalde, who replaced Dela Rosa in April 2018, publicly declared his commitment to continue Dela Rosa's drug war upon assuming the top PNP post.
Bensouda made the investigation request to the Pre-Trial chamber a month before her term ended on June 15, 2021, with British lawyer Karim Khan succeeding her. Her launching of a preliminary examination into the drug war killings in February 2018 was followed by Duterte's order to withdraw the Philippines as an ICC member, which took effect on March 16, 2019.
Duterte has consistently questioned the jurisdiction of the ICC to investigate him.
PH government appeal
In its appeal to reverse the decision of the Pre-Trial Chamber allowing Bensouda's successor Khan to resume the drug war investigation on Jan. 26,  the government insisted on the ICC's lack of jurisdiction over the Philippines because it has ceased being a member since March 17, 2018.
Invoking the principle of complementarity where the ICC may exercise jurisdiction only when domestic legal systems fail to do so, or a state is unwilling or unable to genuinely carry out proceedings, the government cited a few cases that have found guilty policemen who were involved in extrajudicial killings in drug operations such as in the murder of 17-year old Kian de los Santos in 2017.
However, the Appeals Chamber, which hears appeals on decisions on jurisdiction or admissibility, was not impressed saying the Philippine courts "only address the physical, low-ranking perpetrators and at present do not extend to any high-ranking officials."
If the July 18 decision  upholds the Pre-Trial Chamber's Jan. 26 ruling,  Khan would be allowed to continue the investigation until he reaches the stage of formally identifying suspects to be charged in a full-blown case.
In that eventuality, international law expert Romel Bagares said the chamber's decision is final and can no longer be appealed or amended.
President Marcos had said he will not cooperate in the ICC probe until the issue of jurisdiction is resolved.