A string of inaccurate statements from incumbent officials has emerged after the International Criminal Court (ICC) announced on Jan. 26 that it will resume its drug war probe in the Philippines.
Justice Secretary Jesus Crispin "Boying" Remulla, spokesperson Mico Clavano and Sen. Ronald "Bato" Dela Rosa insisted that the Netherlands-based tribunal "does not have jurisdiction" to investigate Filipinos allegedly involved in crimes against humanity related to the  bloody campaign against illegal drugs because the Philippines is no longer a member of the ICC.
VERA Files Fact Check has debunked 48 statements and online posts about the ICC from April 16, 2016 to Feb. 8, 2023. Along with it unfolded a pattern of public officials echoing misinformation from the administration of former president Rodrigo Duterte that launched the war on drugs in 2016.
"Mauuna talagang bibigyan ng primary jurisdiction 'yung mga domestic courts. Saka lamang po [p]umapasok sa eksena 'yung ICC kapag nakita nito na hindi na epektibo 'yung mga procedures 'dun sa mga domestic courts," lawyer Romel Bagares, who is an international law professor, said in an interview with VERA Files.
(The primary jurisdiction is really with the domestic courts. The ICC enters the picture only when it sees that the procedures in domestic courts are no longer effective.)
In the case of the Philippines, the ICC Pre-Trial Chamber I stressed that the country failed to investigate top state officials "most responsible" for these crimes that were committed when it was still a state party to the Rome Statute from November 2011 until its  withdrawal  took effect on March 17, 2019. The Rome Statute is the treaty that established the ICC.
"Hindi dito kasama 'yung mga foot soldiers, 'yung mga inutusan lang. Ang saklaw ng imbestigasyon ng ICC ay 'yung mga nag-utos, 'yung mga utak ng karumal-dumal na krimen na nabanggit: crimes against humanity, war crimes, genocide," Bagares explained.
(The foot soldiers, those who just carried out orders, are not included here. The ICC investigation covers only those who issued the orders, the masterminds of the abhorrent crimes mentioned: crimes against humanity, war crimes, genocide.)
Parroting Duterte's defense
Duterte first cited the principle of "territoriality" on April 27, 2017 after he was asked in a chance interview if the ICC had jurisdiction to look into his alleged involvement in the "continuing mass murder in the Philippines."
(Read VERA FILES FACT CHECK: Can Duterte invoke territoriality on matters related to crimes specified in the Rome Statute?)
Even after his term ended in 2022, Duterte's long-time allies refused to acknowledge the country's obligations to the ICC, repeating their rejection of the ICC's jurisdiction at least six more times. On VERA Files Fact Check's count, this claim was recycled 14 times by six different public figures.
Among these officials were Salvador Panelo (former chief legal counsel and Palace spokesperson),  Remulla (former Cavite representative), Sen. Ronald "Bato" Dela Rosa (former Philippine National Police chief), Jose Calida (former solicitor general), and Harry Roque (former Palace spokesperson).
Recently, Duterte's allies in the House of Representatives, including Senior Deputy Speaker Gloria Macapagal-Arroyo, filed a resolution expressing "unequivocal defense" of the former president against the ICC. They stated that Duterte's presidency "ushered remarkable accomplishments brought about by his relentless campaign against illegal drugs."
This kind of response, Bagares said, is not unique to the Philippines.
"Many countries in Africa, when there is an indictment or investigations against their leader, say the same thing. But when they (first) became a member of the Rome Statute, they were not concerned about sovereignty," he noted.
Although such a claim is "not really a legal argument," Bagares recognized that it is "effective as to the political side of things" especially among staunch supporters of the government.
An online user, for example, reacted to a VERA Files Fact Check on this frequently repeated claim, with this comment: "Ano ang pakialam ng ICC na 'yan sa sarili nating constitution (What does that ICC have to do with our own constitution)?" He added that "it is normal for a program for peace like the war on drugs to have innocent people die."
Another netizen, addressing the ICC, said, "[You have] to respect the sovereignty of a country."
On TikTok, some accounts poured in supporting Duterte and saying they will not allow him to be jailed.
(Reach: 4,567 likes)
(Reach: 3,147 likes)
To date, however, Duterte has not been charged with any drug war-related crimes in any local court.
In its 2021 request to authorize the investigation on the drug war as well as the Davao Death Squad killings, the ICC Office of the Prosecutor (OTP) noted that the 2017 murder case of 17-year-old Kian Delos Santos against low-ranking patrolmen is the only one that has reached judgment.
For this reason, the Pre-Trial Chamber I decided in January to resume the full-blown investigation into high-ranking government officials allegedly involved in the anti-drug campaign.
Local prosecutors can investigate alleged crimes against humanity committed in the country under Republic Act 9851 or the Philippine Act on Crimes Against International Humanitarian Law, Genocide, and Other Crimes Against Humanity.
(Read VERA FILES FACT SHEET: The crimes against humanity through the lens of Philippine laws)
Bagares emphasized that the Philippines must "mirror" the ICC probe by investigating the same suspects and the same incidents to satisfy the principle of complementarity under the Rome Statute.
Targeting the ICC 
An array of false statements has targeted the ICC's structure and composition, with Duterte as its primary source.
For example, the former president wrongly stated at least four times that all ICC judges are "white" so they should not be interfering with the country's national affairs. Other attempts to misrepresent the ICC include describing the court as part of the United Nations or as a creation of the European Union.
Former ICC prosecutor Fatou Bensouda was also subjected to malicious messaging from public figures and the internet alike.
In a November 2018 speech before the Filipino community in Papua New Guinea, Duterte mocked Bensouda's physical appearance and threatened to slap her if they ever met.
Defending the controversial war on drugs, Larry Gadon, a lawyer who is a staunch supporter of both Duterte and President Ferdinand Marcos, falsely said that Bensouda had been declared "persona non grata" in the United States for "inventing" cases of human rights violations.
He then went on to say that Bensouda "had no credibility" and described her country, Gambia, as a "backward" and "third world" nation.
(Read VERA FILES FACT CHECK: Gadon makes wrong claim on U.S. sanctions vs. Bensouda)
VERA Files Fact Check flagged the website Exposed PH (citizenexposedph.info) for reporting a misleading story that Bensouda was "removed" from office in February 2021. The fact was that  Bensouda's term was ending in June that year and would be succeeded by British lawyer Karim Khan.
The post could have reached two million online users, according to social media monitoring tool CrowdTangle.
(Read VERA FILES FACT CHECK: ICC prosecutor NOT being 'removed' from office)
Another YouTube channel Showbiz Fanaticz, which is notorious for sharing online disinformation, ran a false video that Bensouda would be jailed "because of a false accusation" against Duterte. The 12-minute video was released less than 28 hours after Bensouda sought authorization to investigate alleged human rights abuses in the drug war.
It was viewed more than 134,000 times.
(Read VERA FILES FACT CHECK: Video claiming ICC's Bensouda will be imprisoned NOT TRUE)
Who benefits? 
Duterte and his administration appeared to benefit the most from ICC-related disinformation. Common pro-Duterte themes included false claims about his presidential immunity against lawsuits or supposed plots to oust him.
For example, Roque, who used to be a lawyer for victims of human rights violations, made a baseless statement in June 2021 that the late Communist Party of the Philippines founder Jose Maria "Joma" Sison was among those who submitted the communication to the ICC on the drug war.
In a message to VERA Files Fact Check, Sison denied this and said, "Nobody with the collected evidence approached me to sign any communication to the ICC." Sison passed away on Dec. 16 last year.
The ICC OTP does not publicly disclose the identity of persons, groups or states that submitted a communication for their "safety, well being and privacy," according to its policy paper on preliminary examinations.
Marcos has also benefited from disinformation being spread on the ICC.
On the day the President announced he would not not reinstate the Philippines in the ICC, a viral post from the Facebook page Paolo Duterte Supporters erroneously claimed that the ICC could no longer interfere and investigate deaths related to the drug war.  Commenting on the post, some netizens praised and agreed with the President's decision.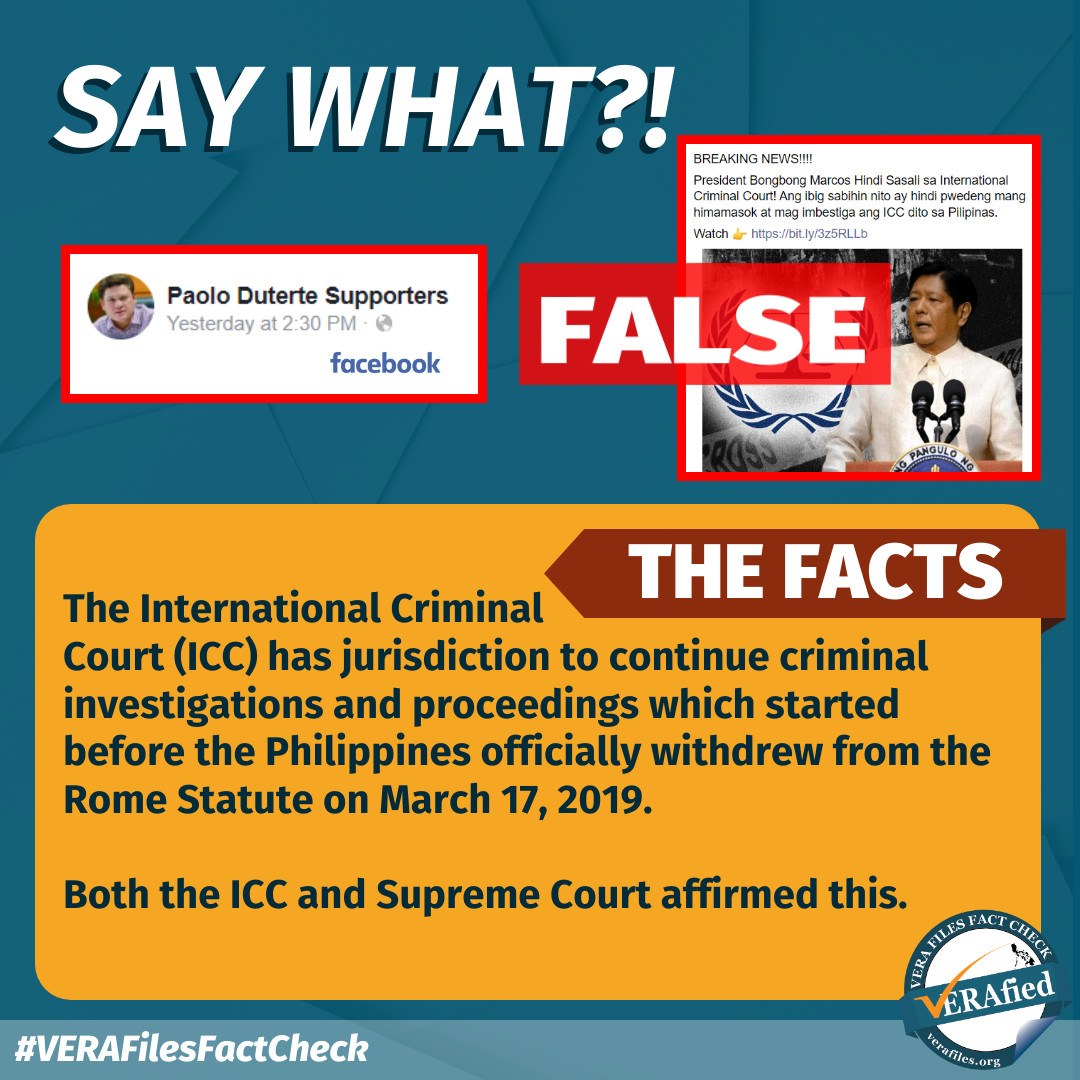 When he was senator, Marcos supported the entry of the Philippines into the ICC in 2011.
The president has not heeded the call of some groups and lawmakers to cooperate in the ICC probe and his chief legal counsel Juan Ponce Enrile has warned that he would have ICC investigators arrested if they entered the Philippines. As then Senate president, Enrile also signed the resolution ratifying the Rome Statute.
"That's going to cause a diplomatic uproar, kasi meron tayong (we have a) residual obligation under the Rome Statute," Bagares said on the prospects of  such an arrest.
The lawyer stressed that any decision on the ICC investigation in the Philippines "depends on the president because he is the chief foreign policy maker in our government."
Follow updates on VERA Files' coverage of the ICC's drug war probe here: https://verafiles.org/specials/the-icc-probe