President Rodrigo Duterte mistakenly claimed that all the judges of the International Criminal Court (ICC) are "White" when he responded to the December 2020 update of the court's preliminary examination into alleged crimes against humanity committed in the government's war on drugs.
STATEMENT

In a Dec. 28 briefing, Duterte slammed the tribunal for supposedly "interfering" in Philippine affairs:
"In the first place, why are you interfering in the affairs of my country and other countries? And who gave you the authority? By what divine law gave you the authority to … prosecute me in a … foreign land tapos ang nakaupo puro kayo mga Puti na ulol (and all of you sitting there are stupid White). You must be crazy."

Source: Presidential Communications Operations Office, Meeting of President Rodrigo Roa Duterte with the Inter-Agency Task Force for the Management of Emerging Infectious Diseases, Dec. 28, 2020, watch from 27:02 to 27:28.

Implying that the ICC inquiry is unnecessary, the president asserted that Philippine courts "are functioning," and assured he would yield to local courts should they rule that he must go to jail.
FACT

More than half, or 10 of the 18 sitting judges of the ICC, are from African, Latin American and Caribbean, and Asia-Pacific Groups of States, while eight are from Eastern European, and Western European and Others Groups of States, according to the tribunal's Judges of the Court briefer.
Judge Chile Eboe-Osuji, a Nigerian national with more than 25 years of legal experience prior to joining the court, serves as ICC president for a term of three years after being elected to the position by other judges on March 11, 2018.
Of the 18 judges, one is Filipino: Raul Pangalangan, assigned to the ICC's Trial Division, whose term at the tribunal will end on March 10.
ICC judges, who each typically serve a nine-year term, are elected by the Assembly of State Parties in a process that "takes account" of "fair representation of men and women" and "equitable geographical distribution," among other considerations.
They are selected from a slate of candidates of "high moral character, impartiality, and integrity" with "established competence" and "necessary experience" in criminal law and procedure, or in "relevant areas of international law," such as the laws on human rights.
Pangalangan and Geoffrey Henderson of Trinidad and Tobago, however, do not have full-term of nine years each because they are filling judicial vacancies and serving only the remainder of the terms.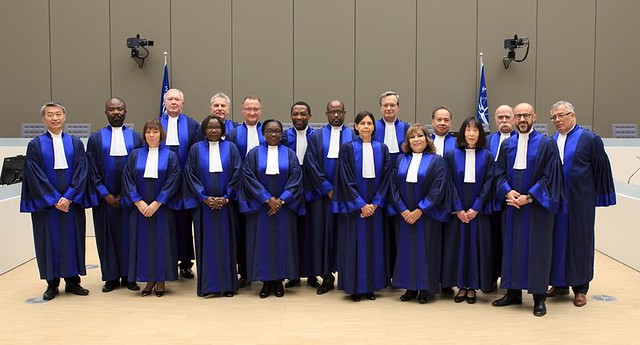 The 18 judges of the International Criminal Court. First row (Top, Left
to Right): Judges Chang-ho Chung, Antoine Kesia-Mbe Mindua, Howard Morrison, Robert Fremr, Bertram Schmitt, Chile Eboe-Osuji, Geoffrey Henderson, Marc Perrin de Brichambaut, Raul Pangalangan, Péter Kovács, and Piotr Hofmański; Second row (Bottom, Left to Right): Judges Kimberly Prost, Solomy Balungi Bossa, Reine Alapini-Gansou, Olga Herrera-Carbuccia, Luz del Carmen Ibáñez Carranza, Tomoko Akane, and Rosario Salvatore Aitala. Photo from the International Criminal
Court website
This was not the first time Duterte made this false claim, having said it at least thrice in speeches and interviews in November 2018, July 2019, and December 2019.
In its December 2020 update, the ICC Office of the Prosecutor, led by Fatou Bensouda, said it found "reasonable basis to believe" that crimes against humanity were committed in the conduct of Duterte's war on drugs. Bensouda's office is expected to finalize its preliminary examination into the Philippine situation in the "first half" of this year. (See VERA FILES FACT SHEET: Understanding the updates on the ICC's preliminary examination into Duterte's drug war)
Sources
International Criminal Court, Report on Preliminary Examination Activities 2020, Dec. 14, 2020
Presidential Communications Operations Office, Meeting of President Rodrigo Roa Duterte with the Inter-Agency Task Force for the Management of Emerging Infectious Diseases, Dec. 28, 2020
PTV Official Facebook Account, WATCH: President Rodrigo #Duterte's Talk to the Nation, Dec. 28, 2020
International Criminal Court, The Judges of the Court, Accessed Jan. 4, 2021
International Judicial Monitor, Justice in Profile: Chile Eboe-Osuji, Accessed Jan. 5, 2021
International Criminal Court, Judge Chile Eboe-Osuji, Accessed Jan. 5, 2021
International Criminal Court, Judge Raul Cano Pangalangan, Accessed Jan. 5, 2021
International Criminal Court, Presidency and Chambers, Accessed Jan. 5, 2021
International Criminal Court, Judicial Divisions, Accessed Jan. 5, 2021
International Criminal Court, The Judges of the Court, Accessed Jan. 4, 2021
RTVMalacañang Official Youtube Channel, Meeting with the Filipino Community in Papua New Guinea (Speech) 11/16/2018, Nov. 16, 2018
Pastor Apollo C. Quiboloy Official Facebook Page, GUTD – July 16, 2019 with Philippine President Duterte, July 16, 2019
RTVMalacañang Official Youtube Channel, Closing Ceremony of the National ROTC Summit (Speech) 12/20/2019, Dec. 24, 2019
Presidential Communications Operations Office, From the Presidential Spokesperson, March 14, 2018
International Criminal Court, Rome Statute of the International Criminal Court, Accessed Jan. 5, 2021
International Criminal Court, The ICC at a Glance, Accessed Jan. 5, 2021
(Guided by the code of principles of the International Fact-Checking Network at Poynter, VERA Files tracks the false claims, flip-flops, misleading statements of public officials and figures, and debunks them with factual evidence. Find out more about this initiative and our methodology.)