Website Exposed PH (citizenexposedph.info) is misleading netizens with a report it published on Feb. 13 which incorrectly claims in its headline that the incumbent chief prosecutor of the International Criminal Court (ICC), who is leading a probe into the Duterte government's war on drugs, is being "removed" from office.
Fatou Bensouda is not being kicked out of her position in the ICC.
Chief prosecutors of the international court have a non-renewable term of nine years. Bensouda's started in 2012 and is scheduled to end in June, hence the need to elect her replacement.
On Feb. 12, the ICC announced that British lawyer Karim Khan, who currently serves as Assistant Secretary-General of the United Nations, has been selected by the ICC's Assembly of States Parties as Bensouda's successor. He will assume office on June 16.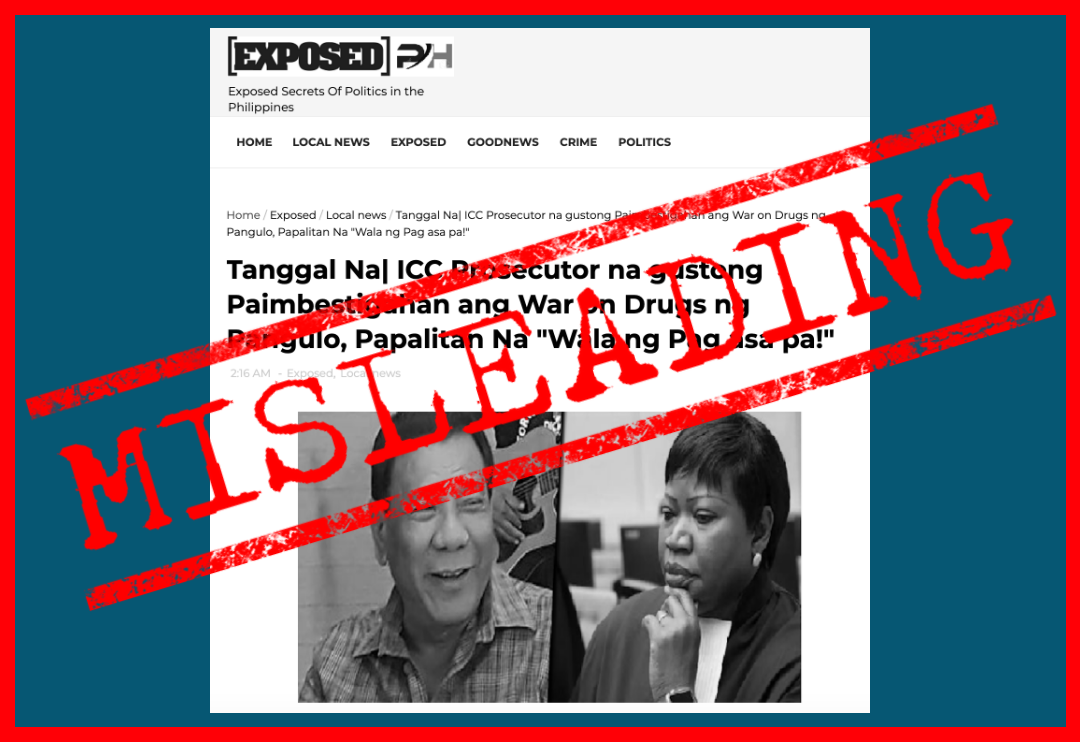 The body text of Exposed PH's article did not support the claim presented in its headline, which had read "Tanggal Na| ICC Prosecutor na gustong Paimbestigahan ang War on Drugs ng Pangulo, Papalitan Na 'Wala ng Pag asa pa' (Removed | ICC prosecutor who wants to investigate the president's war on drugs is being replaced 'Not a chance')!"
Its content was a copy of the first six paragraphs of a Feb. 13 Inquirer.net report translated into Filipino. It only stated how member states of the ICC will vote for a new chief prosecutor, and included a brief description of Bensouda.
The Gambian lawyer is known to Filipinos for opening and conducting preliminary examinations into President Rodrigo Duterte's infamous campaign against illegal drugs, which rights activists say is characterized by extrajudicial killings.
On Dec. 14, Bensouda's office released a report on the status of the preliminary examinations it conducted into the matter. It said the information it gathered "provides a reasonable basis to believe" that crimes against humanity of murder, torture and infliction of serious physical and mental harm, in relation to the drug war, were committed from July 2016 to mid-March 2019.
The ICC started its preliminary examinations on the matter in February 2018. The following month, the Philippine government announced its withdrawal of its ratification of the Rome Statute — the treaty which created the ICC.
However, the international court "retains jurisdiction over alleged crimes" that took place when the country was still a State Party to the Statute. The Office of the Prosecutor has said it is expecting to reach a decision in "the first half of 2021" on whether or not to seek an authorization to open an investigation into the situation.
Exposed PH's misleading article already received over 1,700 interactions from Facebook (FB) users and could have reached around two million netizens. Traffic to the webpage largely came from FB pages Philippines CCTV & DASH CAM Spotted, Duterte-Marcos Real Change and Tatay Digong – Unofficial.
Exposed PH was registered as a website on April 21, 2020.
Other dubious characteristics of the website
A closer look at the features of Exposed PH's webpage points to several dubious characteristics that are common among websites that peddle disinformation.
The website's About page, which supposedly details what the site is about and the people behind it, only contains generic, placeholder text.

Its contact page, meanwhile, does not bear any contact information of the website. It instead asks readers for their personal information — a sketchy scheme that could potentially endanger the personal data of the site's visitors.
More, all of Exposed PH's published articles carry only one author's name which appears to be an alias: haplasin. This is a common tactic used by disinformation-spreading websites as a way of escaping accountability.
Advertisements also occupied more space than the actual report, which suggests that profit-generation is a driver for the website.
(Editor's Note: VERA Files has partnered with Facebook to fight the spread of disinformation. Find out more about this partnership and our methodology.)