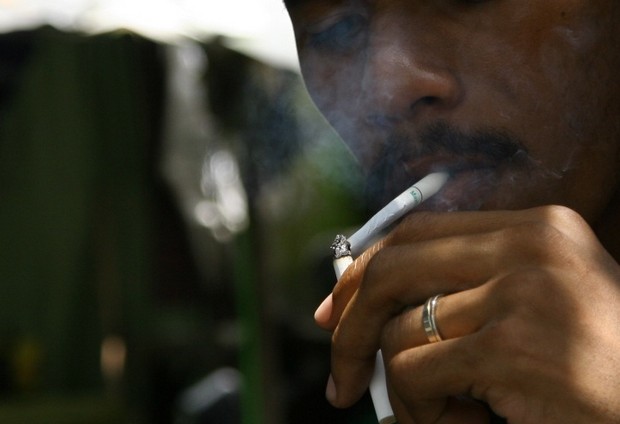 By JOSEPH HOLANDES UBALDE
InterAksyon.com
ABET (not his real name) goes out of his Quezon City office to puff on a cigarette, his 15th stick for the day. "Five more to go," he said before facing his side to cough. It was only 4 p.m. after all.
The 48-year-old journalist smokes an average of 20 cigarettes a day; on more stressful days, he can consume up to 36.
What's interesting is that since he started smoking as a college freshman three decades ago, he has always bought his cigarettes by "tingi" (retail).
By buying cigarettes per stick rather than by pack, Abet believes he consumes less, and therefore maintains his vice at a cheaper cost and controls his addiction.
If he bought a pack, Abet admitted, all 20 sticks in it would be gone in a puff. "If I can pull a pack of cigarettes out anytime, mapaparami talaga siya (I will likely exceed my current consumption)," he said.
This is an illusion, according to Dr. Maricar Limpin, a noted pulmonologist and executive director of the Framework Convention on Tobacco Control in the Philippines.
While smokers like to think that consuming cigarettes little by little means they are consuming less and are therefore not addicted, "it is often a prelude to buying cigarettes in packs or consuming even more," Limpin added.
Abet, in fact, contradicts his own claim that he gets the cigarettes cheaper and that he's not hooked on it.
A pack of his preferred cigarette brand costs P45, or P2.25 per stick. If he buys it tingi from sari-sari stores and ambulant vendors, a stick costs P3 or P60 for one pack, which is actually Abet's average daily consumption. On days when he consumes 36 sticks, he's spending P108.
His average daily consumption adds up to P1,800 a month, or 4 percent of his P45,000 gross income. It's not really a small amount for Abet who sends four kids to school, one of them to college even. When the household budget gets short, he admits realizing that that the amount he spends on cigarettes could buy them rice. But he would still go back to spending as much on cigarettes.
What's with micro retail?
The Philippines is among the developing countries in the world where the tingi system for cigarettes is rampant. Other countries in Southeast Asia like Thailand and Vietnam may sell by piece, but this doesn't happen often since they lack the ubiquitous sari-sari store or are scarce of ambulant vendors.
For Michael Tan, a medical anthropologist and professor at the University of the Philippines, the Filipinos' preference for tingi is an economic decision more than anything else.
"The poverty is amazing.  I've seen the repacking (of consumer goods) going on in the homes or urban poor, really very poor people trying to make a living by making the tiniest packets," Tan said.
He said the trend for buying tingi probably came with the advent of sari-sari or neighborhood convenience stores. It started with food, which could be sold by small portions or single servings at relatively affordable prices. The culture of buying small then extended to nearly all household products like vinegar, shampoo, water and now even mobile phone credits.
"I suspect all this was tied to sari-sari stores," Tan said. "I remember how they used to sell even one tablet of medicine at a time, which was why eventually even Mercury drugstore began to allow people to just cut up the banig (a strip of 10) down to one tablet!"
In the case of cigarettes, these were taken out of their packs and placed in glass bottles for per-stick sale in sari-sari stores.
Ambulant vendors—called "takatak boys" (takatak being the sound they make by repeatedly sliding the covers of their wooden boxes carrying the cigarette packs to get attention)—are ubiquitous in the streets, too. They approach motorists and commuters during traffic jams or standing outside buildings to cater to workers or office clients whiling away the time.
They smoke, government suffers
Every hour, 10 Filipinos die from just four diseases caused by smoking. That's 87,600 a year. Each year, too, the Philippine government loses nearly P500 billion due to healthcare expenses and productivity losses that come with smokers' diseases, said Health Justice Philippines said, citing a 2006 study.
UP economics professor Benjamin Diokno said the long-term effects of smoking on an individual affects the entire country as the "government continues to pay for the healthcare" of those suffering from diseases caused by smoking.
As budget secretary during the Estrada administration, Diokno said he knew firsthand how the government could benefit from taxing cigarettes more. In fact, he pushed for increased taxation on all cigarette brands.
"If you look at the tax pattern of some governments, their bread and butter is the tax from cigarettes and other vices," he said. The Philippines is one of the countries where cigarettes are least taxed, he pointed out.
The government's tax revenues from cigarettes are only P26 billion a year, compared to the economic losses it sustains that's equivalent to P500 billion. If taxes are increased, government can use the additional revenues to provide more healthcare to the people and to build infrastructures that in the long term will help the economy, he said. 
Diokno said the high prices of cigarettes would be the strongest deterrent for smokers. This is especially true for Filipinos, who seem to have difficulty quitting smoking altogether without outside factors. 
The 2009 Global Adult Tobacco Survey shows that more than 17 million Filipinos or roughly 18 percent of the population have smoked. Among the 94 percent of Filipino smokers, 60.6 percent wanted to quit, and 47.8 percent actually attempted to kick the habit, but only 4.5 percent "successfully quit."
Poor spends more
Low-income Filipino families are more keen on consuming goods via tingi because "it's convenient and it's more on keeping with their consumption pattern," according to Diokno.
But when it comes to harmful products like cigarettes, merely keeping with a consumption pattern becomes more costly for the poor. In a country with a high incidence of poverty, low-income families actually end up allotting a bigger part of their household budgets to sustaining this vice as well as face its long-term cost to their health and pockets.
"Ang tingi system tinatarget n'ya 'yung hindi maka-afford na bumili ng isang kaha kaagad. 'Yan 'yung mga mahihirap. Since madali bumili ng isa-isang sigarilyo lang sa atin, kung gusto n'ya magsigarilyo madali lang (The micro retail system targets those who cannot afford to buy packs all at once. Those are the poor. Since it's easy to get just a stick whenever he has the urge to smoke, it becomes easier to sustain the habit)," Limpin said.
"Pero mahirap d'yan, kung may konti silang kinita dun mapupunta sa sigarilyo (The problem with this thinking is, it also becomes easier for them to spend on cigarettes the little that they earn every day)," she added.
Another unfortunate consequence of buying cigarettes by stick like Abet does, Limpin said, is that since he doesn't see the packs, the smoker rarely reads the mandatory health warning labels that they carry, and is therefore rarely reminded how harmful those sticks are.
Abet said he is not ready to abandon smoking yet even if cigarette prices go up, given renewed efforts by government to increase taxes on tobacco products. If at all, Abet said, it might just force him to reduce his consumption. "This is my cheapest luxury. Why take it away?"
He may not have heard of the likes of Manny (not his real name), whose addiction to cigarettes eventually led to losing his entire savings, retirement money and even his own health.
It was too late for Manny when he realized that his cigarette consumption by tingi, which started when he bought a stick in a neighborhood store in Sta. Ana, Manila in 1964, had worsened into an addiction.
He had his first cigarette in 1964 when he bought a single piece at a nearby store. He was a junior in high school. He came from a low-income family of 10, yet he used what was left of his small allowance to buy cigarettes because the image of the Marlboro man, riding tall on top of his horse across the great American plains, appealed so much to him—he thought smoking would make him look equally as dashing.
Manny began with three sticks a day. "I didn't like the taste at first," he said. "Pero sabi ng mga kabarkada 'Sige, ituloy mo na.' Siguro in six months natuto ako sa tingi-tingi (But my buddies said, 'Just do it.' In about six months of buying by tingi, I picked up the habit)."
When he graduated in college and landed a job as a security guard, his addiction got so worse that he began buying in packs. From 1969 to 1975, Manny would consume one pack of cigarettes a day. By the time he had become a company executive in 1977, he was already consuming two packs a day.
By Manny's computation, a tenth of his monthly salary went to cigarettes during the peak of his addiction. Now, his entire retirement money might just go to treating his lung cancer.
Manny has been diagnosed with Stage IV lung cancer and is now confined at the Lung Center of the Philippines.
His wife Elaine (not her real name) said Manny began to feel weak in 2005. In 2007, he was diagnosed with emphysema, a common smoker's disease.
Yet he didn't stop. He only reduced his two packs a day to 10 sticks. He returned to buying tingi. "Smoking became second nature to him," Elaine said.
By 2010, Manny was diagnosed with terminal lung cancer.
Elaine said they spent around P1 million in the first six months of Manny's hospitalization. To sustain the treatment, they had to sell a few properties and are left with a single house and a small hardware store, where she gets most of the money for his treatment.
That's even lower compared to what others might be shelling out. According to Limpin, the average hospital bill of a person suffering from a lung ailment as a result of long-term smoking could go between P250,000 and P500,000 a month.
Manny said, "Kapag naaalala ko nagagalit ako sa sarili ko. Sa kasalanan ko, nadamay pamilya ko (Whenever I look back, I hate myself. Because of my fault, my family is now suffering, too)." 
*World No Tobacco Day (WNTD) is observed around the world every year on May 31.