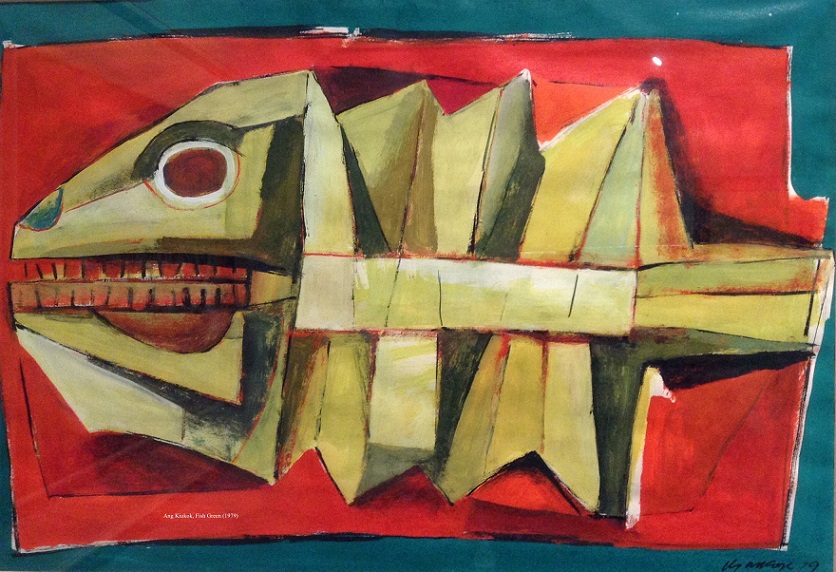 In celebration oftheir "extraordinary vision and formal excellence," the exhibition National Artists in the BPI Art Collection shows some 45 artworks by 14 National Artists for visual art. It runs at the Ayala Museum until April 3, 2019.
At best, it is a crash course on Philippine art history from Fernando Amorsolo (1895-1972) to BenCab (1942+). Their images "identify and idealize the states and stages" of the nation. In this exhibition, one can see a variety of styles and idioms by Filipino artists from 1930s to 1980s in what it means to be modern.
Also included are Carlos Francisco, Napoleon Abueva, Victorio Edades, Vicente Manansala, Cesar Legaspi, Hernando Ocampo, Arturo. Luz J. Elizalde Navarro, Ang Kiukok, Jose Joya. Abdulmari Asia Imao, and Federico Aguilar Alcuaz. Benedicto Cabrera has settled in Baguio and opened his own BenCab Museum in 2009; Luz (1926+), in his 90s, continues to paint and exhibit.
The Modernists
The exhibition is a story of the rise of modern art in the country paved by resolute artists who carved their own paths, away from following the crowd.
As a reaction against the dominance of the Amorsolo school in painting and its nostalgic romanticism, Vicente Edades (1895- 1985), the most outspoken advocate for modern art, led a loose group of artists called the Thirteen Moderns in the late 1930s. He is considered as the Father of Philippine Modern Art.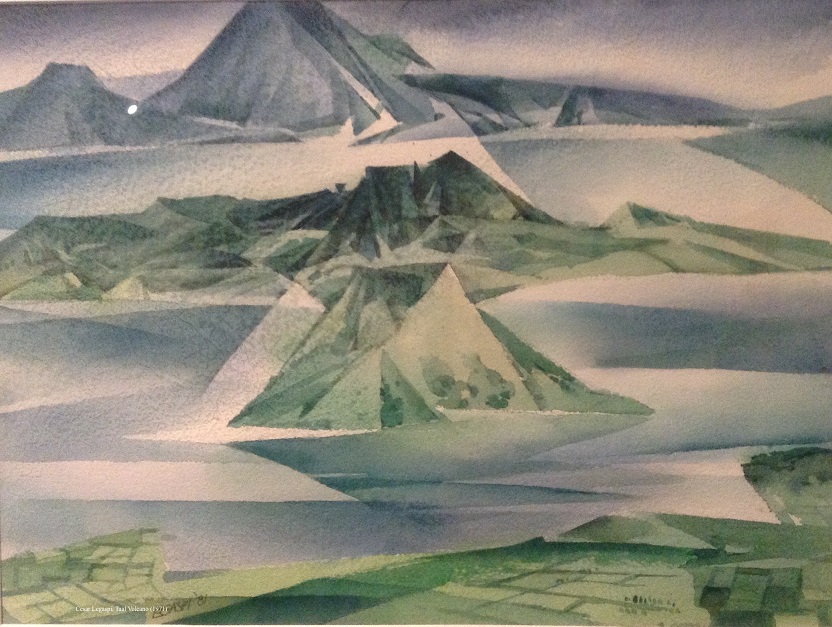 Made of bold earth colors and biomorphic shapes, the abstract works of Hernando Ocampo (1911-1978), a self-taught painter and one of the Thirteen Moderns, define his contribution to Philippine modern art. His three works include an early 1954 abstract, Untitled (Four Women Boxes), and two others done 20 years later, Untitled (Abstract Brown, Green , Red & Yellow 1974) andAbstraction 183 (1978).
Strong in Filipino folk imagery, the subjects of Vicente Manansala (1910-1981) included barung-barong or shanties, women vendors, tropical fruits, families sharing a meal, jeepneys, and cockfighting done in translucent and superimposed geometric planes. While mostly figurative, his style is described as transparent cubism.
The Museum of Kapampangan Studies, Holy Angel University in Angeles City has a Vicente Manansala Gallery. Openedin 2012, it houses the artist's estate.
Cesar Legaspi (1917-1994): One of the Thirteen Moderns and a pioneer of neorealism, Legaspi championed the cause of modern art to the end. His three works show the distinct influence of cubism. Despite being color blind, he used intense and deep colors, as seen in Adam and Eve and The Scene, both 1970 works.His watercolor of Taal Volcano (1981) with its dominant light green hues tinged with blue and white captures the cool scenery of away-from-it-all Tagaytay.
J. Elizalde Navarro's (1924-1999) mastery of color energizes the mind. Our planet is depicted only in swirls of colors alive and breathing, with dominant hues of yellows, dashes of reds and oranges, daubs of blues and greens in Mother Earth Awesome In Her Beauty (1997).The Four Seasons (1992) has a swirl-and-arc pattern with greens for spring, yellows and oranges for summer, deep reds for autumn, and whites and grays for winter.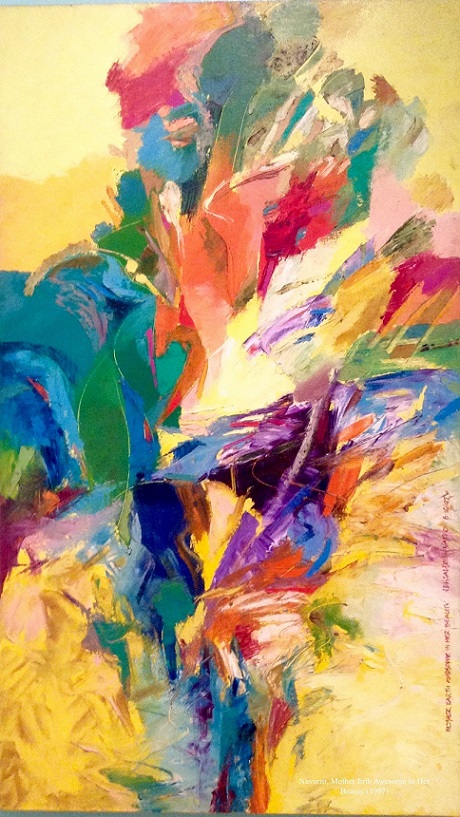 From San Jose, Antique, Navarro was a writer and the art editor of The Varsitarian, University of Santo Tomas in his student days.In his honor, the paper established the J. Elizalde Navarro National Workshop in Criticism and the Humanities in 2008.
Jose Joya (1931-1995): Starting from representational painting, he shifted to abstract painting in the late 1950s and became one of the leading proponents of abstract expressionism in the country. The tropical Philippine landscape often inspired his use of colors. His three works are Untitled (1974), or Collage in Blue, Brown Treasure (1986), and Baguio Weekend (1988). He served the University of the Philippines for 39 years, 1957-1995, including the deanship of the College of Fine Arts, 1970-1978. He and sculptor Napoleon Abueva were the first Philippine representatives to the 1964 Venice Biennale.
A proponent of figurative expressionism, Ang Kiukok (1931-2005), in his five works produced in the mid-1970s, exemplify his stylized and semi-abstract figures with sharp angles, pointed shapes, and jarring and abrupt lines, as seen in Fish Green (1979) and Junkscape 5 (1975). His works mirror anguish, agony, and angst —the inner turbulence that express his stark view of the human condition.
By opening new paths in the country's art landscape, these National Artists serve as beacons of inspiration to today's young, unknown, and struggling artists topersevere and explore new ways of making art that would define their own socio-political milieu and identity.