Images courtesy of  Ayala Museum, National Museum of the Philippines, and Rizal Library, Ateneo.
In celebration of the 125th anniversary of Philippine independence, Ayala Museum has opened an exhibition, Splendor: Juan Luna, Painter as Hero that centers on a singular painting, Hymen, Oh Hyménée! —the first time seen in public for over 130 years.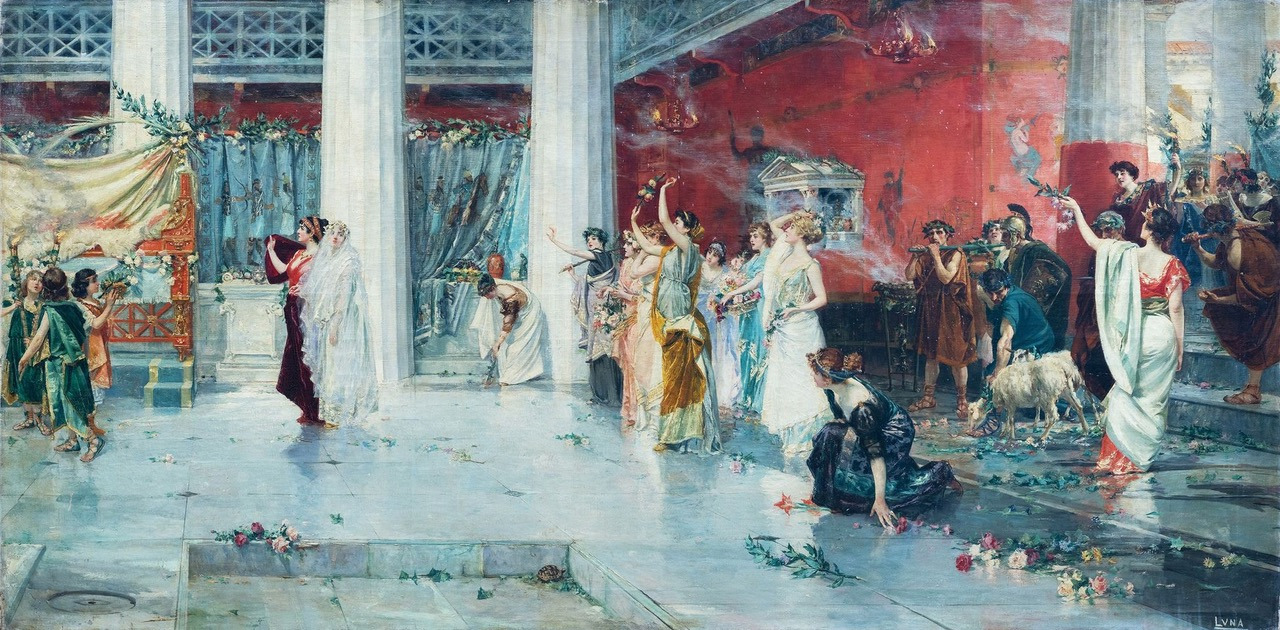 On view through December 30, its other title is Boda Romana (Roman Wedding), dedicated to Hymen, the god of marriage, and depicts a wedding party, with the bride and her entourage on their way to the groom's chamber. Inspired by his wedding to Paz Pardo de Tavera, Luna painted it as "an intimate and personal portrait," completing it in 1887 during their honeymoon in Venice.
It won a bronze medal at the Exposition Universelle in Paris in 1889. In 2014, Jaime Ponce de Leon, an owner of an auction gallery, found it in Spain after almost 10 years of search.
As noted by a wall text, the bride is depicted as a small figure hidden by a veil, and appears to be "alone, dazed, and vulnerable." A small tortoise at her feet symbolizes Luna's desire that his bride be "submissive and happy."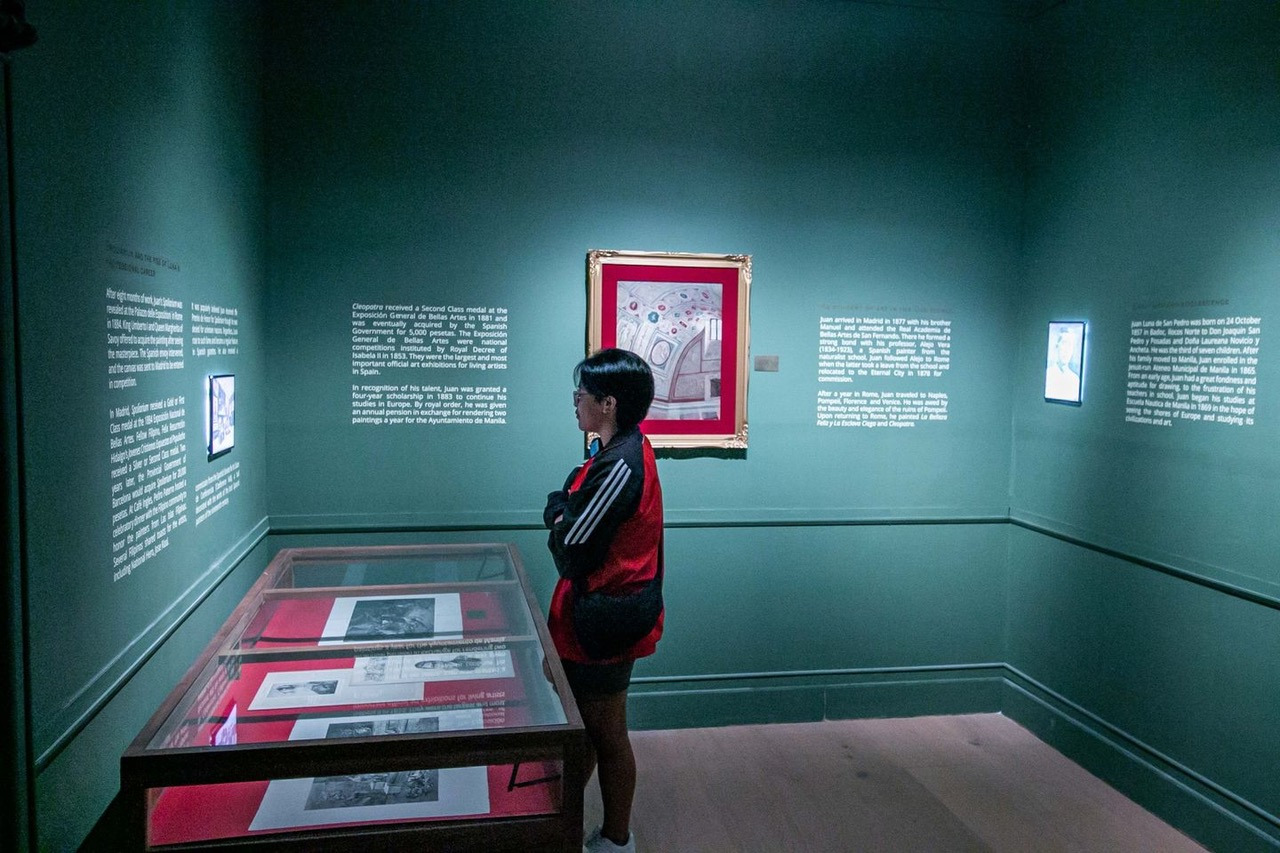 The exhibit rooms leading to the painting are peppered with wall texts about Juan Luna's life. And yet, not a word about Luna's abominable act.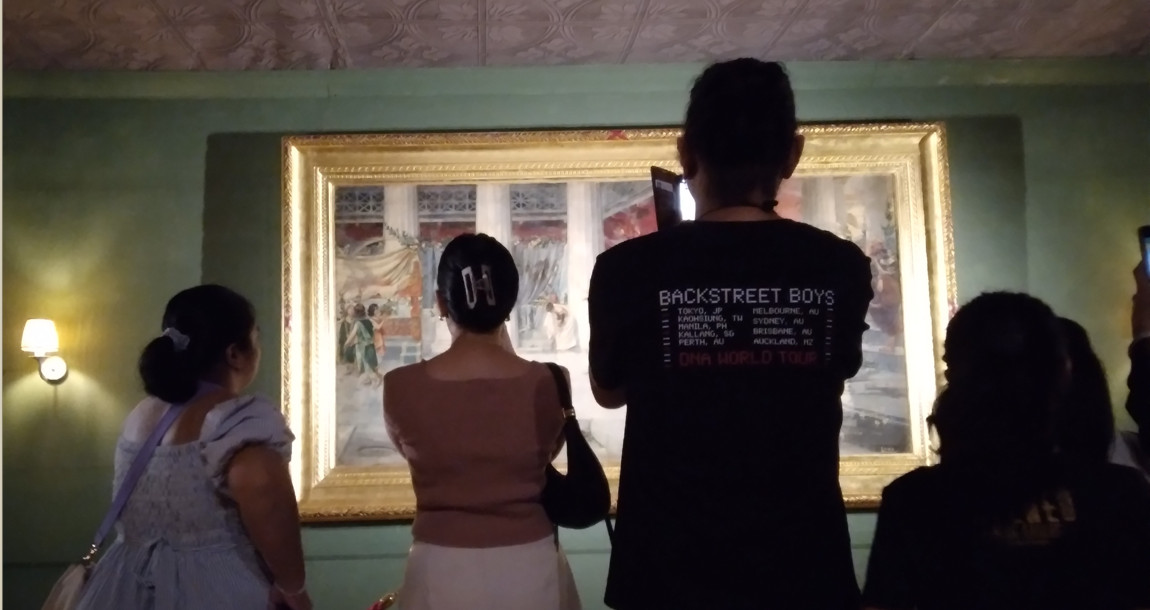 Luna's killing of his wife and his mother-in-law in 1892 got a very short shrift, indeed.
Juan Luna (1857-1899)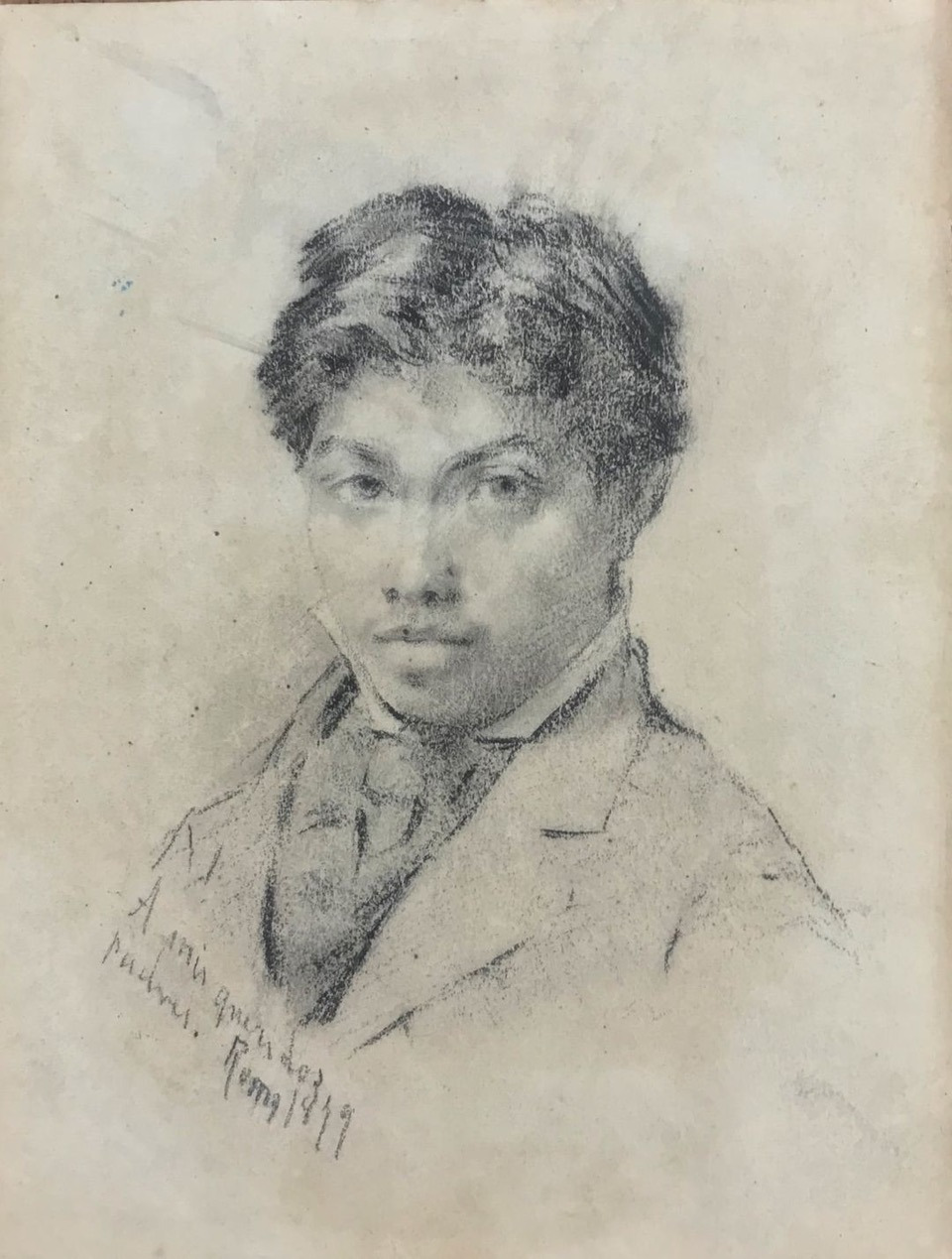 Born in Badoc, Ilocos Norte, Juan Luna continued his art studies in Madrid in 1877 where he became good friends with his professor, Alejo Vera, a Spanish painter. Luna followed Alejo in Rome and travelled to Naples, Pompeii, Florence, and Venice.
He entered major competitions, getting awards, and proving himself as an artist. The Death of Cleopatra (1881) brought Luna a silver medal at the National Exposition of Fine Arts in Madrid; the first of many international awards that he would reap in Europe.
An ominous marriage
In Paris, Doña Juliana Gorricho opened her home to young intellectuals, artists, and writers. The idealistic ilustrados who called themselves "Los Indios Bravos" included Graciano Lopez Jaena, Pedro Paterno, Felix Resurreción Hidalgo, Juan and Antonio Luna, and Jose Rizal.
Rizal enjoyed these gatherings, and described Doña Juliana to his family "as very Filipino in everything" and Paz as "very amiable, and also very Filipino. She dresses with much elegance and in her movements and manner of looking she…is beautiful and svelte….".
Juan Luna courted Paz. His painting Spoliarium had just won the gold medal at the 1884 National Exposition of Fine Arts in Madrid, the first of three first-class medals for the painting that year. He was feted by the art world in Madrid, Rome, and Paris.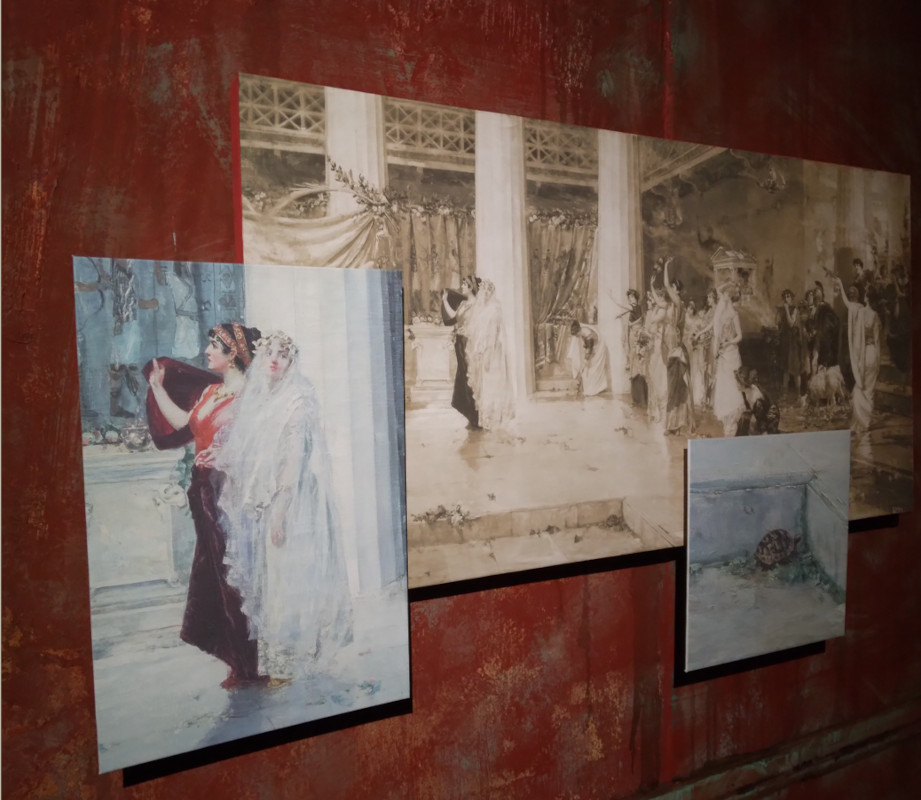 On December 7, 1886 Paz and Luna were married in Paris. Despite his fame, Luna was "impecunious," said Trinidad, Paz's brother. Unable to support comfortably his family, Doña Juliana provided 500 francs every month, with Luna asking regularly for financial help
A dark shadow on Luna forever
This year marks the 131st death anniversary of Paz Pardo de Tavera and her mother. Their murders by Juan Luna have been relegated to a mere footnote, best omitted or forgotten.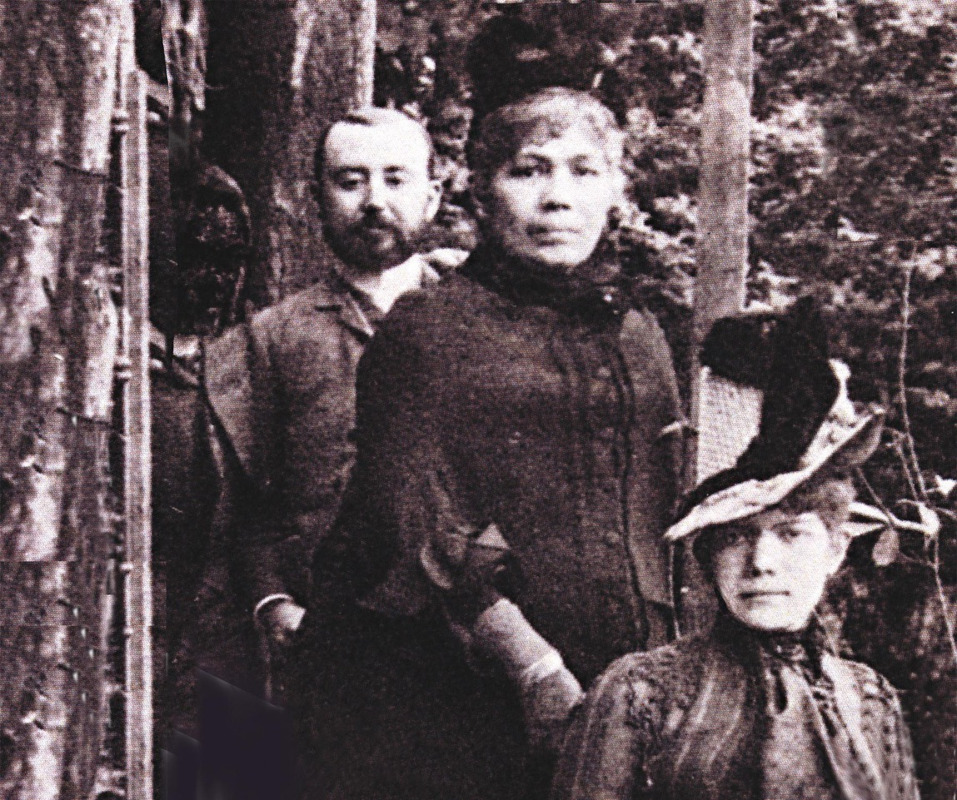 As recounted by Ruby R. Paredes in "Ilustrado Legacy: The Pardo Taveras of Manila" (Alfred W. McCoy, An Anarchy of Families: State and Family in the Philippines,1994), on September 22, 1892, Luna fired directly at Juliana and Paz hiding in a bathroom. Juliana died instantly; Paz died 16 days later, on October 9. Felix, Paz's brother, hit on the chest, survived.
In July, Paz and son Andres went to a spa resort Mont Dore to recuperate, where she met a doctor, Mr. Dussaq. She mentioned it to Luna who became jealous and suspected Paz of infidelity.
By September, Luna started beating Paz, "her back was but a wound," and threatened her with a gun. Paz's family considered divorce; Luna refused and demanded a duel with Dussaq.
Dussaq strongly protested Luna's accusations, and that he had had "only fleeting and mundane relations" with Paz Luna. He agreed to a formal deposition and stated his denial. Luna's side was not able to give any proof of the so-called affair.
Paz finally told his mother that she could "no longer tolerate my life with this man" and hated him "with all my soul." Doña Juliana's message on the day before her death: "Come save your sister. Her husband wants to kill her."
The one who got away
A trial took place with Luna accused of murder and attempted murder; by February 8, 1893, the Assize Court of Seine acquitted him of all charges. Later, its court records caught fire, and destroyed all papers related to the trial.
It was the notion of being an Indio from a savage race, (the same Indio who beat the colonizers at their game) that was used by Luna's lawyer that won the day.
How do we reconcile "the painter as hero" and violence against women, in the time of #MeToo and all?