Photos from the official FB Page of Fides Cuyugan Asensio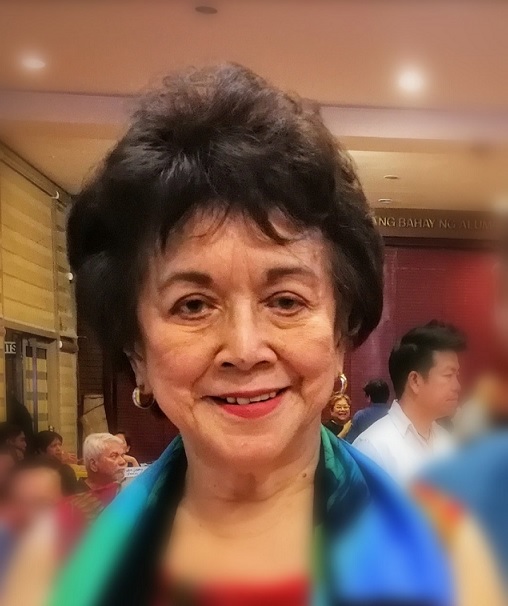 It is official.
Opera singer, teacher, stage and film actor and librettist Fides Cuyugan-Asensio is new National Artist for Music.
Malacañang announced June 10  the new National Artists. Agnes Locsin for Dance, Salvacion Lim-Higgins for Design (Fashion), Nora Villamayor a.k.a Nora Aunor, Ricardo "Ricky" Lee and Marilou Diaz-Abaya for Film and Broadcast Arts, Gemino Abad for Literature, Fides Cuyugan-Asensio for Music  and  Antonio "Tony" Mabesa for Theater.
For the record, Asensio is the first Filipino voice scholar to be accepted at Curtis Institute in Philadelphia, the same school identified with pianists Cecile Licad and Nena Villanueva del Rosario and tenors Otoniel Gonzaga and Noel Velasco, among others.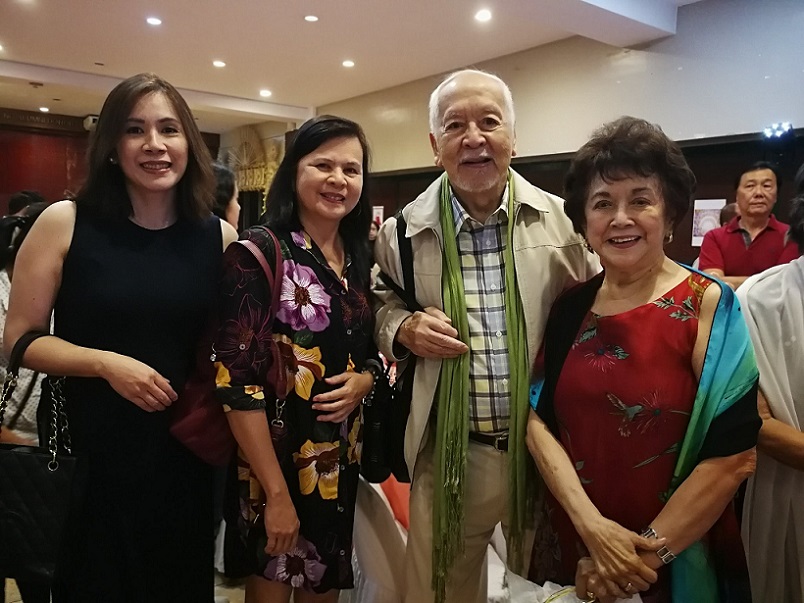 At the time in the 50s, Curtis was the most exclusive school in the world.
"The finest teachers of every instrument and voice taught at Curtis. There were only 120 students housed in a huge mansion of the high-end main line Philadelphia. No taped auditions were acceptable. Aspiring scholars of voice and instruments (piano-violin, etc.) had to audition in person. If you come from as far away a country as Nena del Rosario and I did, too bad if you failed the audition. One had to spend for one's fare to get to Philadelphia, PA, " Asensio said.
A celebrated friend and classmate of Asensio in Curtis was no other than the celebrated Italian-American diva, Anna Moffo, who passed away in 2006.
Asensio recalled:"Anna Moffo was a dear friend and we shared quite a lot of good memories. Because of financial constraints, she would bring home cooked lunch to school where we would eat together in the basement at Curtis. She hardly ate out which my more affluent schoolmates did. In those intimate lunches (read: over baon box), there were a lot of confidences exchanged mostly from Anna. She was madaldal speaking with a distinct Philadelphia accent. We talked about family and boyfriends. When a piano scholar-boyfriend at Curtis for a very wealthy affluent heiress belonging to a famous clan dumped Anna, Anna was sadly quiet. She talked about it in low tones interspersed with tears. We had quite an operatic session. Her personal life — after she made it in the professional world of opera, movies and television — was not one envisioned with her school boyfriend, a tall and very good-looking piano major at Curtis. Anna got married successively to older wealthy men who left her like an opera heroine when they died with substantial finances but very little of the starry eyed passion I had seen during those years at Curtis."
 Asensio was born in Lucena but her physician father, Dr. Gervasio Santos Cuyugan — a personal physician-surgeon of President Quezon — was from San Fernando, Pampanga. She got her Bicol connections from her mother — Jacinta Belza — who was a beauty from Buhi, Camarines Sur.
She was born into a music-loving family. Her mother was always playing the piano simplified excerpts or piano from grand opera. "I guess that is where I first had an aural glimpse into the exciting world of opera. My sister, Ceres was the star pupil of Maestra Marcela Agoncillo. My brother, Ruben, was the star pupil of Maestro Ernesto Vallejo (the country's first violin prodigy).
In some past tributes, contemporary operas she has written were staged.
Among them were Larawan at Kababaihan:Mukha at Maskara (music by Lucrecia Kasilag; Mayo-Bisperas ng Liwanag (inspired from Mayday eve of Nick Joaquin); Music by Rey Paguio; Spoliarium- an opera on the life of Juan Luna Music by Ryan Cayabyab; Why Flowers Bloom in May(also by Kasilag;) Song of Joseph – a musical on the life, love and death of St. Joseph (music by Raymond Roldan) and La Loba Negra composed by Francisco Feliciano and mounted at the CCP in the mid-80s with her singing one of the lead roles in the distinguished company of Noel Velasco and Eleanor Calbes.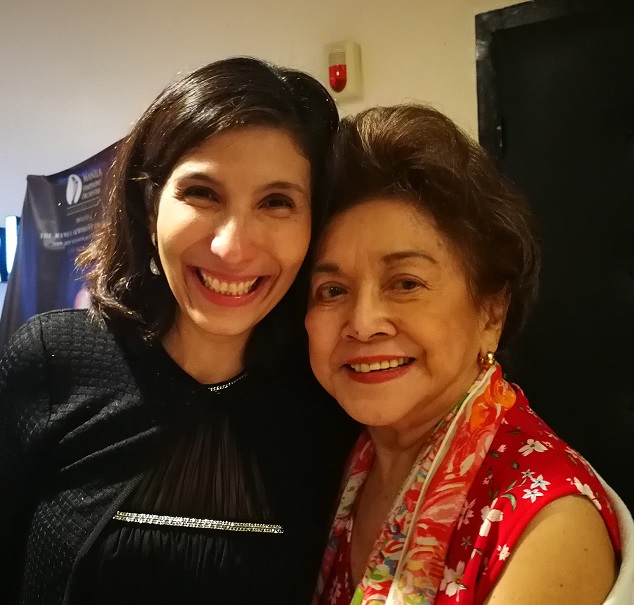 As it is, the title is long overdue.
As performing artist, she was the coloratura to reckon with the 50s and the 60s. She made her professional debut as Adele in Die Fledermaus at the Far Eastern University Auditorium. Two years later, she sang the role of Sisa in the world premiere of De Leon's Noli Me Tangere with the Manila Symphony Orchestra.
Until the late 1960's, Asensio appeared in numerous Filipino operas, including the world premieres of Santos' Mapulang Bituin, Pajaros' Binhi ng Kalayaan, and Kasilag's Dularawan. Her repertoire also included roles from operas including Gretel in Hansel und Gretel, Lucia in Lucia di Lammermoor, Susanna in Il Segreto di Susanna, and Konstanze in Die Entfrung aus dem Serail.
Die Fledermaus she also remembers simply because she considers it a fun opera. "It didn't pose any vocal difficulty for me at my age. Besides I had great co- singers, director, conductor and choreographer. They were Austrian Herbert Zipper and Trudl Dubsky Zipper who mounted an authentically correct staging."
Her other children – her graduates and students who choose to be identified with her — keep the line of her passion for music and theater unbroken into the far future.
One remembers what she said during a last interview: "This business of mounting and marketing opera La Asensio maintains has been overblown by misconceptions one of which is that it is entertainment for the elite. I want to dispute that and have a real debate on what opera is about. I also want to demystify it. Operas are mostly stories, which even barrio children can relate to. The killings, murders, love affairs, incest, and so forth can actually be headlines of tabloids read by the masses. Its just a matter of how to present it in the language Filipinos understand, and marketing it the way they do foreign shows."
The Order of National Artist, established under Proclamation no. 1001 signed in 1972, is the highest national recognition conferred upon Filipinos who have made distinct contributions to the development of the Philippine arts and culture.