Photos by Elizabeth Lolarga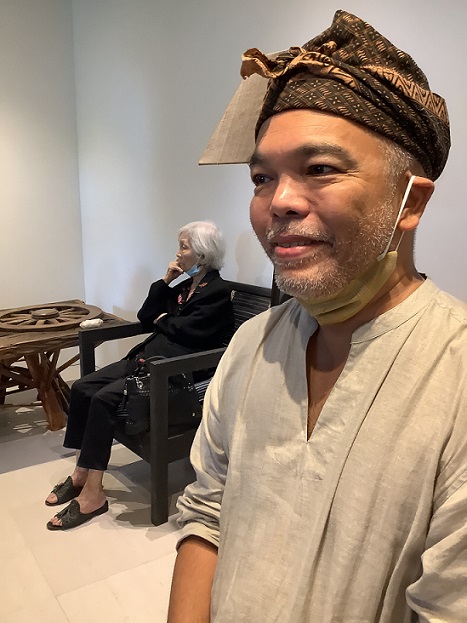 The now seasonally rapacious COVID-19 has served as an unlikely creative inspiration for painter Popo San Pascual in his latest exhibition "Popo: Contagious Series" at Gallery Ninety in Baguio City.
He said of his works in acrylic on small, medium and large canvases: "During the lockdown, there was nothing to do, nothing to look forward to so what I did was to paint and paint."
When things started to open up last year after the rounds of vaccination worldwide, San Pascual's art handler, the Cebu-based Qube Gallery, owned by Pia Mercado and Maris Holopainen, chose 20 of his small works. These were arranged side by side at a Helsinki art space in Finland. The total effect was that of a large work. (Qube, by the way, was named Best Art Gallery at the 2022 Barcelona art fair.)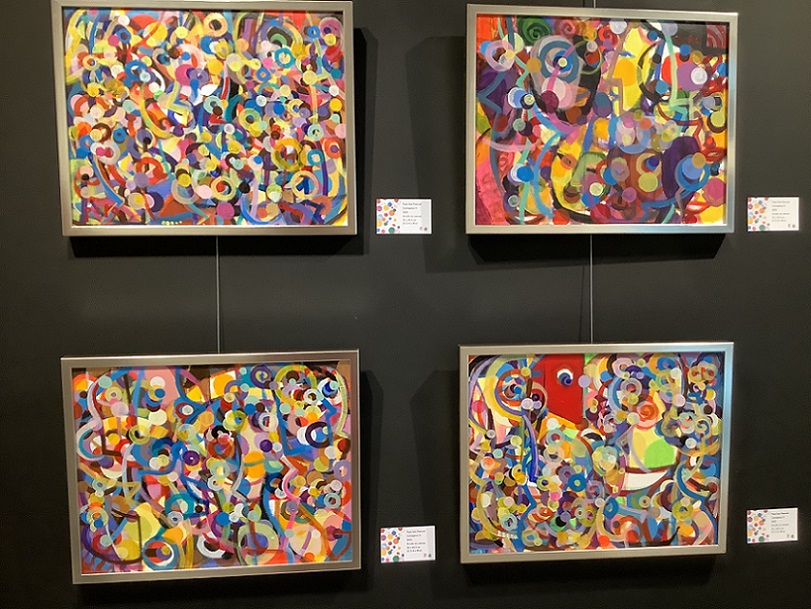 But what draws the eyes to the works are the bright, bordering on loud, colors, the organic shapes, mainly variations of the circle, the light, happy and giddy feelings they impart as though the viewer was part of a carnival in Rio de Janeiro or a Pahiyas fiesta in Lucban, Quezon.
At the opening of the show, co-organizer Mara Pardo de Tavera of Casa Luningning added to the already festive feelings by placing clusters of multi-color balloons placed at strategic areas of the gallery. These balloons seemed to say, "See? This is the way the abstracts leap out of their frames!"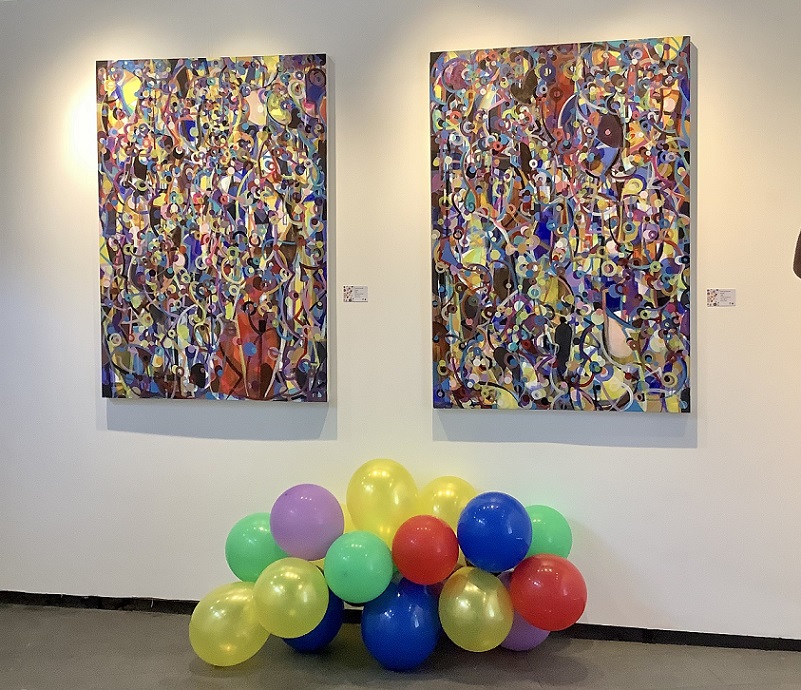 But the works are not just abstracts. In fact, if the eye is discerning enough, it can spot whale-like figures, the eye itself staring back at the spectator, spirals, people in profile or in full face, masks, bubbles, wheels, breast nipples and whatever else the imagination dictates.
Those familiar with San Pascual's works, especially the circle series which he said he has been doing for 20 years already, speak of the influence of another abstractionist, Nena Saguil, on him. He confirmed this, saying, "I used to hang around in her Paris studio by the River Seine. I introduced myself to her. We were both painters, I the beginning one. I'd emulate her after observing how she worked."
The two would have arguments on the matter of religious faith. He observed how spiritual Saguil was, a devoted Jehovah's Witness.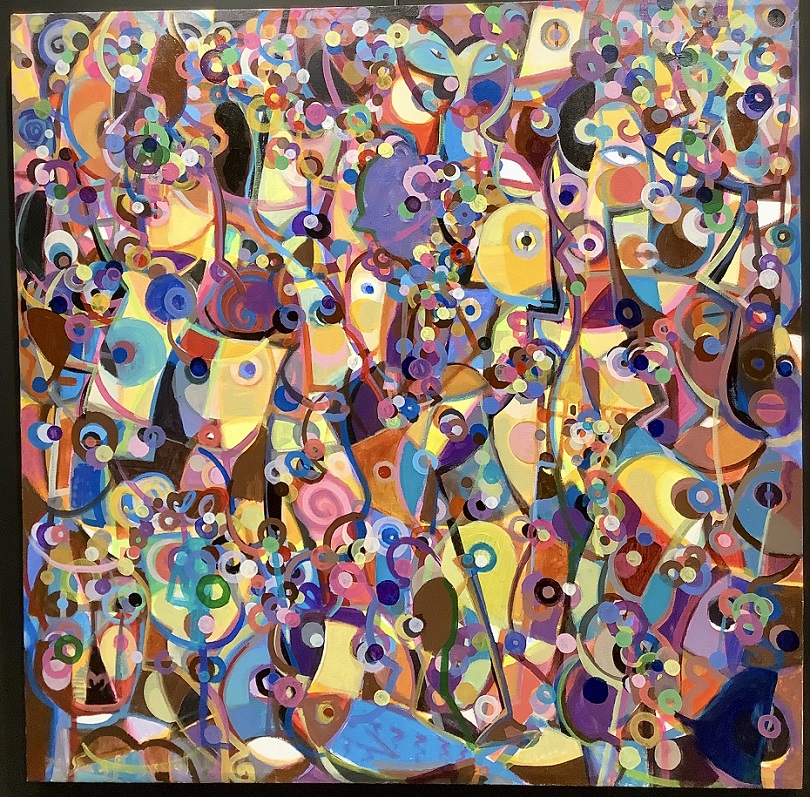 He recalled that he had "nothing to do in Paris (at that time). I was just bumming around with a cousin in the Eighties. Di ko kaya ang (I'm not cut out for the) Bohemian lifestyle although my brother lived there. He had a French passport, an allowance from the government for having joined the Foreign Legion. I visited him once in a while."
Another artist whose house in France he visited frequently was printmaker Ofelia Gelvezon-Tequi. "Hanging around her studio impacted on me. I was young and shameless. I'd eat at her place and also watch her do her prints."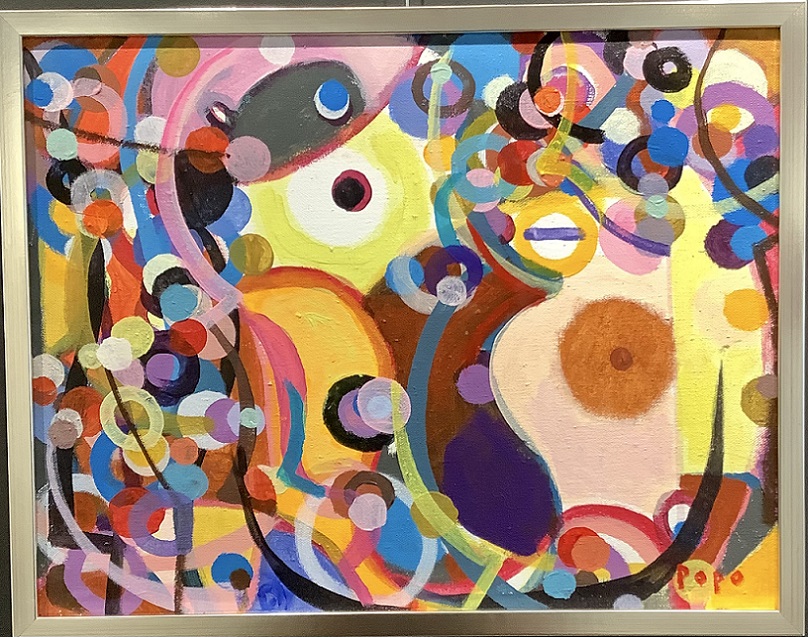 Now that he has been painting for at least 40 years, this 1980 fine arts graduate of the University of the Philippines said his colors are not at all chemically induced. Apart from the virus, he also got ideas from the colors of plants and flowers that he has been tending. Again due to the pandemic, he became a more rabid plantito (plant aficionado). During the COVID years, his plants increased in value, and he was able to sell a lot of anthuriums.
He spends part of his week in Quezon City where he lives with and cares for his mother Marina and half of the week in his grandfather's house in Tagaytay City. He mourned that he lost his father during the first wave of COVID casualties in 2020. Although the older San Pascual died of old age, he was still considered a statistic in the time of COVID.
"Popo: Contagious Series" is on view until Dec. 20. Gallery Ninety is at 30 C.M. Recto, Baguio. It is open from Monday to Saturday, 9 a.m.-5 p.m.  For appointments, contact mobile no. 0917-826- 8228.