A day after President Duterte talked about" joint exploration" and "co-ownership" with the Chinese last Feb. 28 in Marawi City, Presidential Spokesperson Harry Roque was with Karen Davila in ANC's Headstart.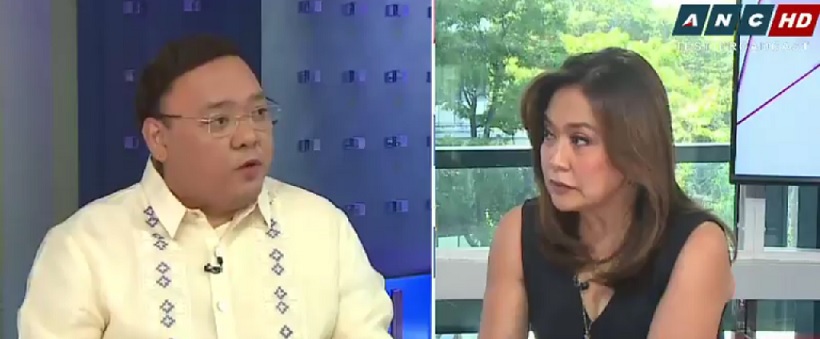 Presidential Spokesperson Harry Roque talks about joint exploration with China in "Headstart" hosted by Karen Davila.
Davila was following up this statement by Duterte: "Ngayon offer nila joint exploration, di parang co-ownership. Parang dalawa tayong may-ari niyan. Eh,di mas maganda,yan kaysa away. (Now their offer is joint exploration which is like co-ownership. It's like both of us are owners. That good, better than fighting.)"
At Headstart, Roque said, "I know they are discussing. They are moving forward and it's likely to happen."
Roque added that it's a Chinese state corporation.
Davila asked if it would be different than the agreement entered into by the government of Gloria Arroyo – the Joint Marine Seismic Survey Undertaking with China and Vietnam.
Roque said: "It's now the result of a joint maritime seismic exploration agreement. This will now actually entail joint exploration and possible exploitation of natural resources."
He added that "we have gone beyond determining if there are resources" and "The only issue is now, is it commercially viable."
"That's good news," he said.
Davila asked if there are no Filipino companies who can do the exploration and exploitation.
Roque replied:"One, Even Filipino companies rely on China for capital.
"Two, when a Filipino attempted to explore on its own, they were met by Chinese war boats. That's the reality. How do you now tap the resources we need given the conflicting claims to territory. The President now says, let's find a way. If joint exploration is the solution, let's not wait for 100 years. Let's avail of the benefit of the national resources. Let's fund a way to do it that would benefit all."
Without mentioning names and locations, the interview revealed that they were referring to exploration of the Recto or Reed Bank, about 85 nautical miles west of Puerto Princesa and within the country's 200 nautical mile Exclusive Economic Zone. It isabout 800 nautical miles from mainland China but is included in its controversial 9-dash line map covering the entire South China Sea, which had been declared by the Arbitral Court in July 2016 as null and void.
Reed Bank was part of Service Contract 72, signed in 2010, in which the Philippine government awarded Forum Energy Plc. (FEP) exploration rights to a basin within Reed Bank. Philex, headed by businessman Manuel V. Pangilinan, owns 64.45 percent of FEP, a London-based listed oil and gas exploration firm focused on the Philippines, which in turn owns 70 percent of SC 72.
The Department of Energy has estimated that the entire Reed Bank has 1.035 million hectares of potential gas field containing oil, gas, and condensates worth some $23.2 billion.
In May 2012, in a bid to bring in China to the project to stop the harassment that Roque referred to in the interview, Pangilinan met with China National Offshore Oil Corporation (CNOOC) president Yang Hua who informed him that "the Chinese government has granted CNOOC exploration rights over an area which includes SC72."
In his memo to then President Benigno Aquino about the meeting with CNOOC, Pangilinan said Sovereignty remains fundamental and neither CNOOC nor Philex is competent to address this issue. Still, CNOOC saw no obstacle to commercial and technical cooperation between the companies provided both the Philippine and Chinese governments agree that both companies can work together to explore the resource potential of the area of mutual interest, while allowing any question over sovereignty to be resolved as a separate matter on a Government-to-Government basis.
Acting Chief Justice Antonio T. Carpio has renewed his warning that any deal between the Philippines and a Chinese firm to jointly explore for gas in the Reed Bank of the South China Sea will be illegal unless China recognizes Philippine sovereignty over the area covered by the deal.
China will not do that.
China's Foreign Ministry website explains that its concept of "setting aside dispute and pursuing joint development has the following four elements:
1. The sovereignty of the territories concerned belongs to China.
2. When conditions are not ripe to bring about a thorough solution to territorial dispute, discussion on the issue of sovereignty may be postponed so that the dispute is set aside. To set aside dispute does not mean giving up sovereignty. It is just to leave the dispute aside for the time being.
3. The territories under dispute may be developed in a joint way.
4. The purpose of joint development is to enhance mutual understanding through cooperation and create conditions for the eventual resolution of territorial ownership.
How does number one reconcile withthe provision in the Constitution (Sec 2, Art XII)that states, "The exploration, development, and utilization of natural resources shall be under the full control and supervision of the State. The State may directly undertake such activities, or it may enter into co-production, joint venture, or production-sharing agreements with Filipino citizens, or corporations or associations at least sixty per centum of whose capital is owned by such citizens."
More on the dangers of joint exploration with other countriesin Philippine EEZ in next columns.