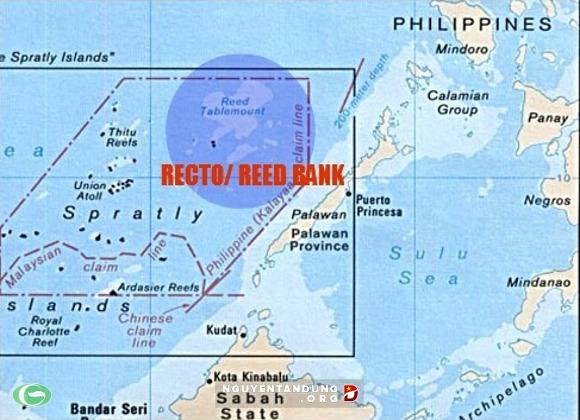 Supreme Court Justice Antonio T. Carpio believes that it was not a collision of fishing vessels that happened on June 9 in Reed Bank (Philippine name: Recto Bank; Chinese name: Liyue Tan), 80 nautical miles off Palawan and within the Philippine Exclusive Economic Zone.
It was a Chinese militia ship ramming a Philippine fishing vessel.
"China's maritime militia vessels have reinforced steel hulls purposely for ramming fishing vessels of other coastal states.No other coastal state has fishing vessels purposely designed for ramming other fishing vessels.Captains of ordinary Chinese fishing vessels do not engage in ramming for fear of inflicting damage to their own vessels.It is thus highly likely that a Chinese maritime militia vessel rammed the Filipino fishing vessel F/B Gimver 1," Carpio said in a statement.
The statement from Chinese Embassy in Manila insisted that it was "a Chinese fishing boat from Guangdong Province, China" and identified it as "Yuemaobinyu 42212."
From the statement of the captain of F/B Gimver 1, Junel Insigne, his boat was anchored when it was rammed by a Chinese ship.
Carpio said it is "a clear violation of UNCLOS," the United Nations Convention on the Law of the Sea which is the international agreement that governs the oceans.
In the case in the Arbitral Tribunal which was won by the Philippines against China in 2016, Carpio said, the tribunal ruled that the failure of China to prevent its fishing vessels, even those privately owned, from fishing within Philippine Exclusive Economic Zone in the West Philippine Sea was a violation of UNCLOS.
"Here, the Chinese maritime militia vessel, under the command of the People's Liberation Army (PLA), prevented the crew of F/B Gimver 1 from exercising their sovereign right to fish in the exclusive fishing ground of Filipino fishermen," Carpio added.
The question now is ,why is China's military vessel in Reed Bank?
Reed Bank is 800 nautical miles from mainland China . But it's included in the all encompassing nine-dash line map, which no other country recognizes.
China has always coveted Reed Bank.
Many years ago, the Philippine Navy found Chinese markers near Reed Bank.
Reed Bank was what China wanted in exchange for the massive loans that it granted the government of Gloria Arroyo who entered into the Joint Marine Seismic Undertaking with China and Vietnamto explore that area.
The legality of the JMSU has been questioned before the Supreme Court which has not decided on it.
Reed Bank is not mentioned in the November 2018 PH-China MOU on Gas and Oil development signed by Foreign Secretary Teddy Locsin and Chinese Foreign Minister Wang Yi. But it is the understanding that it is the location of MOU, which has not yet evolved into agreement.
In 2010, under the presidency of Benigno Aquino III, the Department of Energy awarded Service Contract 72 to Forum Energy Plc. exploration rights to a basin within Reed Bank. Manuel B. Pangilinan's Philex owns 64.45 percent of FEP, a London-based listed oil and gas exploration firm focused on the Philippines,
Earlier seismic surveys showed that Reed Bank holds vast natural gas reserves with estimates ranging from billionsto trillion cubic feet.
In March 2011, two Chinese patrol boats aggressively approached the Forum Energy- chartered survey ship MV Veritas Voyager near Reed Bank.
The Philippine Navy Western Command deployed an OV-10 light attack aircraft and an Islander observation aircraft to Reed Bank; two coastguard vessels were subsequently dispatched to escort the Veritas Voyager until its survey activities had been completed.
The Philippine lodged a diplomatic protest with China over the incident. In his first State of the Nation Address, then President Benigno Aquino III, said: "We do not wish to increase tensions with anyone, but we must let the world know that we are ready to protect what is ours. Now, our message to the world is clear: What is ours is ours; setting foot on Recto Bank is no different from setting foot on Recto Avenue."
Now, a Chinese military ship sank a fishing boat in Reed Bank almost drowning the 22 Filipino fishermen, who were rescued by a Vietnamese fishing boat.
Not a word from President Duterte.