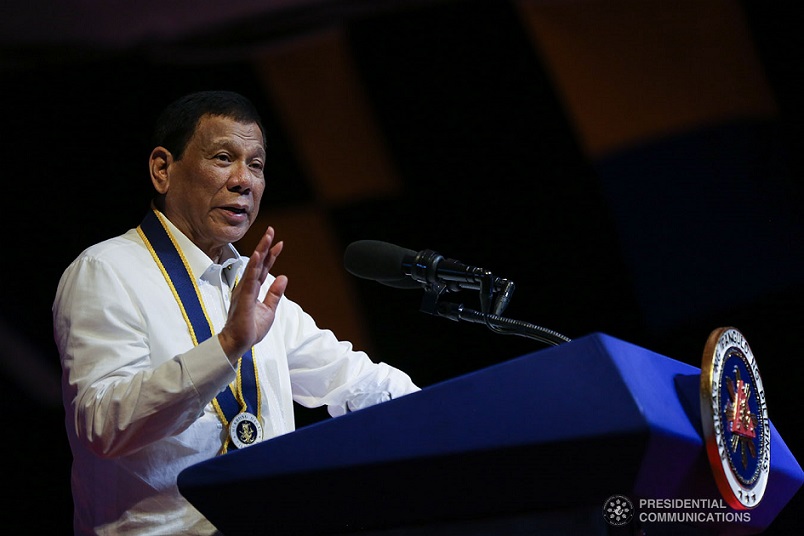 President Duterte talks about the sinking of Filipino
fishing boat by Chinese vessel during during the 121st Philippine Navy Anniversary
at the Naval Base Heracleo Alano in Cavite City on June 17, 2019. Malacañang
photo by Simeon Celi, Jr.
President Duterte dismissed what happened in Reed Bank on June 9 where a Chinese fishing boat "Yuemaobinyu 42212" rammed a Philippine fishing boat, F/B Gimver 1 which threwthe 22 Filipino fishermen into the waters in the darkness of the night until they were rescued by a Vietnamese fishing boat, as just a "maritime incident."
"Banggaan lang ng barko 'yan," Duterte said at the121ST anniversary of the Philippine at Sangley Sangley Point in Cavite City, Monday, finally breaking his eight-day silence that has riled up concerned citizens over what many perceive as his subservience to China.
Yet he also said he does not want to issue a statement "because there is no investigation and there is no result."
I'm reproducing here portions of his speech about the incident. This is a test in finding sanity amid the incoherence:
At the beginning he said, "There will be rules for a military confrontation. There will be rules for a mistaken identity attack. There is a rule for fishermen's boats. There is a rule for an aircraft carrier bumping a banca boat, a fishing boat.
"Alam mo, with all the — 'yung galit and one national officials, even urging sending the grey ships, warships doon sa China Sea. Alam mo, gusto ko 'yan. Kung ako lang ang papiliin niyo, gusto ko ng action. But I am not in my boyhood age anymore."
Then he went into issues of corruption in the bureaucracy, partylist and complained about the heavy burden that he has to carry.
Towards the end, he went back into the Reed Bank incident:
"It — it… Ano ako 'yung medyo low morale ako ngayon. But anyway let me fix things before I go. But one thing is very sure, you have had the best of the procurement money sa ating gobyerno. I have contracted to buy, already bought, and I will give you more by the end of my term.
"Siguraduhin ko lang na pagkatapos kong Presidente pwede na tayong maghamon maski kanino ng giyera. We can challenge everybody.
"Pero 'yang — 'yang nangyari diyan sa banggaan, that is a maritime incident. Huwag kayong maniwala diyan sa mga politiko na bobo na. Gusto papunta 'yung — papuntahin 'yung Navy. You do not send grey ships there. Banggaan lang ng barko 'yan. Do not make it worse because there is a — that's a fertile ground for…
"Alam ninyong mga sundalo miscommunication 'yan, patay na. And we are not yet as ready. And we can never be ready in a nuclear war. Because in a nuclear war kung bitawan lahat 'yan, Earth will dry up and we will all be destroyed and that is the end of everything.
"So 'yung tamang-tama lang pang-depensa sa atin, bilihin ko lahat. Pero magsabi tayo ready — your guns are cocked to go to war? That's the most stupid thing I can… Wala, pagda — paliparin lahat 'yan nuclear — sundalo kayo.
"Dalawa lang ang bomba tumuyo ang Japan. Eh but — bitawan 'yan almost 1,000 warheads? 'Di anong mangyari? 'Di walang tutubo dito, pati isda ubos. Maritime incident is a maritime incident. It is best investigated.
"And I do not now issue statement because there is no investigation and there is no result. Then the only thing that we can do is to wait and give the other party the right to be heard. Importante 'yan eh.
"O China, marami ka mang ibinigay — ano ba dito ang totoo? O tapos ang nangyari ganito then let us sort — ano ang ma-sort natin diyan. Pagka ano 'yung totoo then bago tayo mag-ano…
"Dalawang bangka lang 'yan. Now you go there and create a tension. I said hindi ako g*** na Presidente na papayag nang ganun. If we have to die, we must have to die in the correct way and to die with dignity. Hindi 'yang basta bangga ka bangga ka lang diyan.
"Kaya alinman paniwalaan ninyo… Meron man kayong Commander-in-Chief na nag-aral, pero 75 lang, 'yan lang ang grado ko hanggang… Pero okay man, tumatakbo man ang Pilipinas.
"And we are doing it the right way. Stay from — stay out of trouble. Just build on our own. Huwag muna tayong makialam. Do not allow a little maritime accident or intentional — go to war there.
"Pahinga ka muna. Pahinga muna kayo. Palitan muna ninyo 'yung sa Jolo kasi pagod na 'yung isang division doon. Mabuti pa.
"'Yung terrorist walang areglo. 'Yung droga walang areglo. Para sa akin komunista walang areglo. Dapat papatayin ko kayo. Maraming salamat po. "